FEI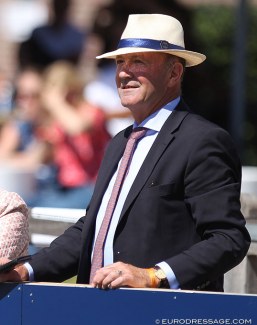 The FEI has named the judges that will make the ground jury for the 2020 European Pony Championships in Strzegom, Poland.
The 2020 Pony Euros are scheduled for 15 - 19 July. 
Ground Jury
The president of the ground jury is Eddy de Wolff van Westerrode (NED), joined by Irina Maknami (RUS), Eva-Maria Vint-Warmington (EST), Ulrike Nivelle (GER), and Paula Nysten (FIN).
With all major competitions in Europe cancelled until the end of May, the schedule will be very tight for potential team selection, depending only on the month of June.
Poland Hit by Corona
In Poland the corona virus seems to have made very little impact with 'only' 2544 people testing positive and 43 deaths in a country with a population of 38 million.
Insiders say that Poland hardly has very low testing capability, which is why their numbers are so low, and its government minimizes the spread of the virus in order not to have the presidential elections scheduled for 10 May postponed. Incumbent president Andrzej Duda is eligible for reelection.
As of 20 March 2020, Poland's number of SARS-CoV-2 tests per capita was lower than that of 22 other members of the European Union, but still higher than Croatia and Hungary (host of the 2020 European Children and Under 25 Championships on 18 - 23 August 2020).
The Ministry of Health tried to prevent medical personnel from commenting on the pandemic. The Polish Ombudsman Adam Bodnar defended medical personnel's right to speak publicly about the epidemic on constitutional grounds of freedom of speech and the right of the public to information.
Nonetheless the fact the epidemic has hit the country is obvious as the government has declared Poland into a "state of epidemic", which gives central and regional governments greater powers to deal with a crisis. Furthermore it has already introduced a series of strict quarantine measures, with schools, public institutions and restaurants closed, and the borders shut for foreigners.
Photo © Astrid Appels
Related Links
Strzegom Allocated European Pony Championships for 2020-2022
Ground Jury for 2020 European Youth Championships in Hartpury and Pilisjaszfalu
Alexander Yde Helgstrand Takes Triple Gold at 2019 European Pony Championships