2020 CDI Hagen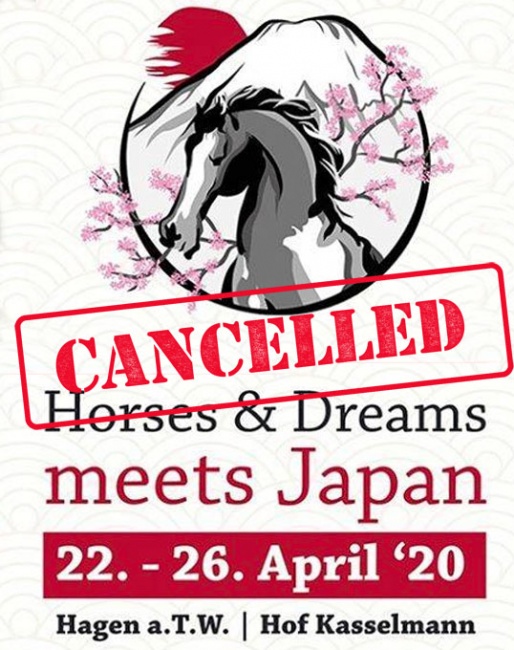 In reference to the general decree of the district of Osnabrück on 12 March 2020 regarding infection protection law, it is with a heavy heart that we see ourselves in the responsibility to cancel Horses & Dreams meets Japan, which originally should have taken place from April 22nd to 26th.
Due to the current situation caused by the coronavirus, it is our socio-political responsibility to support the containment efforts and fight against the spread of the virus.
Horses & Dreams Cancelled, Future Champions Postponed
We also feel obliged to look for an alternative date for our youth competition Future Champions, but we are confident that Future Champions and the first International Ludwigsburg Dressage Festival, from 24th to 27th September 2020 in front of Monrepos Castle, can take place as planned.
The Kasselmann family, as well as the entire Horses & Dreams team would like to take this opportunity to thank all those who have so energetically supported the preparations and worked towards Horses & Dreams with their great commitment and passion. We would like to thank all partners, sponsors, exhibitors and interested spectators for their trust and support.
Prepared to Set up a new CDI as soon as Possible
As was proven at the European Championships in 2005, Hof Kasselmann with its special infrastructure and the experience of over 40 years of equestrian sport is able to react to short-term changes in the health and policy situation.
In coordination with the authorities, we are prepared to set up a competition if the health and safety of all parties involved can be guaranteed.
Contact Hof Kasselmann for Questions
Hof Kassemann as well as the Horses & Dreams offices are available for further questions and can be reached under the usual telephone numbers.
All those who have already purchased tickets in the online shop are welcome to contact Reservix at: 0180 6050 400 for a full refund of the ticket price.
In critical times it is important to rely on strong partnerships.
In this sense,
Your Kasselmann Family & the Horses & Dreams Team
Related Links
Eurodressage Coverage of the 2019 CDI Hagen
Eurodressage Coverage of the 2018 CDI Hagen
Eurodressage Coverage of the 2017 CDI Hagen
Eurodressage Coverage of the 2016 CDI Hagen
Eurodressage Coverage of the 2015 CDI Hagen
Eurodressage Coverage of the 2014 CDI Hagen
Eurodressage Coverage of the 2013 CDI Hagen
Eurodressage Coverage of the 2012 CDI Hagen
Eurodressage Coverage of the 2011 CDI Hagen
Eurodressage Coverage of the 2010 CDI Hagen
Eurodressage Coverage of the 2009 CDI Hagen
Eurodressage Coverage of the 2008 CDI Hagen
Eurodressage Coverage of the 2007 CDI Hagen
Eurodressage Coverage of the 2007 CDI Hagen
Eurodressage Coverage of the 2005 CDI Hagen
Eurodressage Coverage of the 2004 CDI Hagen