KWPN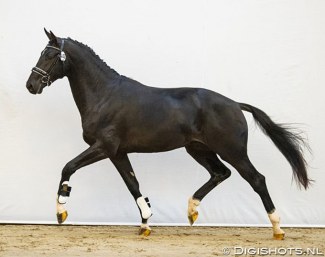 On the fifth and final pre-selection day for dressage colts for the 2020 KWPN Stallion Licensing, the committee accepted 14 colts out of 54 presented.
This brings the grand total to 91 colts for the second phase which takes place at the 2020 KWPN Stallion Licensing in 's Hertogenbosch, The Netherlands in February.
Marian Dorresteijn, Arie Hamoen and Johan Hamminga assessed the colts as members of the licensing committee. Today the offspring of the Hanoverian bred Toto Jr (by Totilas x Desperados) was presented. Toto Jr had the largest group of colts entered for the pre-selection, no less than 26. The committee accepted 11 of them for the second phase, four of them all have Jazz as a dam sire.
"Toto Jr and Jazz seem to be a good match, like Jazz x Ulft used to be in the old days," said Dorresteijn. "We saw nicely long-lined, supple horses with a lot of swing. That will make nice sport horses in the future."
On 21 January 2020 all 91 stallions will be presented on the lunge line at the KWPN headquarters in Ermelo. This is not an official selection moment, but the committee will take note of the performances and talent of the stallions on the lunge.
Selected on day five are:
Madison (byFerdinand x Jazz)
Montano (byToto jr. x Jazz)
Majestic Taonga (byToto jr)
Mascotte-STRH (byToto jr. x Jazz)
Mydono Paulowna (byToto jr. x Florencio)
Moreno (byToto jr. x Bretton Woods)
Movistar C vd Wijdewormer (byToto jr. x Sir Sinclair)
Moondance (by Fürst Romancier x Rousseau)
Maximiliaan B (byToto jr. x Jazz)
Morricone VDT (byToto jr. x Ferro)
Moreland Turfhorst (by Toto jr. x Don Schufro)
Malo (byToto jr. x Desperado)
Mister Black (byToto jr. x Ziësto)
Macabeo (by In Style x Zhivago)
Photo © Digishots
Related Links
Twenty Colts Picked on Day Four of 2020 KWPN Stallion Licensing Pre-Selection
Sixteen Colts Picked on Day Three of 2020 KWPN Stallion Licensing Pre-Selection
Twenty-two Colts Picked on Day Two of 2020 KWPN Stallion Licensing Pre-Selection
Nineteen Colts Picked on Day One of 2020 KWPN Stallion Licensing Pre-Selection