KWPN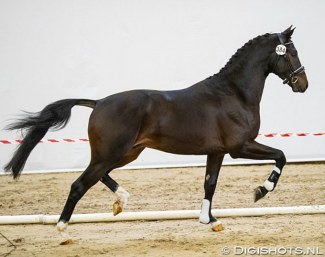 Sixteen colts were accepted for the second phase on the third day of pre-selection of Dutch warmblood dressage bred colts for the 2020 KWPN Stallion Licensing in February. 
After three days of pre-selecting, the total is now 57 colts and there are two more days to go. 
On day three, 42 colts were presented and 16 got a positive verdict. 
"We re very pleased with the colts we picked today. There were several well moving colts amongst them, which have interesting dam lines or have different genes," said licensing committee chair Marian Dorresteijn. "Unfortunately today there were colts who did not pass because of their conformation or movement. The lack of quality in the hooves and legs, or somethings not long-lined enough, which showed in the movement. 
Three sons by Ferdinand were accepted. "They convinced us with their suppleness and uphill movement, especially in trot."
The accepted colts on day three are:
Meilleur (by Dream Boy x Uphill)
Milano CLD (by Ferdinand x Zizi Top)
Moray-Pomona (by For Romance I x Ferro )
Flashbang (by Fürst Jazz x Sir Donnerhall )
Miracle (by Ebony x Vivaldi )
Mission (by Eye Catcher x UB40)
NN (by Bon Coeur x Don Index)
Messenger (by Fürst Jazz x Lord Loxley)
Merlot (by Dettori x Krack C)
NN (by Escolar x Jazz)
Monte Carlo TC (by Dream Boy x United)
Mamorkus (by Ferdinand x Jazz)
My Romance (by For Romance I x Lord Loxley)
Monsieur-Utopia (by Expression x Uphill )
Mancini (by Ferguson x Apache)
Photo © Digishots
Related Links
Twenty-two Colts Picked on Day Two of 2020 KWPN Stallion Licensing Pre-Selection
Nineteen Colts Picked on Day One of 2020 KWPN Stallion Licensing Pre-Selection