U.S.A.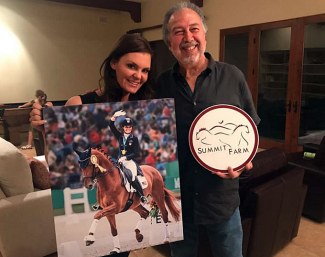 Gerry Ibanez of Summit Farm, the sponsor of 2019 Pan American gold medal winner Sarah Lockman, has passed away unexpectedly on 5 November 2019. 
Gerry was the Sponsor of Lockman and owner of her top horse First Apple. This combination won the 2019 Individual Gold and Team Silver Medals at the Pan American Games and are currently Olympic hopefuls.  
"Gerry was one of the most passionate people I've had the pleasure of knowing, and his support for myself and this sport was never-ending and unconditional," said Lockman. "Gerry not only supported my dreams and my career, but he became a close friend and changed my life. He loved the horses with everything he had, and I am beyond shocked and saddened by his sudden passing."
As a passionate supporter of Sarah and of this sport, Gerry put the animals first but was always a top class businessman who created a strong team at Summit Farm. His family will honor him and his desires by continuing support for Sarah Lockman and her potential Olympic mounts as the 2020 Games near and into the preparation for the 2024 Olympics Games. 
The team at Summit Farm will carry on Gerry's legacy in each competition and each ride will be in dedication to Gerry. 
Summit Farms will sponsor the $10,000 Summit Farm Future Challenge Prix St. George Series for seven to nine year olds and will hold qualifiers throughout the Global Circuit from 8 January to 29 March 2020 at Palm Beach International Equestrian Center's Stadium Complex. The Gerry Ibanez Memorial Trophy will be awarded to the winner, continuing to honor Gerry's legacy and dedication to this sport.
In addition, a $40,000 Training Package with Coach Debbie McDonald is to be given to a selected Junior or Young Rider. The package was won by Gerry Ibanez on behalf of Summit Farm at the U.S. Equestrian Team Foundation "Spring Soiree" and includes a month of training and board, transportation for the horse, full care and use of the facility and private living quarters for the rider with pool access. The rider, to be selected in consultation with the USET Foundation and the U.S. Equestrian Federation, will also be able to shadow Charlotte Bredahl, the U.S. Developing Coach. 
Although that Gerry was only a part of this community for a limited time, those that knew him can attest to the great man he was and the dreams he had for Sarah and for his entire team. His love for horses was instilled in him from his childhood and he continued that passion until the end. Let us all take his lead and continue to strive for the best of all the members of this community and for the continued experience of all riders. 
Related Links
President's First Apple, Tokyo Olympic Hopeful for American Sarah Lockman
Balia, New Young Star for Sarah Lockman
Sarah Lockman Wins Individual Gold at 2019 Pan American Games