Ekestrian Online Auction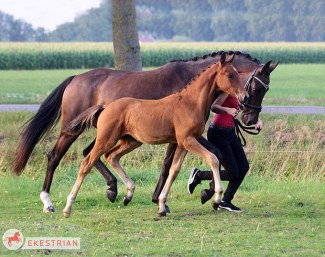 The catalogue of foals, embryos and broodmares for the Ekestrian Elite Online Dressage Auction on 15 - 16 October 2019 has been posted. Check out a highly interested collection of dressage talent, just a click away. 
Famous Damlines
Get yourself your future own champion out of Five Star's dam or the sister of Grand Prix horse Sultan des Paluds.
Access the full catalog here: https://www.ekestrian.com/en/enchere/18
U-Padoeska PB, dam of licensed stallion Five Star, the reserve champion of the 6 years old at the World Young Horse Championship in Ermelo, is in foal to Sezuan's Donnerhall, will be for sale at the Ekestrian Elite Auction the next 15th and 16th of October.
Look no further… Ekestrian found it for you!
Ekestrian doesn't stop here ! You'll find also at the catalog foals, broodmares & embryos: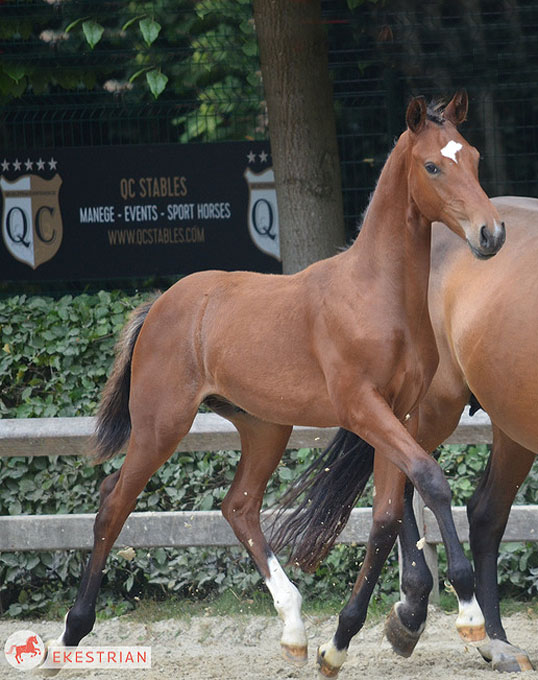 * Filly - out of a full sister of Sultan des Paluds, Reserve World Champion of the 7 years old and Grand Prix competitor under the saddle of Kirsten Brouwer
* Colt - by the champion Vitalis out of a mother by Carabas, performer in Inter II
* Filly - born out of the direct damline of Rubin Royal OLD and Romanov, by the famous performer Painted Black Colt by the Grand Prix stallion Harmony's Don Noblesse out of a 100% Danish damline
* Colt - by Secret and Gribaldi: the generation shock for a modern gem!
* Unique opportunity: an implanted embryo out of the FULL sister of Glock's Johnson, with Glock's Zonik, sire of the new 6 years old World Champion Zucchero Old
* Implanted embryo by Le Formidable, the KWPN stallion Champion in 2019, out of an Elite Keur dam by Oscar
* Broodmare by Spielberg, in foal to Ferdeaux, a champion for sure!
* Broodmare sister of Sultan des Paluds, in foal to Secret: a good occasion to carry on an exceptional sportive line
Try your luck! More of this top catalog here: https://www.ekestrian.com/en/enchere/18
Bid Online and Secure Your Future Star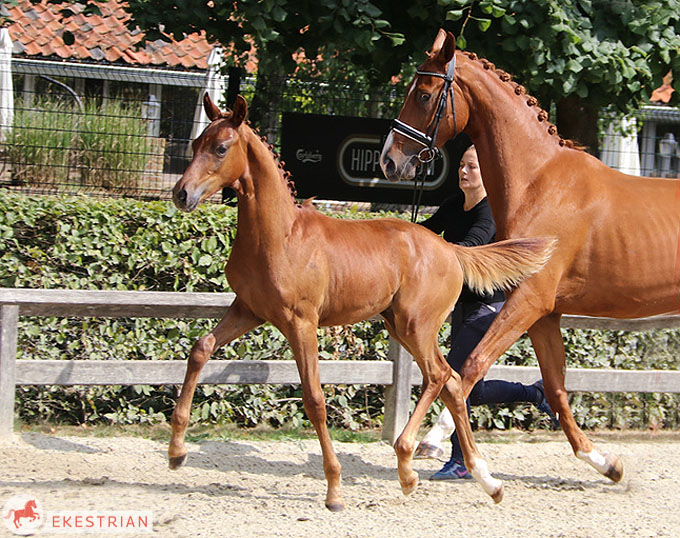 The auction will be 100% online. It will start on Tuesday, 15 October at 11am (French time) and close on Wednesday 16 October at 9pm (French time), lot by lot, minute by minute.
To be able to bid the day of the auction, don't forget to create your profile on Ekestrian's website: https://www.ekestrian.com/en/register
Contact Ekestrian
For any question about the lots or the auction, contact the Ekestrian team by phone at +33.7.71.27.10.76 or by e-mail at carodufil.ek@gmail.com
More Auctions Coming Up - List Your Horse
Breeders: online auctions can be for you!
The selections for 2019 and 2020 auctions are always in progress! Send your complete applications for your foals, embryos, broodmares and 2 & 3 years to carodufil.ek@gmail.com (name of horse, father, mother, father of mother, age, location, reserve price, photos and videos).
Talk to you soon!