2019 U.S. Dressage Championships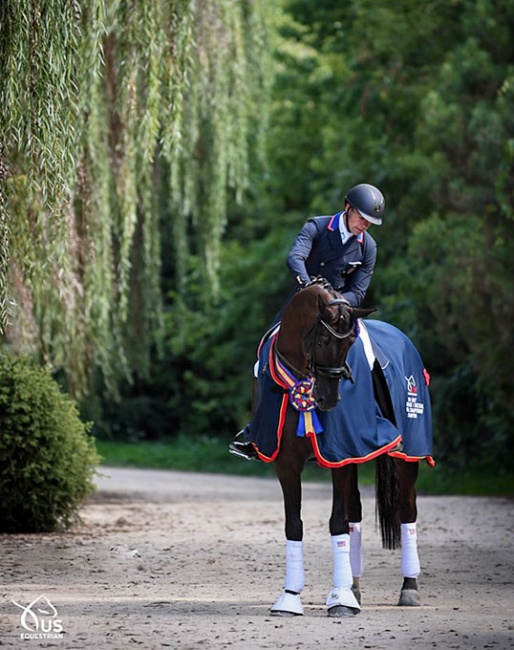 Small tour rider Endel Ots and big tour rider Nick Wagman won the senior FEI level titles in the Intermediaire I and Grand Prix level championship at the 2019 U.S. Dressage Championships held at Lamplight equestrian centre in Wayne, ILL, on 20 - 25 August 2019. 
Ots Takes Small Tour Championship
Endel Ots (Wellington, Fla.) and Lucky Strike added to their successful week with a great Freestyle performance to earn the Intermediaire I Dressage National Championship. He and the nine-year-old Hanoverian gelding owned by Max Ots earned a Freestyle score of 74.810 percent for an overall score of 74.255 percent.
"This is a great way to end a year. It means a lot. My dad lives nearby, and to have him be here and see it, it has been a wonderful journey. To come here for [the young horses] and the development [classes], it has been wonderful and a dream come true," said Ots, who won the 2018 U.S. Developing Prix St. Georges Horse Championship. "It was a good ride; I was trying to do everything nice, clean, and easy … I was very happy with him through the ride, since he had two weeks off, just slowly bringing him back with basic movements, so I was very happy with his performance today."
Rebecca Rigdon and La Fariah, the 10-year-old Rhinelander mare she owns with David Blake, earned the reserve national championship with an overall score of 71.476 percent.
"It's absolutely fantastic coming here as a wild card [returning] from an injury after the first qualifier for the Pan [American Games] team," said Rigdon. "[It] was really hard, and I felt [we] were done for the year, so to be able to have the opportunity, I'm grateful to USEF. It's pretty spectacular. I could not be happier with her. She has grown up considerably over the past couple of years, and she's ready to move on from small tour."
Sara Hassler (Chesapeake City, Md.) and Harmony's Boitano, Leslie Malone's 13-year-old KWPN gelding, placed third with an overall score of 71.476.
"It's such an honor," said Hassler. "He's only a year and a half back from an injury, so just his victory in getting here is huge, and it's such an honor to have a horse like that to learn from, and ride, and to allow me to be riding around such incredible people is very inspiring every day. It's just inspiring to get here. I honestly did not expect to come here and have this happen. I'm so grateful to his owner for giving me this opportunity. It's a once in a lifetime experience for me."
Ots was presented with the United States Equestrian Team Foundation (USET) Intermediaire I Trophy donated by Ivan Bezufloff, Jr.
Thirteen combinations in total competed in the 2019 U.S. Small Tour Championship
 Nick Wagman Freewheels to 2019 U.S. Grand Prix Champion's Title
Nick Wagman (San Diego, Calif.) and Don John captured the US Grand Prix Championship. He and the 11-year-old KWPN gelding owned by Beverly Gepfer earned a 76.140 in the Grand Prix Freestyle for overall score of 73.287 percent, after leading in the Grand Prix and Special.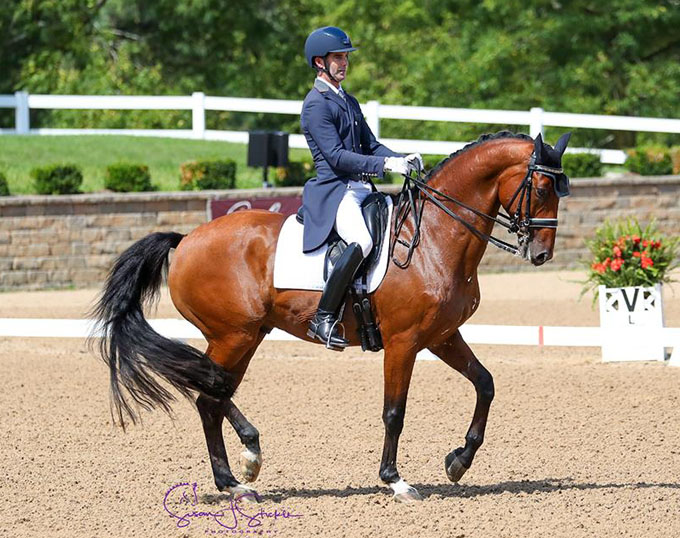 "What a way to end the season. It's really exciting. Last year was our first real season of Grand Prix, so a year later we're more confirmed, stronger, and more settled in the test. We went to Europe, and that did a lot for our confidence as well, so I think it's all just starting to show in the ring here, which is great," said Wagman, who was the 2018 USEF Grand Prix Dressage Reserve Champion with Don John.
The 2019 edition of the U.S. Grand Prix Championships was lucklustre, again just like in 2018, with the majority of America's top Grand Prix combinations choosing not to show at their National Championships. Only Wagman made the trip of all elite "A-team" combinations. Just four combinations (!) competed in the Grand Prix division this year!
Anna Marek (Williston, Fla.) and Dee Clair, Diane Morrison's 11-year-old KWPN mare, earned the reserve title with an overall score of 69.294 percent.
"I've always wanted to show here. It's been a goal of mine to compete at the Festival Of Champions," said Marek. "Claire is such a good girl, … so it was a big deal to qualify [two] horses to be able to come here, especially at Grand Prix with Clair because I've been with her for a very long time, known her for a long time, and she always just tries hard. She always exceeds our expectations."
Jennifer Schrader-Williams (Yelma, Wash.) and Millione, Millione Partners LLC's 16-year-old Danish gelding placed third with an overall score of 69.030 percent.
""It's always such an honor to be here at this show. Every year that I can bring a horse along and make it again is very wonderful, and I enjoy it very much. So hopefully we'll be back again next year," said Schrader-Williams.
As part of the winning honors, Wagman was presented with the United States Equestrian Team Foundation (USET) Grand Prix Trophy presented to the USET by Franklin Mint in 1978. In addition he was awarded The Patsy Albers Award. This award is presented to the highest placed rider in the Grand Prix division who represented the U.S. at the North American Junior and Young Rider Championships. The award provides financial support for continuing education and training.
Photos © Andrea Evans/USEF - Sue Stickle
Related Links
Yang and Jorst Claim Titles on Final Day of 2018 U.S. Dressage Championships
Kasey Perry-Glass, Kaitlin Blythe and Adrienne Lyle Win 2017 U.S. Dressage Championships
Laura Graves Wins the 2015 U.S. Grand Prix Championship
Peters Scores Double National Title, Sadis Pony Champion at 2014 U.S. Championships
Peters, Herslow, Davis, Redston Earn National Titles to Close out 2013 U.S. Dressage Championships
Steffen Peters Wins 2012 U.S. Grand Prix Dressage Championships
Peters Overcomes the Elements to Win Grand Prix at 2011 Festival of Champions
Konyot Dominates 2010 U.S. Dressage Championships Taking Four in a Row
Tip Top Wins Grand Prix at 2009 U.S. Grand Prix Dressage Championship
Steffen Peters Perfect at 2008 U.S. Dressage Championships
Peters Leads Grand Prix, Hickey Leads Pan Am Selection Trial at 2007 Festival of Champions
Hattrick for Steffen Peters and Michelle Gibson at 2006 Festival of Champions