2019 European Dressage Championships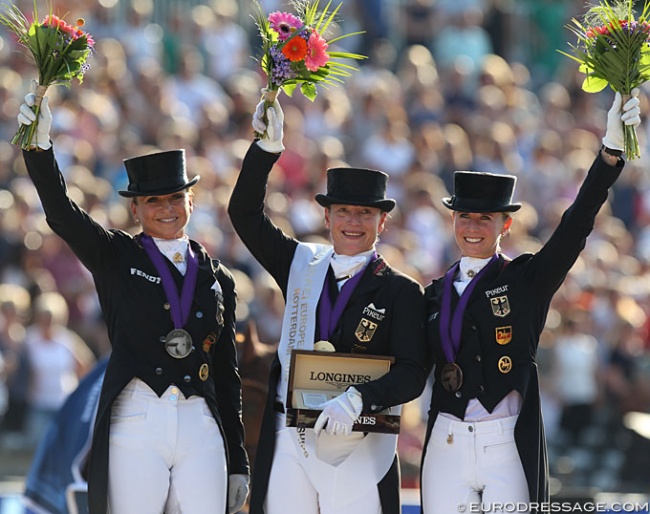 (This is the FEI press release - Eurodressage report with photo gallery coming soon)
On a day of breathtaking sport, Germany's Isabell Werth brought the Longines FEI Dressage European Championships 2019 to a close when claiming her third gold medal of the week in the Freestyle riding her great mare Bella Rose. And on a day filled with personal-best performances, her compatriots Dorothee Schneider and Jessica von Bredow-Werndl clinched silver and bronze, with Schneider only 0.314 off Werth's winning score.
The competition built to an incredible crescendo as rider after rider excelled themselves in front of a packed stadium of knowledgeable spectators who savoured every moment. Denmark's Daniel Bachmann Andersen drew gasps of delight with spectacular one-tempi changes from his one-eyed stallion Blue Hors Zack to take the temporary lead when eighth to go of the 15 starters. But two horses later the home crowd went wild when Edward Gal and Glock's Zonik NOP went out in front with 84.271.
Fifth-last into the arena, von Bredow-Werndl and her 12-year-old mare TSF Dalera blew the competition wide open with a personal-best score of 89.107, showing beautiful rhythm and balance and the softest of contact in their one-tempi changes. Denmark's Cathrine Dufour and Atterupgaards Cassidy, who took bronze in Thursday's Grand Prix Special, followed with a fabulous test that slotted them in behind on 87.771, and then it was time for the lady recognised as the Queen of international Dressage, Werth with the great love of her life, the mare she calls Bella.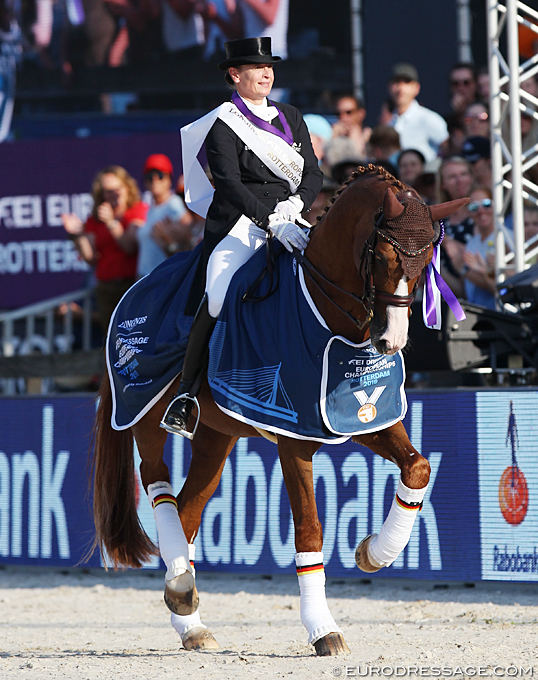 And the crowd were in for a treat, the extraordinary horsewoman working them into a frenzy of excitement that had them clapping wildly as the turned the centreline for their final halt. But the battle wasn't over yet, because Schneider threw down the best score of her career with Showtime who showed his great power and presence when putting 90.561 on the board. Last to go, Judy Reynolds and Vancouver K ended a superb week that saw her post three new Irish record scores when finishing fifth, behind Dufour, on a mark of 85.589.
Bronze medallist von Bredow Werndl described this as "the most exhausting week ever, it was a roller-coaster of emotions but it had the happiest ending I could have wished for, and Dalera was just extraordinary today. At the very beginning she was a little bit nervous and I was a bit nervous before I entered the arena, but I took some deep breaths and I was completely with her and she was with me for the whole test, there was no second we lost each other and it was just a phenomenal dance!" she said.
Schneider had every reason to be elated by her score too, because her mark sees her join an elite group that includes only five other riders who have achieved over 90 percent in Freestyle. "When Showtime came into the arena and saw the audience he said let's dance now, and we danced together..we really enjoyed ourselves! I wasn't thinking about scores, I just wanted to enjoy this Freestyle…it's an emotional bond between Showtime and me and today he had fun and I did too!" she said.
This has been a great week and a very long week and I'm so happy and so proud of Bella!" said Werth. "She gave me a super feeling in all three competitions, and she was always doing her best.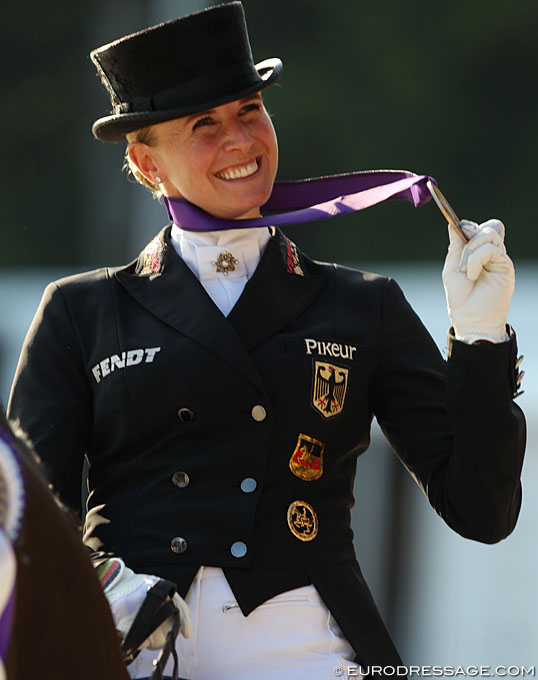 "There were so many exciting performances here in Rotterdam, and for a few of us it was a real roller-coaster which reminds us that, in Championships, anything can happen. For me and Bella there were things today that we could improve on, but there were also so many highlights, and in the end to come up the centreline and hear the audience start to clap - I'm just so happy, it has been a super week for Germany," said Isabell Werth (GER).
The most successful athlete in the entire history of international equestrian sport, Werth today collected the 24th European Championship medal of her astonishing career but she said that her medal collection is not what drives her.
"The most beautiful thing is the many different horses, and different kinds of horses I have had, that's why I'm still motivated to ride. To wake up and go in the saddle every day, its a privilege when you can do what you love, and you love what you do, and Madeleine (Winter-Schulze, her patron) gives me all the freeness I need to do the sport…this is why I'm still here!", she said.
- by Louise Parkes
Photos © Astrid Appels - NO REPRODUCTION ALLOWED
Eurodressage was on the scene photographing all dressage riders in Rotterdam. If you are interested in photos for print or social media, send us an email.
Related Link
Eurodressage coverage of the 2019 European Dressage Championships