2019 PS Online Auction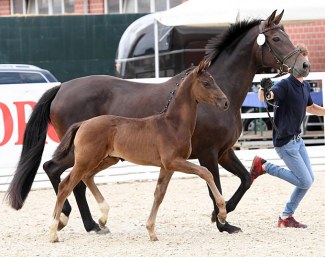 The PS Online Auction team, consisting of a collaboration between Paul Schockemohle and Andreas Helgstrand, have found their stride with the hosting of online auctions and launched eight edition with a collection of jumper horses as well as outstanding bred foals from jumper and dressage lines. 
Remain true to their high quality standards,  an exclusive lot of elite foals and young show jumping horses is now available for purchase in an online auction, which started on 22 August 2019 and which will end on 29 August 2019. 
Online Auction, a Successful and Horse Friendly Sales Formula
"Already our first auction with young show jumping horses a few weeks ago was very successful. And now the next sales highlight," Paul Schockemöhle was pleased to announce.
The stallion owner and initiator from Mühlen explains the good result with the strict quality inspection and the online reach.  "We were able to offer interested parties a truly first-class collection of very promising dressage and jumping foals. Here the praise goes above all to our breeders," he said. 
The online auction has also established itself as the marketplace of the future within a short period of time.  "In the beginning our customers were a bit skeptical," Schockemöhle explained. "But the simple, very comfortable and absolutely safe possibility of being able to bid for the best young talents from anywhere in the world is attracting more and more followers". 
Online Auction of 22-29 August 2019 with 7 Dressage Foals
The PS Online auction that is running now includes a lot of seven high-quality dressage foals. 
One of them is the gorgeous black colt Vidivan (by Vitalis x Furst Heinrich x De Niro). 
The sire Vitalis was stallion foal winner in the Netherlands in 2007, reserve champion of the NRW-licensing in 2009, stallion dressage stallion stallion in 2010, placed in the dressage horse championship and in the Pavo Cup final in 2012, champion in the USA in 2013 and again for the dressage horse world championship qualified and 2014 seven years victorious in the international Small Tour. In 2016 he won under Isabel Freese / NOR the Burg Pokal Final in Frankfurt and the "Stallion of the year" title at the World Championships in Ermelo / NED.
The dam First Lady is a full sister to the successful dressage horse Feiness.
The damline "Finnländerin" has already produced many succesful dressage horses as well as stallions such as Granulit, Rasputin, Prince Quattro, coat of arms prince, Carlsson SL Z, Renkum Liath, For Jump and the Oldenburg premium stallion Finnlaender.
Bid Now on Your Dream Foal
"Of course, we remain at your disposal for any question about our auction foals as well as for technical support! Just give us a call or send us an email," said Paul Schockemohle.
For more information contact:
+49 5492 960100
deckstation@schockemoehle.com
Further information can be found at https://ps-online.auction/