2019 European Dressage Championships
The 2019 European Dressage Championships have kicked off this morning, Monday 19 August 2019, in Rotterdam with the first tranche of riders contesting the Grand Prix, which serves as Team Championship class. 
Here are a few quick notes from our editor-in-chief, Astrid Appels, who is sitting ringside to take photos and take notes for her big daily report. In between breaks, she'll try to type up a few impressions for each block of riders.. 
Keep checking this page regularly and press reload as new information will be uploaded during the day...
Let the Games Begin
And we're off with Arnaud Serre on the Lusitano cross Ultrablue de Massa (by Rubin Royal). The liver chestnut looks a bit tender in the trot extensions with little suspension, but the piaffes are sweet and the canter tour well ridden with a good zig zag and secure one tempi changes. The horse paces on collected walk though. 69.425
American born Carrie Schopf is in her first Europeans riding for Armenia. Aboard Saumur (by her former GP horse Sancisco) she shows that her horse has much potential for piaffe and can do uphill changes but it could look more tighter. Closed in the frame and put together. 
Russian 2011 EC team member Yulia Vinnitskaja is back and hello, who do we have here, Samba Pa Ti, a big mover with much air time, especially in the trot extensions and passage. Unfortunately the horse gets behind the aids and it becomes a laboured ride.62.516
Swiss team debutant Carla Aeberhard produces a sweet and safe ride on Delioh von Buchmatt (by Danone). It all could be a bit more expressive. 65.947
Anders Dahl and the Belgian bred Fidelio van het Bloemenhof deliver. Confident ride with nice tempi changes, a good left pirouette and lovely pi-pa work. 72.733
finnish team debutant Mikaela Soratie and Dacor showed a superb extended walk and much ground cver in the trot extensions, bit the over balance and self carriage should improve. 64.456
Back on the Spanish team since the 2009 Euros in Windsor, Juan Antonio Jimenez rode a safe and solid test on the Mexican owned Euclides MOR. Nice piaffes, careful trot work. The horse is limited in walk. 69.969
Belgian team debutant Simon Missiaen has a very talented horse in Charloe, but the horse was tense and gave the impression that he is mentally not ready for such a big stage. Pity as the potential is there. 67.314
Irish Kate Dwyer and her 13-year old Snowdon Faberge kick off Ireland's campaign to claim a historic first ever team spot for the Olympics. The dark bay gelding looks a bit grumpy but executes big one tempi changes and marches well in the extended walk. 66.180
Austrian team reserve Karoline Valenta stepped up to the plate with big shoes to fill after Victoria Max-Theurer dropped out after the sudden passing of her father Hans Max. Valenta did an excellent job on Diego (by Desperados), riding nice trot extensions and springy passage, but there were mistakes in the two tempi changes. 69.397
Portueguese Duarte Nogueira and Lusitano Beirao (by Rubi)  rode beautiful,piaffe and passage, but the zig zag was more a serpentine than canter half passes. The chubky stallion has nice expression in the front leg in the extensions but there could be more ground cover. 67.531
German Jessica von Bredow-Werndl was first to go for her country, which is expected to make a big golden sweep here, but Championships never really go as expected. Trakehner Dalera urgently needed a toilet break which interrupted the entire left trot half pass. While Werndl was stil able to ride snappy piaffe and passage the canter work was tense in the top line and did not flow as well. Dalera has not yet found the form she showed in Aachen. 76.894.
First break, germany in the lead
Werndl was the last before the first break. Although it wasnt supposed to rain, it did. Ugh!!
Swedish Antonia Ramel rode Brother de Jeu a bit with the handbrake on, literally. The mouth was often open and it looked very hand held. Nonetheless the horse showed lightfooted passage, much control in the canter work with clean changes  and pirouettes. The judges liked it. 74.223
Charlotte Fry's Dark Legend didnt feel like going into the arena. The tall, long legged gelding wasbtense throughput thebtest, but Fry rode very meticulously and scored 74.317.
Starting as an individual for Hungary, Anita Schmidt and Limitless had highlights in the one temp changes and pirouettes.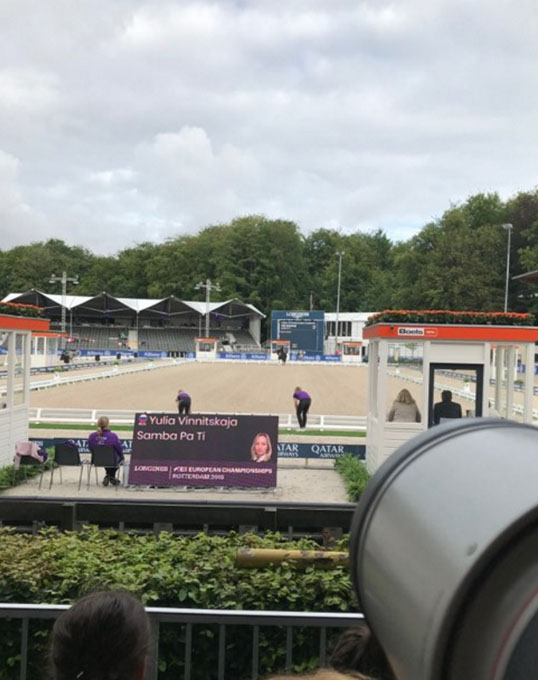 Brrr, the wind has picked up and it's darn chilly. Bring an extra layer if you plan on coming!!
First home rider for Holland, Anne Meulendijks and Avanti put in a decent performance. Her talented United offspring is a powerful mover with great trot and canter extensions, but there were two big mistakes in both diagonals for the tempi changes. Still a 71.801
French champion Charlotte Chalvignac's Euro debut was short lived. The French judge at C rung her out as Lights of Londonderry was uneven in trot.
Russian Tatyana Kosterina has a talented mare in Diavolessa. Nice passage, straight two tempi changes and a great extended walk, but it all looks so rushed and the tail is very restless. 69.720
Estelle Wettstein is back and her mare West Side Story is oh so lovely! Great mover, so much lightness and suspension, but it all could be more uphill and up in the frame for an even higher score. 70.047
Danish duo Agnete Kirk Thinggaard and JoJo AZ do what they do best: make a Grand Prix look easy. The now 16-year old Jojo does piaffe-passage like it's his fourth basic gait. 72.671
Slovakian Michael Bugan and For President rode straight one tempi changes but there was a little hickup in the rhythm in the first piaffe.
Danish based Finnish Mikaela Fabricius-Bjerre (née Lindh) had a few small niggles at the beginning of the ride with a break in the rhythm in the second trot extension, a backstep in the second piaffe and a few double beats, but the one tempi changes were lovely as well as the pirouettes, though the right one was slightly counterbent.67.702
German based Spaniard Borja Carrascosa dealt with a slightly spooky Ein Traum at the start and the horse is a bit funky in the hips in the half passes, but the walk was very good. The chestnut really picks up his feet in the passage and pirouetted were nice. Overall the nose needed to be more out. 69.705
Belgian Fanny Verliefden has a super stallion, Indoctro van de Steenblok, and today they started out with wonderful trot and piaffe-passage work. Their score was at 73% until the canter in which he got stalliony and threatened to buck in each movement. The two tempi changes suffered from it, in the zig zag he kicked out. It literally looked like the horse's testicals were in the way. Verliefden kept her cool and finished on 68.137.
Lunch Break and then Final Block
It was not their day for Nicolas Wagner and Quater Back junior. The chestnut was unsettled in the arena. He spun in the first piaffe and couldn't decompress in the extended walk. In the collected he started to show blood in his mouth and was excused from the test.
Heike Holstein and Sambuca rode a test up to par. While the tail spun much, the contact was steady. Straight tempi changes and bouncy passage. 69.472
Belinda Weinbauer rode Fustanella with much focus. Despite being 14 the mare looks green at Grand Prix. The passage was bouncy and lightfooted but the mare did not relax in walk and rushed. 68.882
German based Israeli Eyal Zlatin and Bonzanjo are blazing trails for Israel in dressage in the footsteps of Oded Shimoni. Bonzanjo executes super straight one tempi changes but he was a bit rushed through the beginning of the test and the piaffe is still a weak point, as he frosses in front and behind.
Portuguese Rodrigo Torres on Fogoso was visibly thrilled with his testvas he jubilated non stop while leaving the arena. This Lusitano has a ground covering walk and innate talent for the collected work. 71.786
Dorothee Schneider and Showtime were the ones to watch today after three stellar rides in Aachen a month ago. The pair was not as sharp as in Aachen with a few double beats in the passage and the horse searching the rhythm in the first piaffe but still, the lightness and ease are remarkable. 80.233
Czech Libuse Mencke and Syrio as individual pairs in the last block of riders for today, amongst some ofnthe strongestbcombinations in the world. Mencke rode with much energy and pezzazz. In passage her Sancisco offspring needs to more the legs more under the body.
Swedish Therese Nilshagen has been riding a much more mature Dante Weltino this year. The gorgeous stallion stays much more up in the bridle and his trot extensions now show real lengthening. A mistake in the one tempi changes and final change in the zig zag affected the score. 75.466
Gareth Hughes and Briolinca were not as snazzy as they were in Compiegne with the mare a bit more rigid in the topline. The walk was poor today, unfortunately, but there were also so many good things like a fzbulous piaffe-passage. 76.351
Dutch Hans Peter Minderhoud rode as we are accustomed of him: full of energy and forwardness. Dream Boy was sharp on the aids until the final halt. It was all very expressive, but also hectic which revealed that the self carriage of this horse is not yet ideal. 75.295
That's all folks. I'm off to the hotel to process my photos and write another show report of what happened today. Not sure i can do such extensive quick notes tomorrow as i did today, but let's see..
-- by Astrid Appels
Eurodressage Coverage of the 2019 European Dressage Championships