2019 European Youth Riders Championships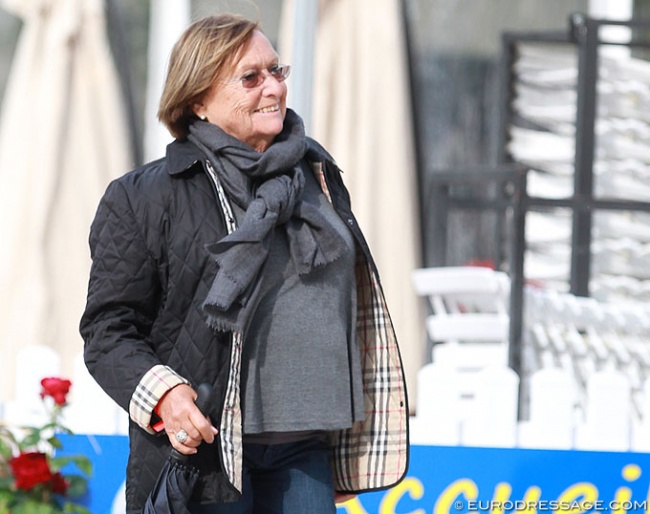 Mariette Whitages, retired international dressage judge from Belgium, has always had Italy in her heart.
Horses Riviera Resort asked her four questions as she will be the technical delegate at the 2019 European Youth Riders Championships in San Giovanni in Marignano, Italy; on 24 - 28 July 2019.
1. How and when did Dressage in Italy enter your life?
In the early 80's, I organised World Cup qualifiers and CDI's in Schoten (Belgium) The Italian team was always present and competed successfully. Ettore Mariano, a dear friend, chair of the Italian Dressage Committee, as well as the Chef d'Equipe, asked me if I could help organise the first ever CDI in Italy. Of course, I was more than happy to help him and it was with great enthusiasm that I started to work on the CDI in Rome- Villa Borghese.
I did not realise that it would be such an adventure. Everything happened, (no judges booths, we had to rent campers, the sand of the arena arrived  last minute, the gates of the park closed because of a demonstration, so no lorry could enter and we had more than an hour delay to start the Freestyle which was televised. Ettore Mariano got bitten by a street dog and had to go to hospital just before we started the first class, etc.) I could write a book about it. But we always found last minute solutions without anybody knowing about the problems.
At times it was pure inventiveness, but I realised that this was /is one of the strong sides of Italians! I helped FISE  organise CDI's and World Cups for 6 years in a row and I just loved it. So, I do not need to tell you that even over the year, I have been visiting Italy many times, either to visit friends, or for an FEI appointment or to give clinics.
I am really thrilled and happy to be the TD for these 2019 European Championships… It feels like coming home…
2. Since then, how different is the quality of horses and riders?
Generally speaking, the level of the youth in Dressage competitions is improving a lot. Some North European countries, which have always been strong, will remain strong but the other countries are catching up quickly. This European Championships will be a thrilling edition.
3. Will this European Youth Dressage Championship be a special in terms of the variety of medals?
It is the first time that the U25 is organised together with the other youth classes (Children, Juniors, Young Riders). Yes, there is a big gap between the U25 and the other levels. U25 is actually already close to the Grand Prix, which is the Olympic level with piaffe and passage. It is though for these young people, but I am astonished that they manage so well. It is difficult for these young people, but I am amazed that they succeed so well.
4. What is Dressage for you?
Dressage is a wonderful discipline, it is all about harmony and control. I would emphasize the word Harmony. The more the horse and rider combination progresses, the more they can demonstrate the fact that they are "one", working together and understanding each other.
-- Horses Riviera Resort press release
Photo © Astrid Appels
Related Link
Eurodressage Coverage of the 2019 European Youth Riders Championships