2019 Bundeschampionate Qualifier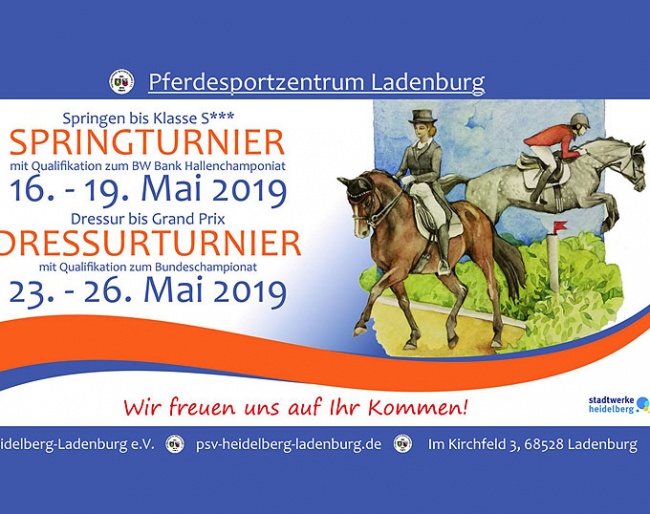 The 5-year old Royal Lady GT and  the 6-year old Dimitroff MT became the winners of the Bundeschampionate qualification classes at the regional show  in Ladenburg on 23 May 2019.
Ten horses competed in the 5-year old division and Samantha Thompson moved into the winner's circle with an overall score of 7.6, which did not suffice to qualify for Warendorf though. Aboard Gestut Tannenhof's Hanoverian mare Royal Lady GT (by Rouseau Noir x Rohdiamant) she scored 8 for walk, and 7.5 for trot, canter, submission and general impression. Stefanie Baumgartner and Hof Kasselmann's Westfalian gelding Dandios (by Danciano x Furst Grandios) were the runner's up with 7.5. The black gelding got 7 for walk, 8 for trot and canter, 7 for submission and 7.5 for general impression. 
Eleven combinations competed in the 6-year old division and Hannah Milena Rother on Sissy Max-Theurer's Hanoverian stallion Dimitroff MT (by Dimaggio x Wolkenstein II) became the only rider to score 8.0 at this show and qualify for Warendorf. They won the M-level dressage horse test with 8.5 for walk, 7.5 for trot and 8 for canter, submission and general impression. Rother also placed second on Gestut Fohlenhof's Bavarian mare Salvina (by Genesis x Rubin Royal) on 7.8. The mare got 7 for walk, 8.5 for trot, 8 for canter, 7.5 for submission and 8 for general impression. 
Results - 2019 Bundeschampionate Qualifier - Ladenburg
5-year olds
1. Royal Lady GT (by Rousseau Noir x Rohdiamant) - Thompson,Samantha - 7.60
2 Dandios (by Danciano / Fürst Grandios) - Baumgartner,Stefanie - 7.50
3 San Christobal SG (by Susu's Boy / Dancier) - Schaack,Jerome - 7.30
4 Leonard (by Lingh / Charon) - Urban,Susanne - 7.00
5 Derrick (by Diamond Hit / Lagoheidor) - Weiß,Anne -  6.90
6 Jewel (by Chagall / Tuschinski) - Rohr,Paulina - 6.80
6 Cavalito (by Christiano / Riccione) - Schaack,Jerome  -  6.80
6 Malibu (by Metall / Harvard) - Federkeil,Corinna  - 6.80
9 Quickstepp (by Quaterhall / Don Vino) - Schmidt,Sabine  - 6.60
10 Viva Vitalis (by Vitalis / Levados) - Trübenbach,Claudia  - 6.10
6-year olds
1.  Dimitroff MT (by Dimaggio / Brentano II) - Rother,Hannah Milena - 8.00
2 Salvina (by Genesis / Rubin­Royal ) - Rother,Hannah Milena - 7.80
3 Rock it now (by Rock Forever I / Florestan) - Winnewisser,Naomi - 7.70
4 Balios Primus (by Bertolini / Samba Hit) - Witzemann,Stephanie  7.20
5 Donadieu B (by Diamond Hit / Sir Oldenburg) - Platzdasch,Andreas - 7.10
6 Just Magic (by Johnson / Florestan) - Schlotter,Jana - .00
7 Fiorini (by Franziskus / Sorento) - Hoffmann,Susanne - 6.90
7 Doolin (by Damon Hill / Loutano) - Kühn,Julia - 6.90
9 First Moment (by Fahrenheit / Samba Hit) - Federkeil,Corinna - 6.80
9 Deja Vue R (by Don Juan de Hus / Wolkentanz II) - Schlotter,Jana -  6.80
11 Fürst Rubin (by Floriscount / Dormello) - Hohmann,Luka Nina - 6.70
Related Link
Eurodressage Coverage of the 2019 Bundeschampionate