Canada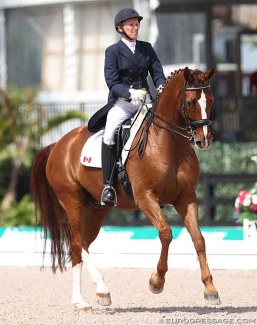 The international Grand Prix horse Devon L, which has been competing for Canada under Diane Creech and Vanessa Creech-Terauds, has been retired from competition sport. 
Devon L is a 19-year old American bred Hanoverian by De Niro out of elite mare Wibranda (by Wolkenstein II). He was bred at Leatherdale farms in Minnesota, U.S.A. and owned by Louise Leatherdale.
"With one bright and one tearful eye, we have decided to make the decision to retire him from high-performance competition," said Louise Leatherdale. "A kind horse that always gave so much of himself to his riders, Devon L brought our entire team an immense amount of joy over the years. We've always wanted him to feel great as he steps into the next chapter of life happy and full of it."
Devon L became Canadian Grand Prix rider Diane Creech's career making international dressage horse. 
In 2005 they dominated the 5-year-old division tests and won the Canadian Young Horse Championship in the the 5-year old division The following year, the pair represented Canada at the 2006 World Young Horse Breeding Championships in Verden, Germany.
They made their Grand Prix debut in 2009 and earned top placings and many CDI Grand Prix wins around the globe, with the pinnacle of their resume being their selection as the reserves for the 2012 London Olympic Games. In 2014, Creech and Devon L earned a career high score of 75.100% in the Grand Prix Kur at the CDI Palgrave.
In 2017 Devon L became a Grand Prix schoolmaster for Diane's daughter Vanessa Creech-Terauds and they competed in the Under 25 division at CDI's in Wellington and Canada through 2018. The horse's last international competition was in September 2018 at the CDI Dressage at Devon, where they won both U25 classes.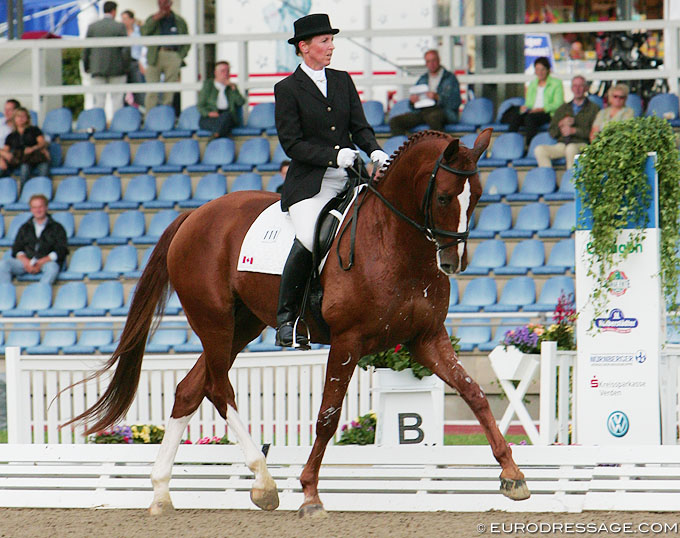 "Moving up from Young Riders to the U25 Grand Prix was a very big step and learning curve, and Devon was the best teacher I could've asked for," said Vanessa. "Always keeping me on my toes and riding every step, his sharp mind and bold personality really showed me what it takes to be a Grand Prix rider."
Diane added, "we are so lucky that Louise is allowing us to take Devon home to Canada with us for his retirement, where he will still be hacked out and be the big uncle to our young Damsey filly, Davina. Devon has taken me so many places and I will always be grateful to him and to Louise, who has supported us all these years."
Photos © Astrid Appels
Related Links
Eurodressage Photo Database: Devon L
Vanessa Creech-Terauds Awarded 2018 Orion Cup
Brooks and Creech go Two-for-Two at 2014 CDI Saugerties
Marcus and Creech Take Top Honours at 2013 Royal Winter Fair in Toronto
James Irwin Wins Advanced Championship at 2011 CDI Caledon
Diane Creech Named Dressage Canada's Athlete of the Month for February 2012
Creech and Devon L Qualified for the 2006 WCYH Verden
Doug Leatherdale, 2006 Dressage Canada Owner of the Year