2019 CDI Sint-Truiden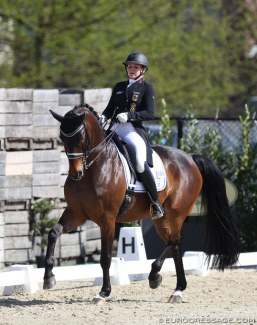 German Anna Christina Abbelen get a first place in the first in the two Under 25 Grand Prix classes being contested at the 2019 CDI Sint-Truiden in Belgium.
In its third, consecutive year running, the CDI Sint-Truiden used to be a modest international at the start of the outdoor show season. This year the event has been blessed on Easter weekend: it has a good date with no overlap with other nearby shows and the weather has been extraordinary: five days of sunshine and 25 C° can't make the conditions any better. The CDI SInt-Truiden has now burst out of its seams with 160 combinations entered from pony level to Grand Prix. 
The Under 25  division brought eleven pairs to the starters line from six different nations. Six years after winning the 2013 European Junior Riders' champion title, Anna Christina Abbelen is now at Under 25 Grand Prix aboard Henny Hennessy, a 16-year old Hanoverian by Hofrat x Achenbach, which her trainer Heiner Schiergen helped her train to Grand Prix. Anna once competed the bay at international junior level in 2013, but in 2015 she began to ride him at Under 25 level. 
On Saturday 20 April in Sint-Truiden, Abbelen and Henny Hennessy returned to the CDI ring after 10 months off from international competition. They topped the board in the Short Grand Prix with 69.786%. The bay is a flamboyant mover with a lot of leg flash in the trot extensions and bolstering his power still seems to be a task as the halt halting is not always as subtle, but the horse is uphill in t he tempi changes and can sit in the pirouettes.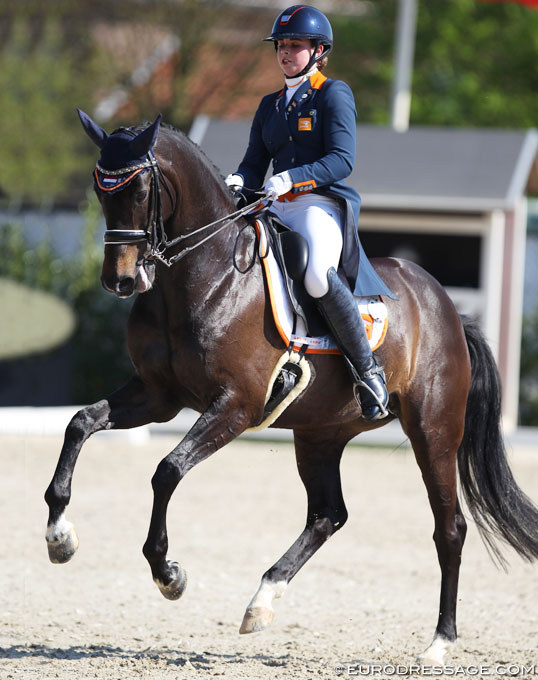 Dutch Jasmien de Koeyer and her 10-year old KWPN mare Esperanza (by Desperados x Krack C) have begun their international Under 25 campaign this year after last competing internationally at young riders level in 2017. The pair started at Den Bosch in March and Joosland last week. In Sint-Truiden the talented mare landed second place in the Short Grand Prix with 69.402%. Esperanza has an amazing talent to extend and lengthen the frame, but for the 10-year old collecting and shortening the frame is a still a task, which shows in the open passage in which she can not yet fully carry herself and sways in the body. The piaffe is still small, but the tempi changes are up and ground covering and in the lateral movements she crosses well. 
French Cedric Gallinard and the 17-year old Belgian SBS bred Scherzo ZC (by Ferro x Romadour II) are the most seasons Under 25 riders in the field in Sint-Truiden with international starts at the level already since 2017. As the reigning 2018 French Under 25 Champions, the pair also represented France at the 2018 European Under 25 Championships in Exloo. This year have already shown at the CDI's in Nice and Ornago. In Sint-Truiden they landed third place with 67.906%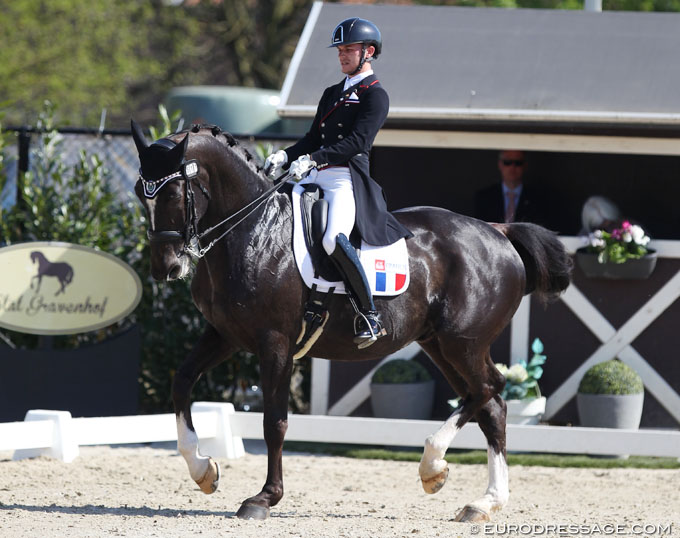 Belgian Alexa Fairchild has made her return to the international arena after an almost three year break from competition due to an injured horse and a switch in trainers. Now working with Belgians Wim Verwimp and Fanny Verliefden, Fairchild has found her stride aboard the 13-year old Hanoverian mare Romy (by Rousseau x Rotspon) which she purchased two years ago in France. Alexa and the elegant mare made their CDI Under 25 debut in Lier, Belgium, two months ago and in Sint-Truiden they showed much progress. The mare was  much better in the frame, with a lighter, more elastic contact and overall the picture was very harmonious and effortless, despite a mistake in the tempi changes and the right pirouette too big. They could have topped the board with a faultfree test but now placed fourth with 67.137% this time.
Text and Photos © Astrid Appels - No reproduction allowed
Eurodressage photographed all riders at the CDI Sint-Truiden. If you are interested in photos for social media or prints, email us!
Related Links
Scores: 2019 CDI Sint-Truiden
Photo Report: Double Win for Fry and Everdale in U25 Division at 2019 CDI Lier
Jawurek, Bonifay, Noel, Gallinard Win 2018 French Youth Riders Championships
Alexa Fairchild Acquires Romy as New Grand Prix Ride