2019 World Championships for Young Dressage Horses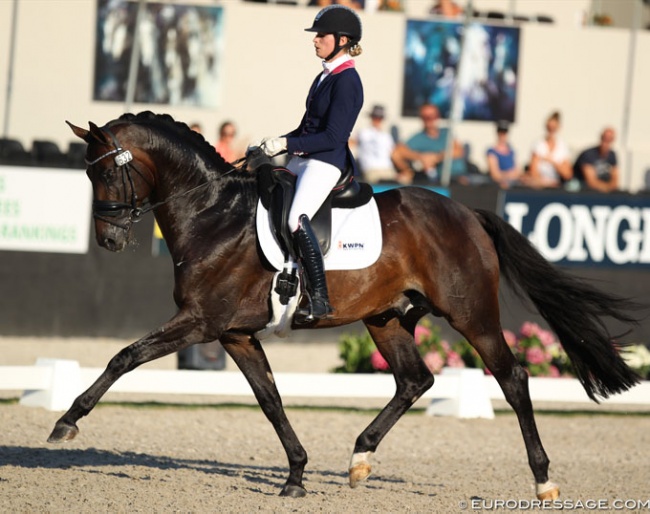 In The Netherlands a first selection moment for the 2019 World Championships for Young Dressage Horses in Ermelo (1 - 4 August 2019) has already been held. 
The Dutch Equestrian Federation and KWPN society combine forces for the selection of their horses and organize a series of observation trials during which the selectors set up a long list, which they bring down to a short list and the actual team leading up to the summer championship.
Horses that have competed successfully in the 2018 Pavo Cup Finals are automatically invited to the first official observation trial, but those who did not compete in the Pavo Cup got the opportunity to present themselves at a special selection event held in Ermelo on 13 March 2019.
Selectors Monique Peutz, Alex van Silfhout and Floor Dröge are this year's selectors.
"It's nice to notice that all three of us are on the same wavelength," said KWPN inspector Dröge. "We believe that a horse needs to have three good basic gaits in order to have a chance to be selected. The performance doesn't have to be perfect as the World Championships are only in 4,5 months, but we need to be able to see room for progress. overall we saw nice, good sport horses that were beautifully presented. We are full of confidence for the first observation trial."
At this pre-selection event for non-Pavo cup participants, twelve 5-year olds, thirteen 6-year olds and eight 7-year olds were invited to the first official observation trial. Several horses got exceptions after the riders handed in valid reasons: In Style, Hermes, and Hot Chocolate.
Four horses that were successful in the 2018 Pavo Cup are excused from the first selection/observation trial: Hashtag (by Cachet L), Intro K (by Apache), Invito (by Furstenball) and Jovian (by Apache).
Invited to the first observation, alongside the Pavo Cup finalists, are:
5-year olds
Ainhoa Prada Ortiz - Jezebel-Odette B (by Lord Leatherdale) 
Annabel Rootveld - Julia (by Everdale) 
Bart Veeze - Escobar (by El Capone )
Kim Leen - Jack Of Diamonds (by Everdale) 
Kirsten Beckers-  Jeniro (by Negro )
Kirsten Brouwer - Joyride E.H. (by Ampère) 
Lars Op 't Hoog - Jiolympia (by Sezuan)
Lars Op 't Hoog - Jackpot (by Dream Boy) 
Margriet Hingstman - Jovanni (by Davino V.O.D. )
Marlies Van Baalen - Jacky Kennedy Dvb (by Damsey) 
Myrthe Wedda - Just 4U Rs2 (by All at Once) 
Nicky Snijder - Jongleur Sth (by Expression)
6-year olds
Dinja Van Liere - Independent Little Me (by Uno don Diego )
Emmelie Scholtens - Infinity (by Apache )
Femke De Laat - Invito (by Fürstenball )
Laurens Van Lieren-  Illumina Vrouwe (by Furst Romancier)
Lisanne Der Nederlanden  - Ivanto (by Dream Boy) 
Margreet Prosman-  Icecream (by Desperado) 
Marije De Lange-  Inspiration (by Everdale) 
Marjan Hooge - Idem Dito (by Wynton)
Marrit Reusien - Brinkhof's Incredible (by Dream Boy)
Nicky Snijder - Ice Princess Sth (by Davino V.O.D.)
Patrick Van der Meer -  I'm Legend (by Dreamboy)
Renate Uytert - van Vliet - In Style (by Eye Catcher)
Roy First - Infinity Win T (by Everdale)
7-year olds
Adelinde Cornelissen -  Henkie (by Alexandro P )
Anne Meulendijks - Hot-spot (by Dancer )
Dinja Van Liere - Hermès (by Easy Game )
Esmee Van Gijtenbeek - Hot chocolate (by Apache )
Mara De Vries - Habibi DVB (by Don Schufro )
Olga Boucher - Houdini la Haya (by Krack C )
Quinty Vossers - Hummer (by Charmeur )
Romy Bemelmans -  Hip Hop (by Jazz)
Photo © Astrid Appels
Related Link
Eurodressage Coverage of the 2019 World Young Horse Championships