FEI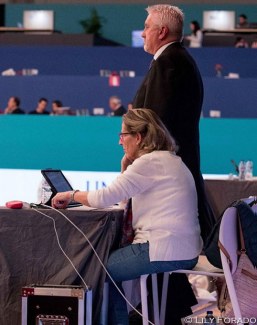 During the fourth leg of the 2018-2019 FEI Dressage World Cup Western European League Season in Madrid last week, the FEI implemented eDressage for the first time.
This paperless judging system is based on the feedback and suggestions of various FEI officials, athletes and organisations. Data is handled securely and stored safely in the SAP Cloud Platform.
The FEI enabled eDressage for all remaining legs of the 2018/19 Western European League season including the final in Gothenburg, Sweden.
After successful trial implementations for several CDIs as Achleiten, Cappeln and Leudelange this summer, the FEI decided to take the next step by implementing the new technology for the prestigious FEI Dressage World CupTM series.
For organisers, athletes, judges and spectators eDressage has many significant advantages, as it delivers finished and signed scores immediately after each test; there are less people in judges' huts and in total seven persons are less needed per competition. The prize giving ceremony can start directly after the last competitor and riders will receive score sheets via email.
eDressage works with secured and encrypted communication and benefits. Marks are immediately transmitted to the nearest server and judges sign off score sheets directly on iPads.
Photo © Lily Forado
Related Links
Spain's Ferrer-Salat Posts Definitive Victory as Madrid Makes its Series Debut
2018 IDTC Annual Meeting at Gestut Vorwerk, the New Global Dressage Forum?!