Westfalian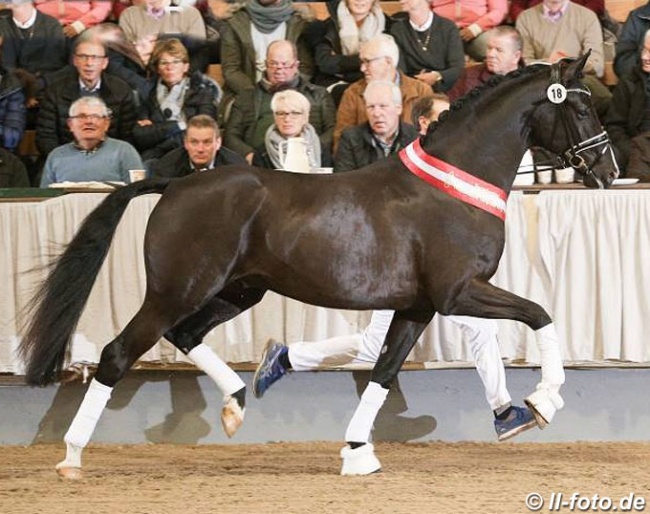 The black Danciero (by Dancier x Floriscount) was named the champion of the 2018 Westfalian Stallion Licensing in Munster-Handorf on 28 November 2018. 
In a move to attract a bigger audience of shoppers and stallion owners, the Westfalian Stallion Licensing is one of the more "open" colt approvals in which stallions not registered with Westfalian have a chance to move into the premium ring (and sell better at auction). It paid off as this year no less than 11 colts sold for more than 100,000 euro. 
Furthermore, Westfalen took a bold, albeit logical move to release the WFFS status of all the colts aspiring to be licensed! Westfalen joined the Trakehner society  to announce the WFFS status at the licensing. At the Hanoverian licensing, leaflets with the WFFS status of the colts were available but only at the specific request at the office for those interested. As of 1 January 2019 a new EU rule comes into play and studbooks in Germany will be forced to release the WFFS status of their active breeding stallions.
Premiums and Top Prices Galore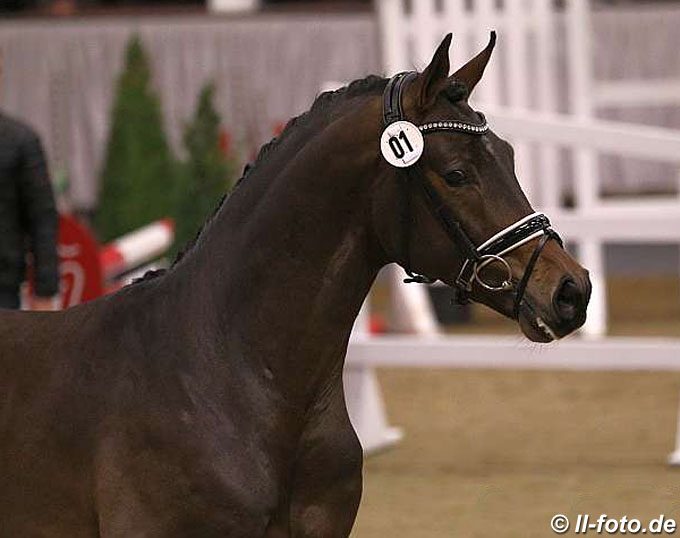 At the 2018 Westfalian Licensing, twenty-three dressage bred colts were licensed, nine of them were named premium. 
The dressage champion of the licensing was Matthieu Beckmann and Pascal Kandziora's black Hanoverian registered Danciero (by Dancier x Floriscount). Bred by H Broers and J. Weber, this colt sold for 700,000 euro at auction to Andreas Helgstrand. The stallion was praised for his cool temperament, three quality basic gaits, good engine behind and elasticity.
Westfalian surprisingly named three stallions reserve champion, a pointless decision that only reduces the status and prestige of owning and standing a reserve champion. The first one was the Oldenburg registered Apalachee (by Apache x Furst Romancier x Lafitte), bred by Rainer and Angelika Ahlers and owned by the Luxembourg Claude Niedner. This WFFS positive stallion sold for 400,000 euro to Gestut Bonhomme. The stallion moved well but only got to walk properly when he relaxed a bit more.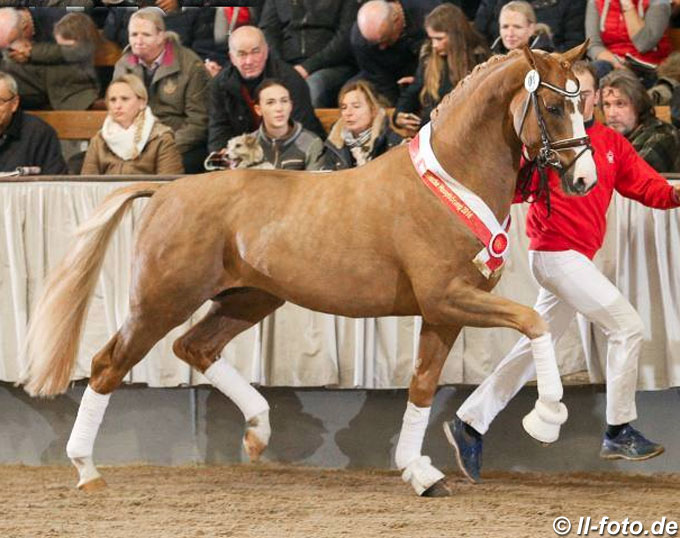 The second was a Westfalian bred Borghese (by Baccardi x Laureus x Ferragamo), bred by August Exeler. He  sold for 370,000 euro to Sissy Max-Theurer. The Baccardi was also presented at the licensing by Matthieu Beckmann, who filled his pockets with little over one million euro. This colt was praised for his good hind leg, his bright chestnut coat, and overall efficient body use.
The third reserve champion was Eugene Reesink's Dutch bred and Oldenburg registered Vaderland (by Vitalis x Krack C x Contango), which sold for 370,000 euro to a Belgian in collaboration with Celle. He will stand at Matthieu Beckmann's station in Germany. This Krack C in bred colt moved with much cadence and uphill tendency, but in walk he was limited in ground cover. 
The other premium stallions all sold well at auction. The beautiful chestnut Bentayga with flaxen mane and tail is by Bernay x Dream On earned a premium and the Westfalian sold for 360,000 euro to Wilhelm Holkenbrink. He is bred by Frank Schmitz and was owned by Christian Schulze Tophoff.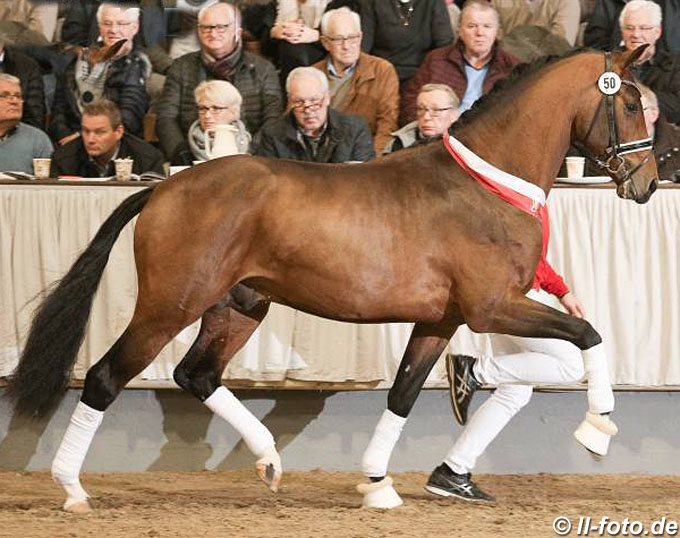 The premium DSP registered stallion Bollinger (by Bon Coeur x Dimaggio), bred by Bernd Broghammer and owned by the Swiss World of Dressage, sold for 170,000 euro to the Belgian based American Elisabeth Tepper. This strapping lad is WFFS positive. In 2016 he was the top seller at the Darmstadt Foal Auction
The other premium stallions were the Westfalian bred Borsalino x His Highness (bred and owned by Adolf Schurf) which sold for 82,000 euro to the Celle state stud; the Westfalian bred Floriscount x Diamond Hit (bred by Philipp von Thaden, owned by Pascal Kandziora), which sold for 75,000 euro; and the Westfalian bred Franz Josef (by Franziskus x Rock Forever - bred by Hermann Rosenbaum and owned by Wilhelm Holkenbrink). The latter was not for sale. 
Kaching for Westfalian
Also some of the non-premium but licensed stallions sold well.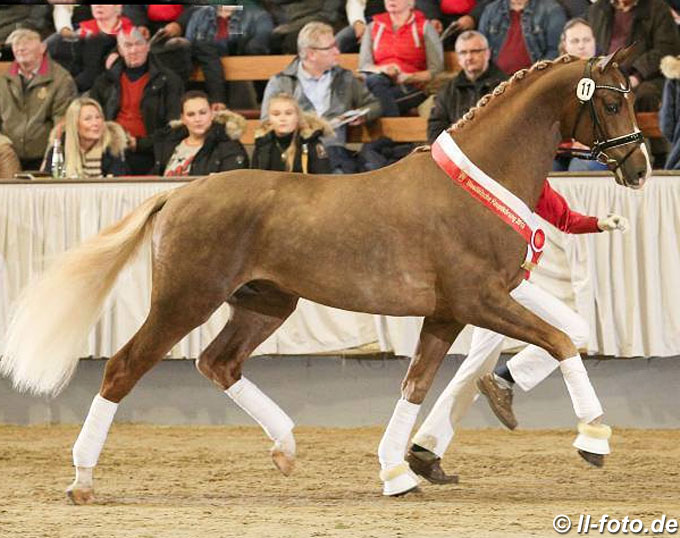 The licensed Bourbon (by Baccardi x Lissaro van de Helle x Davignon), bred by Berhard Hustert and owned by the breeder in partnership with Marianne Kugler, fetched 144,000 euro and became owned by the state studs of Celle and Marbach.
Reesink also sold his not-yet licensed Grand Galaxy Win x Sir Sinclair for 130,000 euro. This colt, bred by C. Kikkert in The Netherlands,  was not yet approved as its testicles haven't dropped yet. 
The average price for a licensed stallion was 141.138 euro, which was a higher average than at at the 2018 Hanoverian licensing, where a 2 million euro colt even significantly pulled up the average.  The average price in Verden was 130,960 euro, in Neumunster for the Trakehners it was 71,900 euro, and in Vechta it was approximately 67,000 euro.
Complete list of licensed/non-licensed colts.
Photos © LL-foto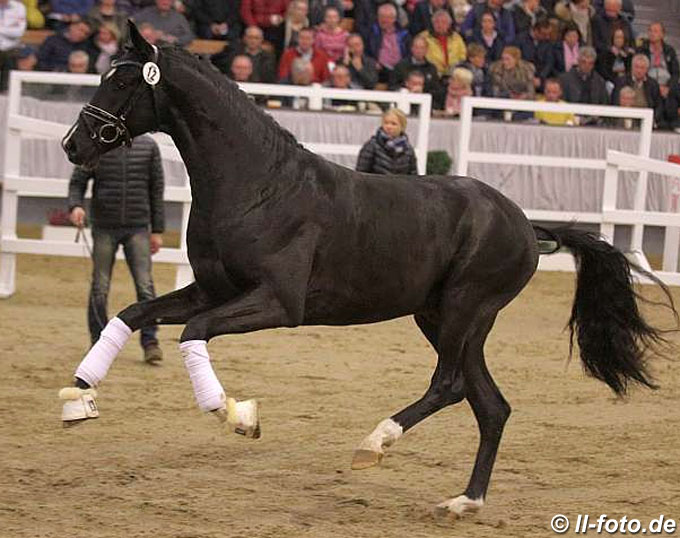 Related Links
Fashion in Black Named Champion of the 2017 Westfalian Stallion Licensing
Valverde, Champion of the 2016 Westfalian Stallion Licensing
D'Egalite, Champion of the 2015 Westfalian Stallion Licensing 
Borsalino, Champion of the 2014 Westfalian Stallion Licensing
Rock For Me, Champion of the 2013 Westfalian Stallion Licensing
Like A Diamond, Champion of the 2012 Westfalian Stallion Licensing
Dubrovnik, Champion of the 2011 Westfalian Stallion Licensing
A La Carte, Champion of the 2010 Westfalian Stallion Licensing
Silbermond, Champion of the 2009 Westfalian Stallion Licensing
Flanagan, Champion of the 2008 Westfalian Stallion Licensing
Coronas, Champion of the 2007 Westfalian Stallion Licensing
Estobar NRW, 2006 Westfalian Licensing Champion
Cornado 2005 Westfalian Licensing Champion
Fidertanz, 2004 Westfalian Licensing Champion
Dancing Dynamite, 2003 Westfalian Licensing Champion
Rosencharmeur, the 2002 Westfalian Stallion Licensing Champion
Don Bedo, 1998 Westfalian Stallion Licensing Champion