Hanoverian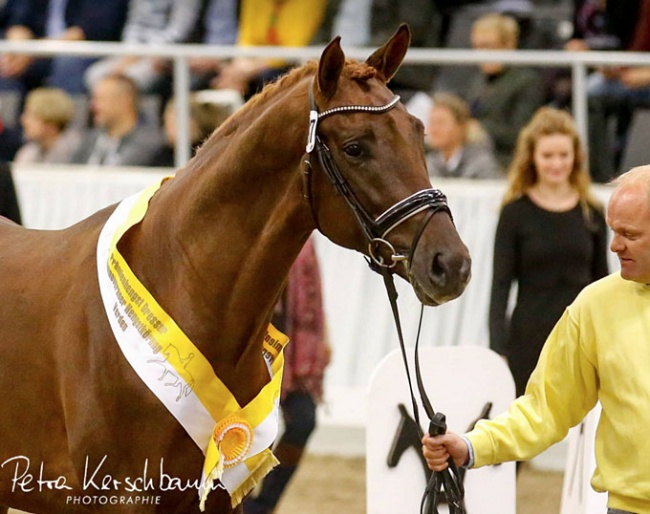 Andreas Helgstrand and Paul Schockemöhle set a new stallion licensing auction record by acquiring premium stallion  Vivino (by Vivaldi x Dancier) for 2.010.000 euro at the 2018 Hanoverian Stallion Licensing auction on Saturday 27 October 2018. 
The previous licensing auction record was 1.2 million euro which Helgstrand paid for Revolution three years ago. The most expensive horse ever sold at a warmblood auction, whoever,  is still set by SPH Dante, which sold to Russia at the 2014 PSI Auction for 2.8 million euro.
The auction following the Hanoverian licensing was a massive success.
Helgstrand bid against Norwegian millionaire Kristin Andresen who went all the way to 2 million euro for Vivino (by Vivaldi x Dancier). The already 1.73 m standing liver chestnut is bred by Ulrike Buurman and was owned by Ernst Kemper. 
Schockemöhle, Helgstrand and Joop van Uytert acquired the premium stallion Lord Europe (by Lord Leatherdale x Boston) for 800,000 euro.
Andresen ended up buying two other premium licensed colts: Duke (by Dimaggio x Sir Donnerhall) for 570.000 euro and the Dancier x  Wolkenstein II for 120,000 euro. The Dimaggio was also owned by Ernst Kemper, who had discovered the liver chestnut at his breeder Dieter Hilz.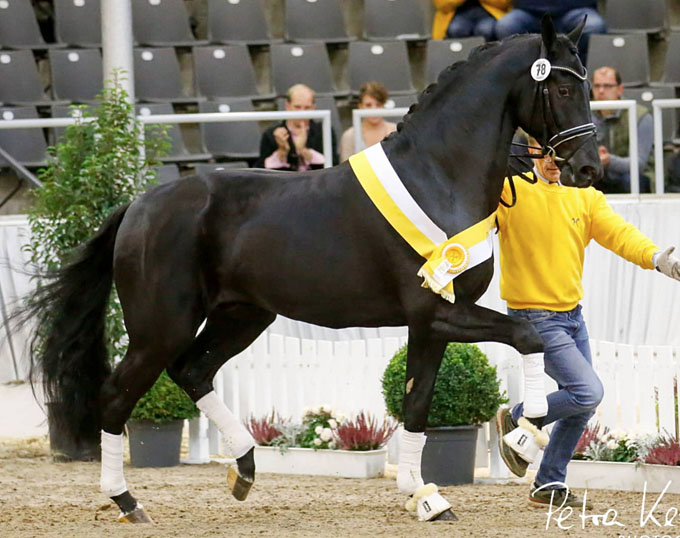 The best selling show jumper was a colt by Kannan x Stolzenberg, bred and presented by Ulrich Heuer, Bienenbüttel. He sold for 150,000 euro to Irish Cian O'Connor. A premium colt by Embassy x Darco fetched 135,000 euro.
The St. Schufro x Hofrat sold to Bavaria for 400,000 euro and the Veneno x Dimaggio sold for 120,000 euro. The Celle state stud purchased Fusionist (by Franklin x Ehrentanz) for 165,000 euro. The Moritzburg state stud bought the Bon Coeur x Rohdiamant for 155,000 euro. Helgstrand also bought the Furstenball x His Highness for 100,000 euro. The Vivaldi x Hohenstein fetched 100,000 euro
Martin Schaudt purchased the Sir Heinrich x Furst Piccolo for 20,000 euro. Kerstin Klieber bought the Le Vivaldi x Lauries for 67,000 euro. A Bon Coeur x Wolkentanz sold for 87,000 euro, while the Bon Coeur x Furst Nymphenburg went for 75,000 euro. The Dimaggio x Scolari sold for 80,000 euro.
The average price for a licensed colt at this auction was now atypically high as 2 million bid pushed up the average. A colt now cost 130,960 euro on average at this auction. 
The unlicensed stallions also aroused a lot of interest. A bay colt by Le Vivaldi x Rotspon (breeder: Elizabeth Kapp, owner Heiko Klausing) sold for 54.000 euro to a Hanoverian breeder from the Lüneburger Heide. The average price of the 32 non-licensed colts was 18,758 euro. 
Photos © Petra Kerschbaum
Related Links
KWPN Sire Vivaldi Stamps 2018 Hanoverian Stallion Licensing
Ninety-Nine Colts Selected for 2018 Hanoverian Stallion Licensing