Hanoverian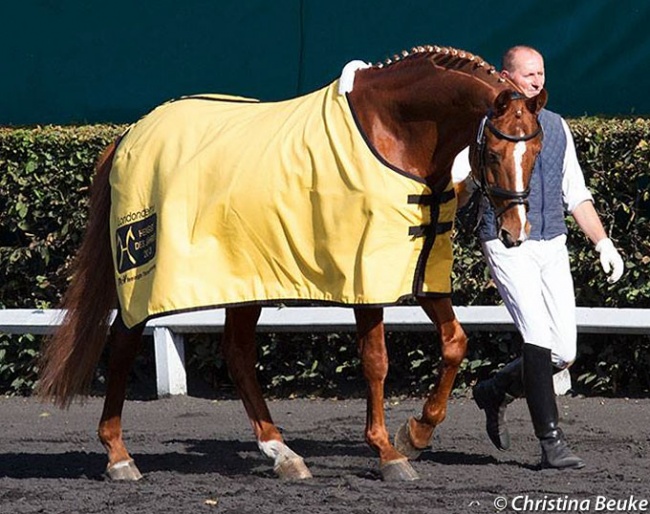 Celle state stud, the biggest state owned stallion standing Hanoverian sires, has finally released the WFFS results of its sires. Five actively listed dressage stallions tested positive, including some of their most popular ones: Don Frederico and Londonderry. Four more dressage Celle owned stallions are positive, bringing the tally to nine.
Celle issued a statement on their website that the results were published. Addressing their breeders, the statement read:
For several months WFFS (Warmblood Fragile Foal Syndrome) is on everyone's lips. In the last few weeks we tested our stallions, which we offer with fresh or frozen semen. The results can be found on our homepage at the corresponding stallion. Of course we also publish them in our stallion directory 2019. After all, we don´t want that your mare get a childless foal because of hereditary disease WFFS. However, there are only two carriers of the genetic defect are mated with each other and even then, there is only a 25 percent risk. We therefore recommend that you have your mare (s) tested
A look into their online stallion catalogue revealed that the dressage stallions positive to the WFFS gene are Don Frederico, Don Index, Londonderry, Londontime and Quaterhall. 
After the untimely death of Dancier and Londonderry, Don Frederico is the most successful dressage sire that the Celle State Stud owns and still stands at stud. Londonderry, however, is still listed as available on their stallion roster.
Of the stallions not immediately listed on the Celle website, but also positive are Don Romanov (by Don Schufro x Romanov), Don Vino (by Donnerhall x Consul), Edward (by Embassy I x Fabriano), and Sarotti Mocca Sahne (by Soliman x Lauries Crusador xx).
Photo © Christina Beuke
Related Links
Apache Retests Positive as WFFS Carrier
Blue Hors Reports Three of Its Stallions as WFFS Carriers
WBFSH Finally Releases Statement on Warmblood Fragile Foal Syndrome
Four out of 19 Gelderlander Stallions WFFS Positive
Jovian and For Sure Test Positive as WFFS Carriers
Springbank II, Atterupgaards Botticelli WFFS Carriers, Helgstrand Stallions Partly Tested
Glock's Total U.S. Tests Positive to WFFS Gene