KWPN
The Dutch warmblood bred colt Noah ISF (by Contango x Carabas) became the winner of the Overall Foal Championship at the 2018 Devon Breed Show on Wednesday 26 September 2018. 
Noah ISF is more than interestingly bred, sired by the late elite stallion Contango from a frozen semen dose and out of Young Horse World Champion Cayenne W (by Carabas x Breitling).  The breeder and owner is Mary Alice Malone of Iron Spring Farm. 
Four foals, the winners and reserve champions of the colt and filly divisions, competed in the champion's ring for the overall foal title.  Noah ISF took highest honour. The reserve championship went to Mary Alice Malone's KWPN bred Nurejev ISF (by Sir Sinclair x Oscar), who was the reserve colt champion behind Noah. Place three went to filly For Fun HTF (by For Romance x Qredit), bred and owned by Hilltop Farm. Denise Osborne's filly Natalia (by Florianus II x Prestige VDL) was fourth despite winning the FIlly Championship earlier in the day ahead of For Fun HTF.
Branley Ash Nautilus, Pony Foal Champion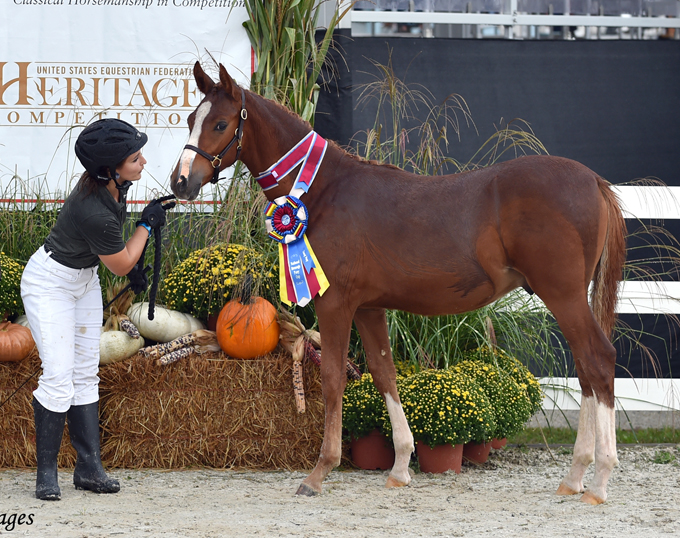 For the first time, Dressage at Devon, also held classes just for ponies, who are classified into breeds just as their larger peers. "We were very pleased with the response to our new pony classes. Ponies were always allowed in the breed classes but this provided a new opportunity for pony breeders and owners," said Melanie Sloyer, Chair of the Breed Division. 
The Pony Foal Championship was won by Branley Ash Nautilus (by Fs Numero Uno out of Georgina), a Weser-Ems a foal owned by Samantha Kidd of Carthage, NC and bred by Christine Baker of Branley Ash Sportponies in Ontario, Canada.
The reserve Pony Foal Champion was Harleys Angel, an ISR Sport pony registered pinto filly by Woodburys Harlequin out of Lily. She is bred by Arlette Hohnson and owned by Trestle Tree Farm.
Dressage at Devon claims that the Devon Breed Show is the largest open breed show in the world. "More than 20 breeds of horses and ponies of all shapes and sizes were in the ring competing for the best of their breed. They are judged on movement, conformation and general impression. Many of the breeds were rare, even endangered, and all have a rich history," said  Ginny Simon.
Photos © Hoof Print Images
Related Links
Louisville HTF Named Foal Champion at the 2017 Devon Breed Show
Logan ISF Named Foal Champion at 2016 Devon Breed Show
Quartet GSH and Figawi 121 Win 2014 Devon Breed Show Foal Championship Classes
David Bowie MF Named Foal Champion at 2012 Devon Breed Show
Cha Ching Named Foal Champion at 2011 Devon Breed Show