2018 British Dressage Championships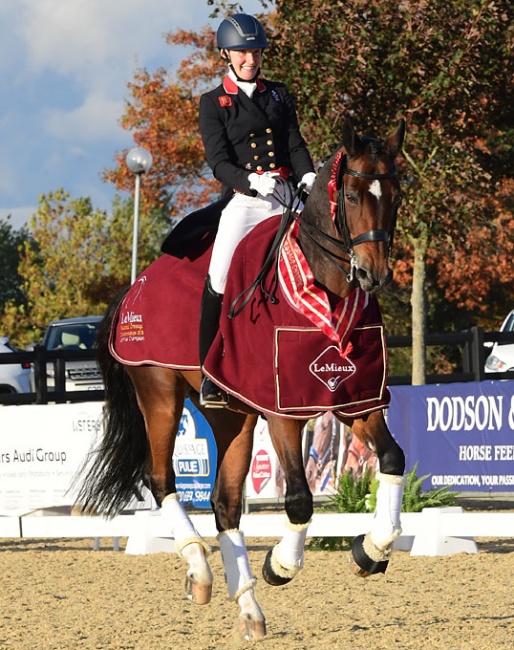 It's been four days of extremely high standard sport at Stoneleigh Park and with over 1600 tests ridden, the 2018 British Dressage Championships continue to be the pinnacle of the BD calendar.
Lara Butler became the big overall winner of the 2018 British Grand Prix Championship after placing second in the Grand Prix and winning the freestyle.
The Grand Prix Freestyle – arguably the jewel in the British Championships crown – played out under sunny skies at Stoneleigh Park on the final day of competition.
Nine top quality combinations stepped forward to contest the Championship, with seven of those scoring over the magic 70% barrier. The event wasn't without it's surprises as title favourite Gareth Hughes unfortunately had to retire Rebecca Hughes' and Julia Hornig's Briolinca (by Trento B) as the talented mare struggled to cope with the atmosphere in an electric arena. Although a sad outcome for the team, the decision was undoubtedly a demonstration of true horsemanship at it's finest.
WEG team reserve Lara Butler capitalised on her time in the ring and rode a supreme test on board Dr Wilfried Bechtolsheimer's Rubin Al Asad (by Rubin Royal). Their thrilling freestyle earned them a total score of 77.07%, giving them the Horse Health Grand Prix Freestyle Champion title and the overall British Grand Prix National Champion title to boot.
In a test full of highlights, Lara and 'Rufus' truly showed their quality. Set to a routine including tracks from Dire Straits, the duo showed flowing trot half passes, punchy extended trots and neat double pirouettes.
"It's been a long time coming!" Lara commented in her prize giving interview, "I've tried three or four times and been reserve a couple of times too! It was really unfortunate for Gareth today, I feel really sorry for him - it must have been very tough. But, I produced a good test so I'm pleased the judges were happy and rewarded me with a good mark. I feel like we earnt it as well!"
The sixteen-year-old gelding by Rubin Royal will now enjoy a break before perhaps heading to Olympia in December, "It's so nice to finish off the outdoor season here and to prove that we're such a strong partnership is great, I couldn't ask for any more. We'll have another shot at the team next year, he feels so fit and fresh and he keeps getting better."
Second place went to last year's overall champion Hayley Watson-Greaves with the spritely Rubins Nite (by Rubin Royal). The experience combination showed their characteristic extended trots alongside some other super high quality work to be awarded with 75.15% for a lovely routine.
Sonnar Murray-Brown and Erlentanz showed huge potential for the future in today's test, using none other than Valegro's emotive How to train your dragon programme to great effect they scored 73.92% for third place. 
Related Links
Hughes Wins 2018 British Grand Prix Test Championship, Dujardin Scores Small Tour Hattrick
Dujardin and Florentina Make it Two at 2018 British Dressage Championships
Dujardin and Butler Take First Titles on Day One of 2018 British Dressage Championships
Previous Winners
Hayley Watson-Greaves is the 2017 British Grand Prix Champion
Carl Hester Wins 2016 British Grand Prix Championships
Charlotte Dujardin Wins 2015 British Grand Prix Championships
Michael Eilberg Wins 2014 British Grand Prix Championships
Carl Hester Brings Tally to 66 at 2013 British Dressage Championships
Carl Hester Wins 2012 British Grand Prix Championships
Bechtolsheimer, Woodlander Farouche and Carinsio Dominate Final Day of 2011 British Championships
Laura Bechtolsheimer Wins 2010 British Grand Prix Championships
Carl Hester and Liebling II Grab 2009 British Grand Prix Champions' Title
Maria Eilberg, 2008 British Dressage Champion
Spencer Wilton and Dolendo, 2007 British Dressage Champions
Sandy Phillips and Lara, 2006 British Grand Prix Dressage Champions
Laura Bechtolsheimer and Douglas Dorsey Win 2005 British Grand Prix Championships
Hester and Escapado Win 2004 British Grand Prix Championship
Richard Davison, 2003 British Dressage Champion with Ballaseyr Royale
Nicky Barrett Claims Her First Grand Prix Champion's Title at 2002 British Dressage Championships