2018 U.S. Young Horse Championships
The 6-year old Habanero CWS and the Developing Grand Prix horse Bailarino captured the title on the last day of competition at the 2018 U.S. Young Horse Championships held at the Lamplight equestrian centre in Wayne, ILL, on Sunday 26 August 2018. 
Habanero CWS Takes 6-year old Title
The judges raved about the harmonious partnership of Australian Craig Stanley (Madera, Calif.) and Habanero CWS (by Idocus out of Caliente DG), who won the division's U.S.-Bred Award, in the Final Test on Sunday. He and his home bred KWPN gelding produced impressive overall marks to add a second national championship to their accomplishments. They won the Six-Year-Old title with a combined score of 8.98.
"It's very surreal; to think I would even have the chance to be good enough to achieve this. Obviously, you need a lot of help along the way. The team of people involved in this … I have a picture of him as an embryo and actually pulled him out of the mare [when he was born]; it's been a long journey; absolutely above [expectations]," said Stanley.
Angela Jackson (Henderson, Ky.) and Sandeman (by Sir Donnerhall out of  Flora), Julie Cook's Hanoverian gelding earned the Reserve National Championship. 
"Last year, he was more immature," said Jackson. "He was more lanky and tall, long-legged and skinny. [This] winter, we tried to put some weight on him and let him mature. Mentally, he was not quite ready to handle it last year. He developed very nicely, and I really put my work into connection, and I think that paid off."
Cesar Parra (White House Station, N.J.) and Sir Beckmann (by Sir Donnerhall out of Wichita), his Hanoverian gelding, placed third.
"The first thing that comes to my heart and mind is that I'm grateful I'm taking home a much better horse. He grew up a lot this week. I love him; he's a warrior, but at the same time he's very immature. This is still a very new relationship … I'm over the moon to see how much he has grown up. My hopes and dreams are really huge with this guy."
Bailarino Tops the Board and Wins 2018 U.S. Developing Grand Prix Horse Title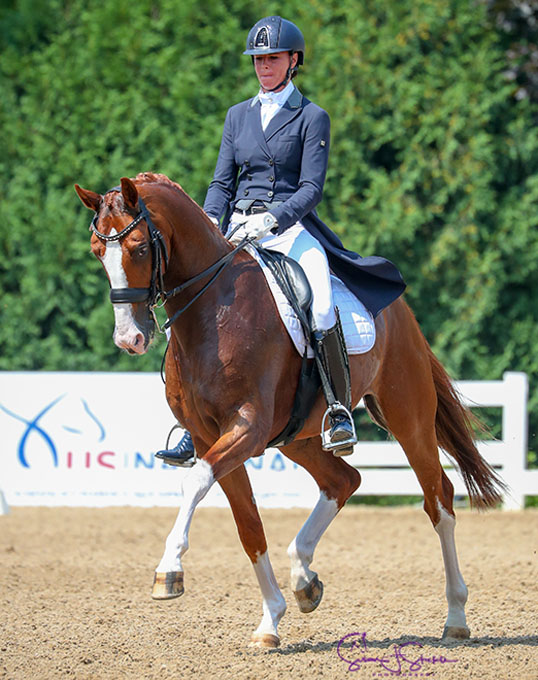 Dawn White-O'Connor (Cardiff, Calif.) and Bailarino, Four Winds Farm's 10-year-old Oldenburg gelding, members of the U.S. Dressage Development Program presented by The Red Husky Foundation, earned the U.S. Developing Grand Prix Horse Championship. With an overall score of 68.635%, White-O'Connor won the first national title of her career.
"I'm happy with my horse today. It was a great group of people, and there were a lot of fun horses to watch. It was good experience and a really great facility," said Dawn. "It's been amazing. I did one of the Development Program Training & Evaluation Sessions with Debbie [McDonald] and Charlotte Bredahl this spring, and that was really helpful, just the way the whole program was laid out. To have Debbie there, kind of like a second coach, and Charlotte giving you the judges perspective and being able to go through schooling and the test and getting feedback, that was really helpful. Stephanie Seheult, a Human Sports Physiotherapist, was here this weekend, so I worked with her a little bit. It's a really good program because it addresses all aspects, not just the riding, so I'm very excited to be part of that."
Alice Tarjan (Oldwick, N.J.) earned her second Reserve National Championship of the U.S. Dressage Festival of Champions, placing second with Candescent, Tarjan's eight-year-old Hanoverian mare. The pair won the Intermediaire II but dropped to an 8th place in the Short Grand Prix with 63.125%. Still their scores tallyed led the pair to finish second overall.
"I'm thrilled to be up here and with the development of [Candescent]. He's eight, and we have a lot of time to figure [his progression] out. That's what they are here for," said Tarjan.
Amy Lewis (Lemont, Ill.) and Sir Steinerman, Lewis' 10-year-old Hanoverian gelding, placed third. The combination advanced from seventh in Friday's Intermediate II Test to place third in Sunday's Developing Horse Grand Prix Test. In addition, Sir Steinerman won the division's U.S.-Bred Award.
"He's 17.3 and I'm 5'3"; he's a big diesel engine, so it was exciting to finally have some of that come together. I didn't know if I would be able to come, so just to be here with such good riders, it's a culmination of taking him through the young horse program. It's really exciting; I love the program," said Lewis.
Photos © Sue Stickle
Related Link
Scores: 2018 U.S. Young Horse Championships
Sole Mio, SenSation HW, Lucky Strike Take First Titles at 2018 U.S. Young Horse Championships
Sole Mio, Fairouz, Lucky Strike Win on Day One of 2018 U.S. Young Horse Championships
Habanero CWS and Candescent Make First Stand at 2018 U.S. Young Horse Championships