2018 U.S. Young Horse Championships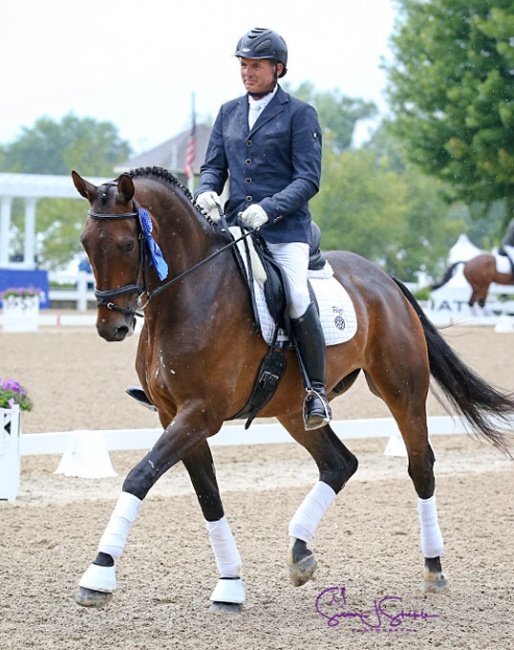 The 6-year old Habanero CWS and the Developing Grand Prix horse Candescent won the warm-up rounds in their respective divisions at the 2018 U.S. Young Horse Championships in Wayne, ILL, on Friday 24 August 2018. 
Habanero CWS Wins 6-YO Preliminary Test
Craig Stanley (Madera, Calif.) and Habanero CWS (by Idocus out of Caliente DG) continued to impress the judges with their development. As the champions in the 2016 U.S. Young Horse Four-Year-Old division, he and his KWPN gelding earned a score of 8.98 in the USEF Six-Year-Old Preliminary Test.
"That was glorious. Breeding him just makes it a little more emotional. He just worked. His trot was probably better than previous shows; it was at another level. He stayed [with me]," said Stanley.
The combination edged out Cesar Parra (White House Station, N.J.) and Sir Beckmann (Sir Donnerhall out of Wichita), his Hanoverian gelding, with Angela Jackson (Henderson, Ky.) and Sandeman (Sir Donnerhall out of Flora), Julie Cook's Hanoverian gelding, placing third.
"I was very excited," Parra explained. "He did everything I asked him to do. We have owned him since he was two-and-a-half and I just started riding him in late January. He's a very fun horse; he goes and has great scope in the trot. The canter is a bit immature as he grew two links and a half in the last eight months. He is a lot of leg, so sometimes he struggles in the big movements."
Jackson stated: "He gets a little overwhelmed sometimes, but he trusted me, and I think that was what I was really happy about. He went in [the ring] and got a little scared, but he listened to me and looked to me. That was probably the nicest ride I had on him all year. Even though he was scared, he was relaxed and soft in his body, and the feeling was lovely. I'm proud of him under the pressure."
Candescent Leads in Developing Grand Prix Horse Championship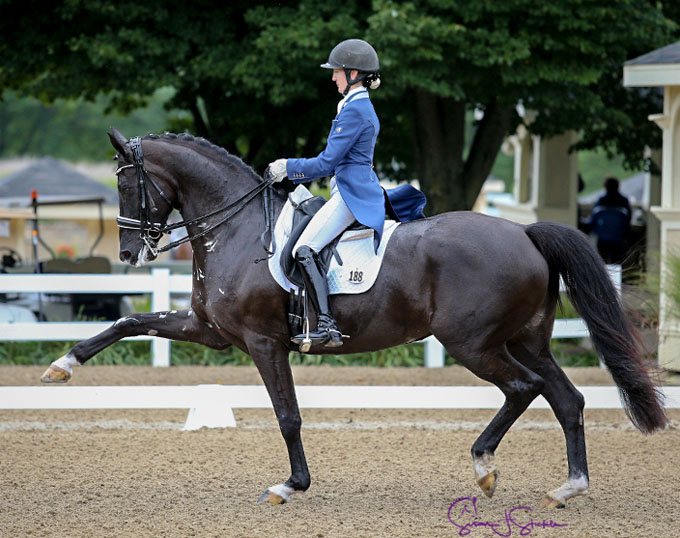 Alice Tarjan (Oldwick, N.J.) continued with a strong performance in the Intermediate II Test with Candescent. She and her eight-year-old Hanoverian mare  (by Christ out of Farina (by Falkenstern II) currently lead the U.S. Developing Grand Prix Horse Championship with a score of 69.902%. Tarjan purchased Candescent as a 4-year old in Germany.
"She has unlimited scope, but it also makes it that she was able to get her gaits really small and really large, so it was difficult to find one gear," said Tarjan. "My five-year-old has a natural metronome that she just stays in it, and this horse is all over. This makes her really cool, but it also makes her a lot more difficult … it has taken a lot of time to put it all together."
Dawn White-O'Connor (Cardiff, Calif.) and Bailarino, Four Winds Farm's 10-year-old Oldenburg gelding, placed second, followed by Emily Miles (Paola, Kan.) and Floretienne, Leslie Waterman's nine-year-old Oldenburg gelding.
White-O'Connor stated: "I was pretty happy with everything, except the piaffe and passage. We had an unfortunate [incident], halting in the piaffe, which wasn't good. I was happy with the canter work, and the rest of the test was pretty good."
Miles explained that "I haven't shown him since April, and he can be a little bit different in the ring versus the warm-up and schooling. I was really nervous how he would transfer over today, but I think he did very well for me."
Photos © Sue Stickle
Related Link
Scores: 2018 U.S. Young Horse Championships
Sole Mio, Fairouz, Lucky Strike Win on Day One of 2018 U.S. Young Horse Championships