The Netherlands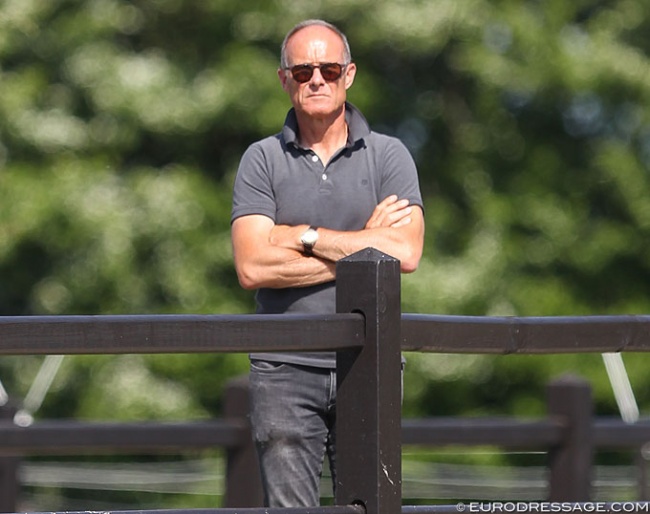 With less than three weeks to go before the 2018 World Equestrian Games in Tryon, Dutch team trainer Rien van der Schaft has resigned from his position effective immediately. 
The 64-year old Van der Schaft was appointed Dutch team trainer in December 2016. Rumours were already running rife in July that his term would not come to completion. 
"The task of coach with the high performance senior top does not fit me as well as I had hope," Van der Schaft commented. "That is why I decided to quit. I get the biggest challenge and fun out of working with talented riders and training riders and horses."
Maarten van der Heijden, the technical director of the Dutch Equestrian Federation, stated that 'it's a big pity that it didn't work out and the timing right before Tryon is far from ideal. But top sport means daring to make choices. To deliver results at this level, everything has to work. It's a pity for all parties that the collaboration did not bring what we had expected. The dressage team will now fully focus on a good performance in Tryon and it hopes to do that in all peace and quiet."
In agreement with the WEG team riders, there will be no ad-interim team trainer appointed. KNHS representatives Maarten van der Heijden and Ad Wagemakers will assist the Dutch team in Tryon.
The Dutch team goes into training camp next week right before departure to Tryon. Cornelissen's Aqiedo will not be a traveling reserve and not fly to Tryon if he proves unnecessary before the team's departure.
Photo © Astrid Appels
Related Links
Rien van der Schaft Appointed Dutch Team Trainer
Rien van der Schaft: Focus on the Direction of the Connection
Dover and Van der Schaft in the Running for U.S. Chef d'Equipe Position
Dutch Equestrian Federation Files Complaint Against Danish 5* Judge Leif Tornblad
Rien van der Schaft: The Phase Most Riders Forget About