2018 European Pony Championships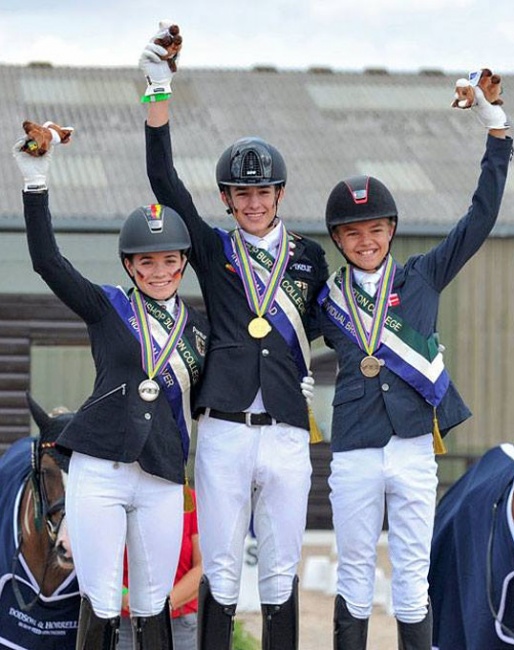 Germany's Moritz Treffinger continued his stellar run at the 2018 European Pony Championships in Bishop Burton, U.K., and clinched the individual test gold medal on Saturday 11 August 2018. The silver went to Denmark's team rookie Alexander Yde Helgstrand, while German Jana Lang captured bronze. 
The Individual Test was not without its typical European Pony Championship drama at the score secretary. It happened at the 2011 Euro champs in Jazskowo, Poland, and now again! A calculation error was detected AFTER the medal ceremony and Jana Lang had to hand her silver medal to Helgstrand, who ended up with a higher score after recalculation. 
However, there was no doubt about Treffinger's superiority on the 10-year old mare Top Queen H (by Top Anthony II x Dark Rubin). The judges' panel, consisting of Isobel Wessels, Jacques Van Daele, Yuri Romanov, Maja Stukelj, and Elke Ebert, rewarded the 14-year old with the highest total score of 77.189%, good for gold. His marks ranged from 75.135% to 78.649% and four judges out of five had him first. Treffinger is only the fifth male pony rider to ever win individual gold: only Heiner Rohmann, Pieter Jenniskens, Niklas Kröncke and Sönke Rothenberger preceded him!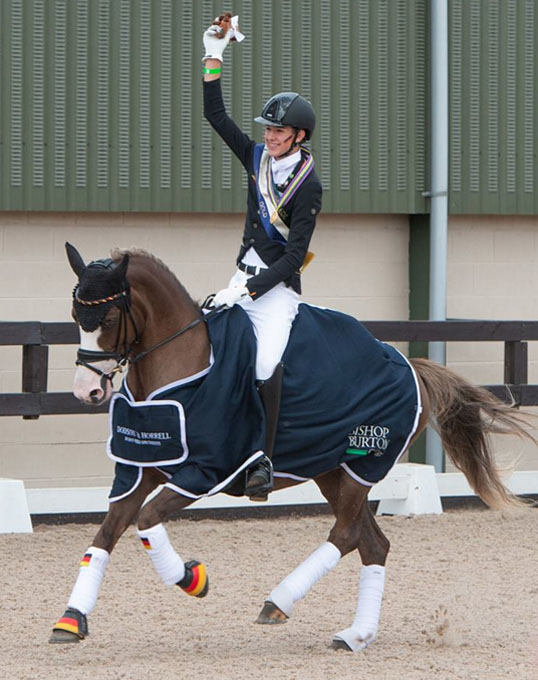 Jana Lang and Nadine Krause's 12-year old Oldenburg bred Cyrill (by Champion de Luxe x Power Man) were initially second with a 75.459% score. Her marks ranged from 72.838% (5th place) to 76.892% (2nd). She received the silver medal in the award ceremony, but later on had to swap it with Helgstrand's bronze. 
Danish team new comer Alexander Yde Helgstrand and his experienced 12-year old Rhinelander bred Adriano B (by De Angelo B x Flying Dream) first posted of 75.432%, but after recalculation of the score sheets by the Danish delegation, miscalculations were discovered and it brought Helgstrand's score to a 75.486% and second place for silver. His individual marks ranged from 74.730% to 76.351%.
"(Helgstrand's) score sheets contained corrections in several places and with two scores the original, lesser scores were calculated," German team trainer Conny Endres explained. "From a sport perspective it is clear and we have to accept that. It's a pity for Jana, but with two such equal performances a half score in one movement can make the difference in the end. And we'll fight for that tomorrow (in the Kur)."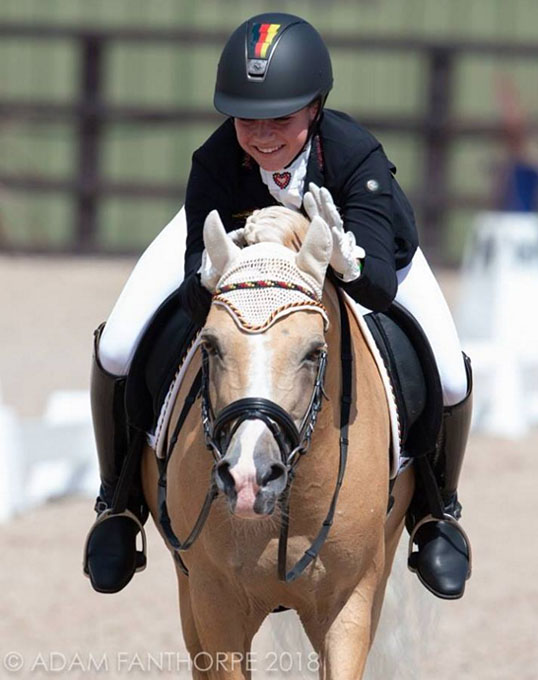 Germany's Julia Barbian and her 10-year old Rhinelander bred Der Kleine Konig (by Dornik's Donovan x FS Don't Worry) finished just off the podium in fourth place with 74.216%. 
Holland's team reserve Thessa Gilbers and the 8-year old Westfalian Baumann's Despino (by ), substituted for Evi van Rooij last minute before departing to Bishop Burton. While this young duo was the scratch score in the team championship test, they became Holland's strongest performing combination in the Individual test with 73.838%. 
Denmark's Sophia Winther Andersen and the seasoned 16-year old Rhinelander stallion Der Harlekin B (by Golden Dancer x Dornik B) landed sixth place with 73.649% and they had Dutch Micky Schelstraete and the 16-year old Hanoverian bred Elin's Noncisdador (by Nostradamus x LP Nixen) right on their heels with 73.622%.
The best scoring pony rider from a nation that didn't score a team medal on Thursday was Austrian Claire Benedict and the 14-year old Rhinelander mare Dynasty (by Deinhard B x Arts Dancer Boy). The palomino was previously competed by British Erin Williams and Austrian Nicole Ahorner, who temporarily put her international competition career on the back burner this year as she graduated and now has been accepted into med school. Benedict has taken over the ride on Dynasty and finished 11th in the individual test with 71.270%, ahead of Sweden's Ellen Olsson on the 16-year old Rhinelander mare Daylight (by Duon S x Till the Champ) with 71.135%. Spanish based Turkish rider Yagmur Ozturk and the 14-year old Dutch bred Icarus van de Bulksehoeve (by Isarco x Elegant) were 13th with 71.054%.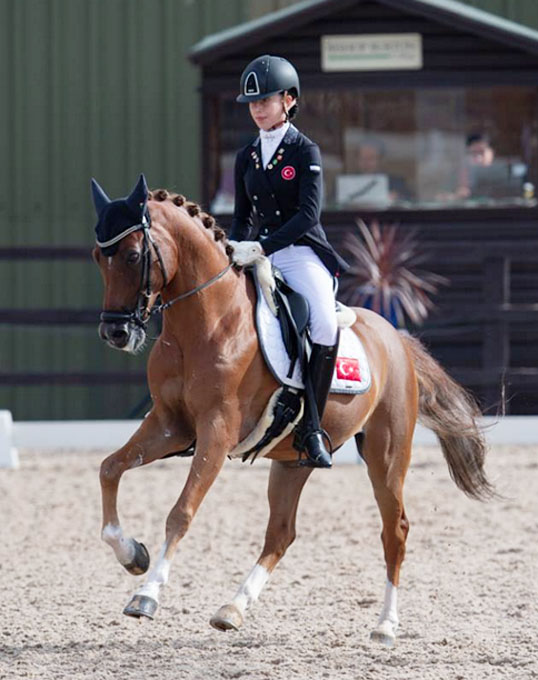 For the double European Pony Champion of 2016 and 2017, the 2018 edition is over. Lucie-Anouk Baumgurtel's 13-year old Holsteiner bred Massimiliano (by Monsn N x Cap Cennedy N) could not get settled in the Bishop Burton dressage arena. After already having small issues in the team championship test, the individual proved an even bigger struggle and pair dropped to 45th place and a 64.270%. They did not qualify for the freestyle. 
Photos © Equitaris -  Adam Fanthorpe for Bishop Burton Equine Centre
Related Links
Scores 2018 European Pony Championships
Eurodressage Coverage of the 2018 European Pony Championships