2018 CDIO Uggerhalne
Home side hero, Spanish Olympian Severo Jurado Lopez and his 2017 European Championship team horse Deep Impact dominated the 3* big tour classes which were held at the 2018 Equitour Aalborg in Uggerhalne, Denmark, where the third leg of the 2018 FEI Nations Cup is being hosted on 23 - 27 May 2018. 
Thirteen combinations contested the 3* Grand Prix on Thursday afternoon 24 May 2018. This year's edition of the Equitour Aalborg is blessed with the most miraculous summer weather: blue skies and temperatures over 25° C have turned the event into a true summer dressage party. 
Andreas Helgstrand's number one rider Severo Jurado Lopez steered his 15-year old Spanish team horse Deep Impact (by De Niro x Rubinstei) to a clear victory on a score of 73.022%. The judges' panel, which included Verbeek, Graham, Riexinger, Soegaard and Colliander, gave him marks ranging from 71.413% to 74.565%. Jurado Lopez opted to ride the Kur to Music one day later. His music for Deep Impact, which almost too literally echoes the heavy guitars of his Olympic freestyle for Lorenzo, appealed to the audience but did not fully aid the busy floor plan with a very high degree of technical difficulty. Still the duo had the crowds clapping and he also won the kur with 78.600%. 
German Kathleen Keller and her massively tall 11-year old Oldenburg gelding San Royal (by San Remo x Grand Royal) came fresh off a victory at the CDI Hamburg and twice bagged a second place in Denmark. In the Grand Prix they posted 71.783% and in the Kur to Music they put 76.050% on the board with their funky music.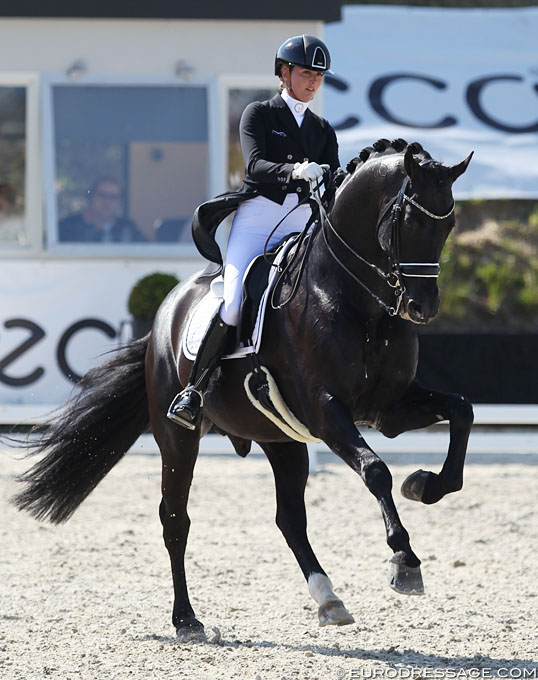 Dutch Emmelie Scholtens made her CDI debut on her second Grand Prix horse, the 10-year old KWPN licensed stallion Desperado (by Vivaldi x Havidoff). The beautiful black stallion with his uphill, cresty neck, could not impress the judges equally in the Grand Prix. They scored a more than proper 71.391% final score for their Grand Prix test but the judges were between 69.565% and 75.326%! In the Kur to Music Scholtens had her stallion more on the job and finished third with 75.550%. 
The Grand Prix Special was won by Helgstrand's assistant trainer Betina Jaeger aboard Rowan O'Riley's 11-year old Hanoverian licened stallion Belstaff (by Brentano II x De Niro).  They were fourth in the Grand Prix with 69.543% and in the Grand Prix Special, a class with just 4 riders, they were first on 71.532%.
Text and Photos © Astrid Appels - No Reproduction Allowed
Eurodressage is on the scene in Uggerhalne. If you are interested in photos for prints or social media, send us an email
Related Links
Scores 2018 CDIO Uggerhalne
Danish Team Chasing Double Victory at 2018 CDIO Uggerhalne
Dressage Schedule Approved for 2018 Equitour Aalborg
Successful Start of 2018 Almased Dressage Amateurs in Hamburg, Wiesbaden and Uggerhalne Next
2018 Equitour Aalborg To Stage Second Nordic International Sales
2018 Nordic International Sales: Looking for a Top Quality Foal?