2018 CDIO Uggerhalne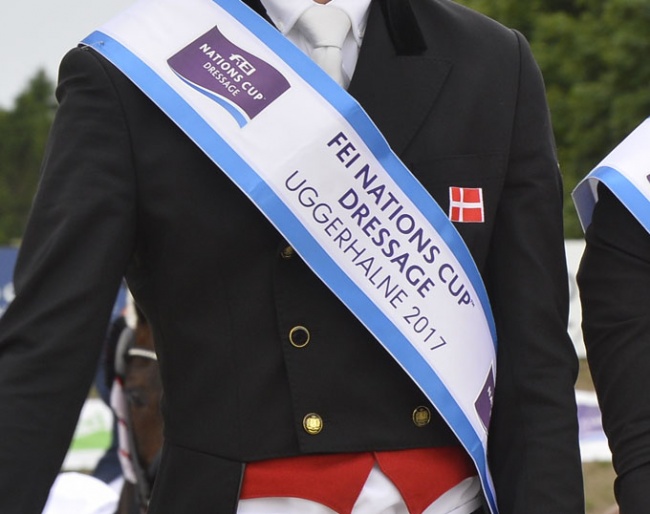 The Danish dressage team will be chasing a double victory in the CDIO Nations Cup in Uggerhalne, Denmark, as the CDIO Grand Prix begins on Saturday 26 May 2018 at the Equitour Aalborg and will conclude with the GP Special on Sunday to determine the winner.
The final ranking will depend on the three best scores in the Grand Prix and the three best scores in the Grand Prix Special.
In 2013, the first FEI Nations Cup in dressage was held. This cup consists of seven competitions from May through August which have kicked off in Wellington, Florida in March and continues in Europe in Compiègne, Uggerhalne, Rotterdam, Falsterbo, Aachen and Hickstead. After the first to competitions Sweden has taken the lead ahead of Denmark.
At Equitour Aalborg both Sweden and Denmark are competing, and also the current No. 3 in the cup, the Netherlands is represented by a strong team. Finland will be competing in FEI Nations Cup for the first time this year.
The Danish chefd'equipe Helle Trolle confirms that the Danish team is in top shape and that the Danes are focussed on repeating last year's victory on home turf.
The Danish team consists of: Anna Zibrandtsen and Arlando who were part of the silver winning team at the Europeans in Gothenburg last year. Cathrine Dufour and Bohemian make up a new and interesting horse and rider combination on the team. Cathrine Dufour won two individual bronze medals at the Europeans last year with her Olympic mount Atterupgaards Cassidy, but in Uggerhalne she will be riding her new star, the just 8- year-old Bohemian. At their international Grand Prix debut at Aalborg Dressage Event in April they won the Grand Prix as well as the Grand Prix Special. Daniel Bachmann Andersen and Rikke Svane with Finckenstein TSF have previously been part of the Danish team for the Europeans. Daniel who places 15th on the FEI world ranking list will be competing a younger and very talented horse, Blue Hors Zepter, a son of the international breeding stallion Blue Hors Zack. Daniel hopes to earn a team spot with Blue Hors Zack for the World Equestrian Games in the USA in September.
You can follow the competitions in Denmark through live streaming on Zibra Sport, whilst foreign viewers can watch FEI TV.
-- press release
Related Links
Scores 2018 CDIO Uggerhalne
Dutch Teams for 2018 FEI Nations Cups in Compiegne and Uggerhalne
Dressage Schedule Approved for 2018 Equitour Aalborg
Successful Start of 2018 Almased Dressage Amateurs in Hamburg, Wiesbaden and Uggerhalne Next
2018 Equitour Aalborg To Stage Second Nordic International Sales
2018 Nordic International Sales: Looking for a Top Quality Foal?
Excellent Foals up for Auction at 2018 Nordic International Sales