2018 CDI Aachen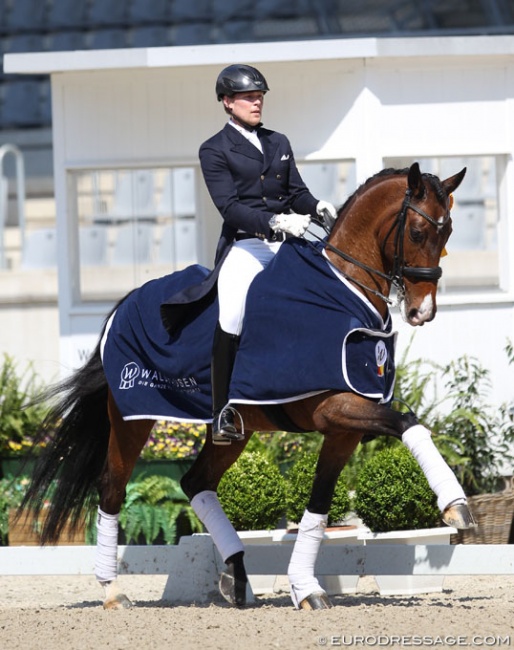 Finnish Henri Ruoste premiered his own 13-year old Hanoverian gelding Roccabar in the Grand Prix for Kur at the 2018 CDI Aachen on Tuesday 17 April 2018. The former Finnish team rider and his freshman to FEI level competition won straight away with 71.413%. They topped the board in a class with 22 combinations from 11 different nations! 
Roccabar is bred by Ute Meyer and is by Riedinger (by Rubinstein) out of a Compliment x Glorieux dam. The horse has done four local shows at A- and L-level under Rosemarie Kemper before selling to Ruoste, who trained him to Grand Prix level.
The very athletic Roccabar is quite long in the back and seems very sensitive to ride, but Ruoste got the most out of his horse and meticulously steered him through the Grand Prix test. In the trot half passes the hindquarters trailed a bit, but in passage the horse generated much suspension and he showed a very scopey piaffe with good sit and much lift in the forehand. He still tends to get wide behind for balance. In the canter work all the movements were there, with big uphill changes and good collection in the pirouettes, but the straightness in the body was not always ideal.  In the extended walk the horse did not sufficiently stretch the neck and could not achieve more overtrack than one hoof.  Throughout the test the horse was too tight in the neck, but Roccabar obediently listened to his rider. Ruoste certainly showed to have trained yet another lovely horse up to Grand Prix level.
The panel of judges, consisting of Holler, Dichmann, Verbeek, Alonso and Wust, rewarded the test with 71.413%. The marks ranged between 70.4 and 72.3%.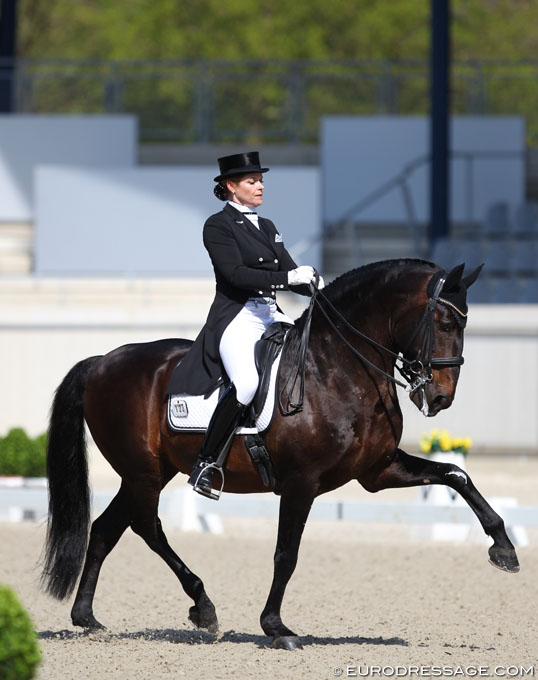 German Britta Rasche-Merkt and her 15-year old Lusitano stallion Xerez (by Nordeste x Quimera) have found their groove at international competitions this year. Scoring a personal best mark at the CDI Lier in March, the sympathetic duo now bagged a second place on 70.130%. The dark bay Lusitano stallion showed off his innate talent for collection in piaffe and passage, but gets a bit short and hurried in the trot extensions. 
Russian Tatyana Kosterina and the German owned 11-year old Hanoverian mare Diavolessa VA (by Don Frederico x Londonderry) are one of Russia's most consistently scoring pairs in the past year. The black mare is an elegant mover with a nice silhouette in piaffe and passage and uphill tempi changes, but she still leans on the forehand in piaffe and overall the self carriage needs to improve so the bridle contact gets softer. 
Text and Photos © Astrid Appels - No Reproduction Allowed - Contact us if you are interested in obtaining photos for websites, social media and prints!
Related Link
Scores 2018 CDI Aachen
Faurie and Dono Di Maggio Blow Away Competition at 2018 CDI Aachen