2018 World Cup Finals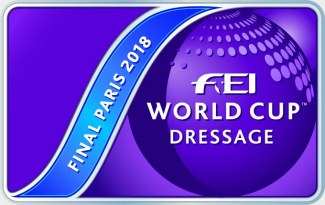 The magnificent setting of City Hall in Paris played host tonight to the draws for both the World Cup™ Jumping and World Cup™ Dressage 2018 Finals.
Guests were greeted by the arresting music of the world-famous band from La Guarde Republicaine (The Republican Guard) and the atmosphere was electric as defending champion, Isabell Werth from Germany, and French rider Ludovic Henry matched the starting numbers and names for Friday's first leg of the Dressage finale. 
A total of18 riders from 13 nations will contest the Dressage title. It's going to be a battle of the giants in both disciplines and no quarter will be given, but Frenchman Henry, didn't do his chances any harm when pulling out his own name as last to go in his opening event.
"It's been our dream for many years to bring these Finals back to Paris", said show organiser Sylvie Robert, "and now at last our dream has come true!". Both the Jumping and Dressage Finals have taken place at the Parisian venue before, but never together, and only once. America's Katharine Burdsall, riding The Natural, claimed the ninth Jumping title in the City of Lights all the way back in 1986, and Finland's Kyra Kyrklund and Matador won the sixth FEI World Cup™ Dressage title in 1991. It is another American partnership, McLain Ward with his brilliant mare HH Azur, who will be defending the Jumping title.
With the riders and their horses ready to go, and fans pouring into the city with great anticipation the stage is set for a fantastic weekend of top sport. 
FEI President, Ingmar de Vos, said "it's an honour to be here in Paris, home of the Olympic Games in 1900 and 1924, and of course 2024, but also the home of so many other great sporting moments. The world's best partnerships have fought hard to be here and they are ready to claim their piece of history!"
Starting order for FEI World Cup™ Dressage 2018 Final Grand Prix here
Facts and Figures
Defending champion, Germany's Isabell Werth, is going for her second consecutive FEI World Cup™ Dressage title and her fourth overall.
She recorded her first victory with Fabienne in 1992 in Gothenburg (SWE), her second in Las Vegas (USA) in 2007 with Warum Nicht and her third in Omaha (USA) in 2017 with Weihegold OLD who she partners once again this week in Paris.     
The first FEI World Cup™ Dressage Final was held in 's-Hertogenbosch, The Netherlands in 1986 where Denmark's Anne-Grethe Jensen and Marzog reigned supreme.
The most successful athlete in the history of FEI World Cup™ Dressage is The Netherlands' Anky van Grunsven who posted a phenomenal nine victories over an extraordinary 13-year period between 1995 and 2008, a record unlikely ever to be challenged.
Related Link
Eurodressage Coverage of the 2017-2018 World Cup Finals and Qualifiers