2018 CDI Hagen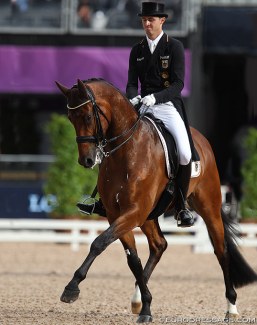 German shooting star duo Sönke Rothenberger and Cosmo have confirmed their show come back to the arena at the 2018 CDI Hagen "Horses & Dreams" at Hof Kasselmann on 25 - 29 April 2018. 
Rothenberger and his 11-year old Dutch warmblood Cosmo (by Van Gogh x Landjonker) last competed at the 2017 European Championships in Gothenburg, Sweden, where they captured team gold and GP Special and Kur silver.
The combination has been only one to truly rival and potentially beat Isabell Werth and Weihegold, aside from American pair Laura Graves and Verdades.
Cosmo has been 8 months away from competition. The Rothenberger family deliberately skips the winter indoor show circuit and normally warms up with a March CDI in Spain, but not this year. However, Hagen has now officially been chosen as come back venue.
"I'm looking forward to competing Cosmo again, but I'm not going to let myself get nervous." Rothenberger told Dressursport Deutschland, the official media platform for German squad riders. "I'm not stressing. I hope it will work and that we can show what we have been training on during the winter. The art will be to show that as of day one."
Both team trainer Monica Theodorescu and her assistant Jonny Hilberath recently travelled to Sönke's stable Gestut Erlenhof in Bad Homburg for an at-home training and observation session. "Both told me that Cosmo has matured more and got more muscled," said the 24-year old rider. 
When asked if he doesn't need a warm-up show before going to the big A-list event in Hagen, Sönke replied, "no, he's older now and more experienced. He's been places and he has already been to Hagen a few times.  He's knows his way around there."
Rothenberger added that at home he alternates between the three arenas they have: the indoor, an outdoor and an outdoor show jumping ring. 
Source: Dressursport Deutschland - Photo © Astrid Appels
Related Links
Eurodressage Coverage of the 2018 CDI Hagen
Ralph Westhoff Acquires Half Ownership of Sonke Rothenberger's Cosmo
Exceptional Sonke and Cosmo Come of Age in Grand Prix Special at 2017 CDI Hagen
Sonke Rothenberger and Cosmo Make Come Back in the Sun at 2017 CDI Valencia
Sonke Rothenberger and Cosmo Rock the House at 2015 CDIO Rotterdam
Sonke Rothenberger Back in the Dressage Ring with Cosmo