U.S.A.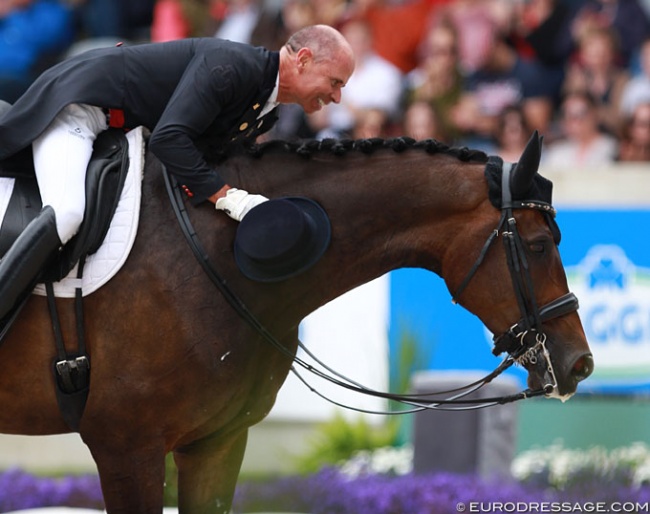 Akiko Yamazaki, owner of several U.S. Olympic team horses and one of the America's top sponsors of the country's high performance dressage programs, has confirmed the retirement of Steffen Peters' Legolas.
Legolas is a 16-year old Westfalian gelding by Laomedon x Florestan II. He has been one of America's key team horses and now goes into his seventh year as an international Grand Prix competitor.
Akiko Yamazaki and her husband Jerry Yang, founders of the internet company Yahoo, acquired Legolas as a 9-year old at Hof Kasselmann. The couple purchased Legolas as the successor for Ravel, who under Steffen Peters, was fourth at the 2008 Olympic Games, won the 2009 World Cup Finals, and claimed double bronze at the 2010 World Equestrian Games.
Steffen and Legolas made their CDI debut in Burbank in February 2012 and won the Grand Prix and Special straight away. Between 2013 and 2016 Peters and Legolas were a fixed member of the U.S. dressage team. They were 10th in the Kur at the 2014 World Equestrian Games in Caen, they rode at the 2015 World Cup Finals in Las Vegas but unfortunately got eliminated in the Kur for some blood after placing third in the Grand Prix. They won team and indivdual gold at 2015 Pan American Games in Toronto and placed 12th at the 2016 Olympic Games in Rio de Janeiro. He was named US Grand Prix Horse of the Year in 2013, 2014, 2015 and 2016.
In 2017 Legolas became a schoolmaster for Peters' assistant trainer Dawn White-'O Connor. She rode him in CDI's in Wellington and California. They were rung out at the CDIO Rotterdam though, but returned a month later at the CDI Cappeln where they were 5th in the Kur.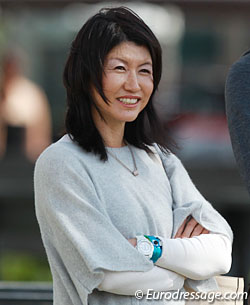 "He has more than done his share of work, bringing many medals for the US (Pan Am Games and Olympics)," Akiko told Eurodressage. "He has been one of the soundest horses I have owned. He never had any issues more than a sore muscle or two and competed in every scheduled event."
Dawn will wrap up Legolas' show career this 2018 spring season with a few more CDI's, before he's retired from competition sport. Last weekend the pair won the World Cup qualifier in Temecula with a 73.325% freestyle score. 
Yamazaki added that the details of Legolas' retirement ceremony are not yet fully determined. When asked if Legolas will become her schoolmaster, she replied, "we haven't made specific plans yet but for sure, I won't ride him in competition!"
Photos © Astrid Appels
Related Links
White-O'Connor Rides Legolas to Pair's First Grand Prix Victories at 2017 CDI San Juan Capistrano
Dawn White-O' Connor Takes Over Ride on Legolas
Steffen Peters Wins 2015 Pan American Games Individual Gold
Legolas Named 2016 USDF Grand Prix Horse of the Year
Legolas, 2015 USDF Grand Prix Horse of the Year
Legolas, 2014 USDF Grand Prix Horse of the Year
Legolas, 2013 USDF Grand Prix Horse of the Year
Double Whammy for Peters and Legolas at 2012 CDI-W Burbank
Steffen Peters Does the Double 80% at 2012 CDN Thermal
Legolas, New Grand Prix Ride for Steffen Peters