2017 German Developing Pony Rider Championship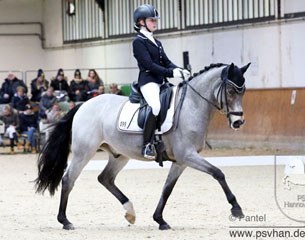 Johanna Kullmann became the winner of the 2017 German Developing Pony Rider Championships held at the indoor competition in Verden, Germany, on Saturday 18 November 2017. Aboard the experienced 13-year old German riding pony gelding Champ of Class, she scored an overall total of 17.8 points for the title.
A total of 20 pairs qualified to compete in the Developing Pony Rider Championships, which are the stepping stone for young pony riders to FEI level pony sport. The combinations have to contest two L-level tests and the results are totalled for the final ranking. 
The Hamminkeln based Kullmann acquired the buckskin Champ of Class (by Champion de Luxe x Dornik B) from the Pistner family after the pony spent a career in Holland as a serial medalist at the European Pony Championships under Sanne Vos and Lisanne Zoutendijk. Now a schoolmaster to Kullmann, the pony stayed far ahead of all competition in Verden. Johanna scored 8.8 in the first round and 9.0 in the second round. 
"Both of you beam in the show ring. You should energetic riding with calculated risk and had your pony loose and relaxed. You notice that this is a cool partnership," said commentator and Grand Prix rider Dolf Dietram Keller. German pony team trainer Connie Endres added that, "Johanna and Champ of Class made a striking development over the past few weeks."
Mette Schön and the 12-year old Jokers Jungle Prince (by ) were the runners-up with scores of 8.0 and 8.6. Alegra Schmitz-Morkramer and the 10-year old mare Loreley (by Don't Worry) finished third overall with a double 8.3 mark.
"This year we really had a good level with a dense field of high performance rides, which resulted in a lot of 8.0 scores," said Endres. "It's nice to notice that several very young riders are coming to the forefront who can produce solid rides at L-level."
Photo © Tina Pantel
Related Links
Finalists Announced for 2017 German Developing Pony Rider Championship
Elisa Mae Deilmann-Walsh Wins 2016 German Developing Pony Rider Championships
Nele Lobbert Wins 2015 German Developing Pony Rider Championship
Jule Marie Schönfeldt Wins 2014 German Developing Pony Rider Championship