Swiss Dressage News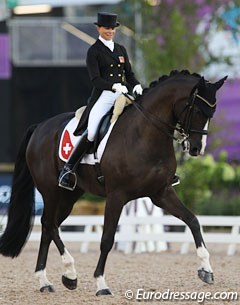 The Swiss Equestrian Federation has named the squads for 2018. For 2018 the federation has decided on A and B-squads for each division to make the threshold level for the transition from regional level into the national B-squad lower.
Swiss Grand Prix chef d'equipe Genevieve Pfister will also be responsible for the Under 25 riders as of 2018. 
For the Grand Prix riders the 2018 World Equestrian Games in Tryon will be the year highlight show. Switzerland hopes to send a full team. For the Under 25 riders the 2018 European Championships are in Roosendaal on 13 - 18 August, while the children, junior and young riders have their Europeans in Fontainebleau on 9 - 15 July 2017. The pony riders will competed at the Europeans in Bishop Burton on 7 - 12 August 2018. 
The Swiss squads for 2018 are:
Senior Elite (A-Team)
Anna-Mengia Aerne-Caliezi
Elena Fernandez
Caroline Häcki
Antonella Joannou
Marcela Krinke Susmelj
Charlotte Lenherr 
Senior Perspective (B-team)
Carla Aeberhard
Barbara Bertschinger
Hansruedi Geissman
Gilles Ngovan
Andrina Suter
Philine von Bremen,
Birgit Wientzek-Pläge
Alexandra Zurbrügg
Under 25
Tamara Lucia Roos, Waltenschwil AG
Estelle Wettstein, Wermatswil ZH
Young Riders
Lars Bürgler
Charlotte Buyssens
Stephanie Hartmann
Ramona Schmid,
Naomi Winnewisser
Junior Riders - A team
Laura Maria Grunder
Léonie Guerra
Carl-Lennart Korsch
Annina Lüthi
Meilin Ngovan
Milena Sulzer
Junior Riders - B-team
Lou-Lara Hintermann
Katarina Scheufele
Noemi Zindel
Pony Riders - A-team
Anna-Paula Burger
Lucie Moreillon
Tallulah Lynn Nater
Renée Stadler
Noemi Zindel
Pony Riders - B-team
Valentina Bona
Alicia Gianotti
Robynne Graf
Antonia Winnewisser
Related Links
Short Listed Riders for Swiss Team Selection for 2017 European Dressage Championships
Swiss Youth Team Squads for 2017 Announced
Swiss Grand Prix Squads for 2017 Announced
Swiss Dressage Teams for 2016 Announced