2017 South African Dressage Championships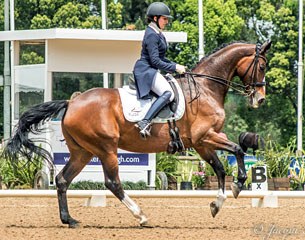 Nicole Smith and her 19-year old Belgian warmblood mare Victoria became the brand new South African Grand Prix Championships, winning the Grand Prix class at the 2017 South African Dressage Championships held this year at the Shongweni Club in Durban, South Africa, on 18 - 21 October 2017.
Twelve Grand Prix riders were initially entered to contest the South African Grand Prix Championship and ten contested the actual Grand Prix classe. A warm-up class, the Intermediaire II, was held on 17 October and 8 competitors rode in that. The actual Championship depended on only one class, the Grand Prix, which was judged by C. Bailes, A. Adendorff, Peter storr, S. Bruckner and U. Schutz.
Nicole Smith and her BWP mare Victoria (by Havidoff x El Corona) were the winners of the Grand Prix and claimed the trophy and national title with a 67.800% earning ride. Her marks ranged from a 65.300% to a 72.100%.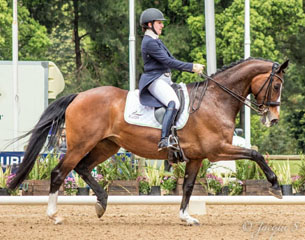 Since 2012 Smith has been training and competing in Europe. She was first based at Tineke Bartels' academy in Hooge Mierde, The Netherlands, where she discovered and bought Victoria. Afterwards she moved into training with Hubertus Schmidt in Paderborn, Germany, and is still located there with her two horses Chi La Rou and XX. Aboard Victoria Smith represented South Africa at the 2014 World Equestrian Games in Caen, France. The pair also rode at the 2013 and 2014 CDIO Aachen. Their last show in Europe was the CDI Lier in March 2016. Victoria was shipped to South Africa in March 2017 and had to spend one month in quarantine. Nicole's mom Diane kept the mare fit and in shape for the Nationals. 
"I was in South Africa for just less than two weeks before we left for the competition. I am still living in Germany most of the time, but it was necessary for all riders hoping to participate in the 2018 World Equestrian Games next year to ride in our national championship at any level, not necessarily Grand Prix. Victoria went very well in the Grand Prix. She felt super fit and strong, despite both her age and the huge transition from Europe to South Africa. It is a very different climate and a different way of life for horses, and she is definitely thriving there. I had a very nice test, she stayed calm but sensitive throughout and we had no big mistakes. I was very very happy with the test, as she showed expression as well as being mostly technically correct."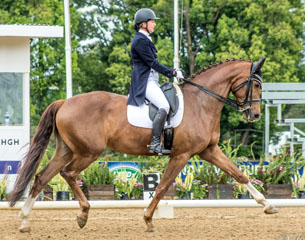 While Nicole has already travelled back to Germany to focus on Grand Prix horses Chi La Rou and Wyvern, the 19-year old Victoria will stay in South Africa and be ridden by Nicole's mom and sister. Chi La Rou has become Nicole's 2018 WEG hopeful.
"Victoria is staying in South Africa now and she will retire there. She is now having an easier life without the pressure of competition all the time and enjoys being in the sun in her paddock all day," Smith explained. "My mother and my sister both enjoy riding her and of course I love riding her when I am at home. As far as competitions go, we will also see what she wants to do! She had nothing more to prove to me, as she has really given me everything over the years, so it was very special for me that she did such a super test at this show."
The silver medal went to eventing rider Leanne Cutting on the 10-year old Dutch warmblood mare Cinderella (by Gribaldi x Oscar) on a 63.920% score. In 2015 the mare competed at small tour level and did one international at the CDI Midrand at the time after having competed in a CIC 1* in 2013.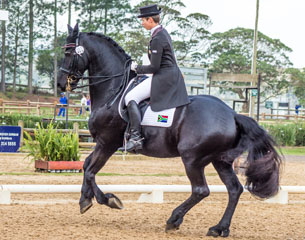 2014 South African WEG team rider Chere Burger and Niekie Pienaar's 17-year old Friesian stallion Anders (by Adel x Ouke) scored the bronze medal with a 63.000% earning test. Her marks went from 60.300% to 65.000%. Burger also landed fourth place on Pienaar's 17-year old Irish Sport horse registered Fernhill Derry (by Ricardo Z x Farhaan) with 62.800%. 
The German based Tanya Seymour, who represented South Africa at the 2016 Olympic Games, also travelled to her home country to fulfil the South African WEG selection criterium of the mandatory start at the Nationals. Instead of bringing her own horse Ramoneur, she borrowed Shiree Darley's 15-year old Dutch warmblood Vinducath (by Sandro Hgit x Casimir). She was 9th on 57.940%.
"I believe Vinducath had only once competed at this level," Seymour told Eurodressage. "We arrived on the Monday evening, I rode him once before competing on Tuesday in the inter II. He was quite a tricky ride in the ring and still insecure with the Grand Prix work, but a very kind and talented horse. I then rode him another two days before the Grand Prix but too many small mistakes in the test became very costly. However by Saturday we finished 3rd with a big improvement in many movements."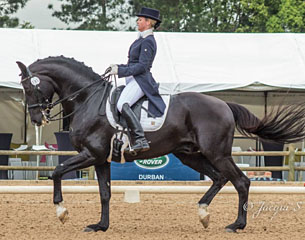 The South African Nationals were held at Seymour's home riding club in Durban, so it was a trip down memory lane for Seymour. 
"It was amazing to be back in South Africa competing where it all began so many years ago," said Tanya. "I have my stable in Addrup, near Vechta, and have no plans on heading back to SA. I teach all over Europe and take horses in for training. Also I return regularly, almost every month to SA to teach. I will be trying to qualify for the World Cup finals in Paris this year and of course riding again at the WEG in Tryon."
On the final day of competition, a small group of big tour riders contested the Kur to Music, which was not part of the National Championships.  Leanne Mostert and the PRE stallion Treinado won the Kur with 69.650%, followed by Burger on Anders with 67.900% and Seymour on Vinducath on 65.475%.
Results - 2017 South African Grand Prix Championship - Durban
1. Nicole Smith - Victoria - 67.800
2. Leanne Cutting - Cinderella - 63.920
3. Chere Burger - Anders - 63.00
4. Chere Burger - Fernhill Derry - 62.800
5. Leanne Mostert - Treinado PRE - 61.000
6. Adriaan van Wyk - Hartenberg Attack - 60.440
7. Johan Roodt - Delgardo M - 58.420
8. John Smith - Willem - 58.220
9. Tanya Seymour - Vinducath - 57.940
10. Samantha Foley - Chevalier - 50.140
Genevieve McNeill - MOT Saint John - DNS
Bronwen Meredith - Delux - DNS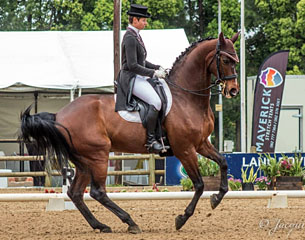 Photo © Jacqui S
Related Links
Nicole Smith, Bannerman of South African Effort for 2014 WEG Qualification
Tanya Seymour Nominated as South African Individual for 2016 Olympic Games
Chere Burger's Sponsor Buys Maurits van Nassau and Handsome
Philippe Jorissen's Le Beau Sold to South Africa