Trakehner Breeding News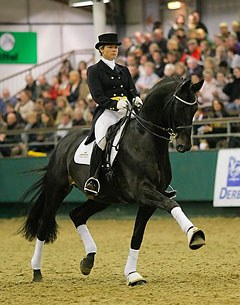 The 19-year old Hofrat has been proclaimed "Trakehner Stallion of the Year 2017" at the 2017 Trakehner Stallion Licensing in Neumunster, Germany, on 13 October 2017.
The Trakehner Verband honors particularly successful sires with this title, and the list of past winners is quite impressive, including Hofrat's sire Gribaldi.
Hofrat was born in 1998 and bred by Michael Schiele. He is by Gribaldi out of Habsburg II (by Guter Planet x Effekt) and is owned by Hans-Jörg Gasser from Austria.
Hofrat won the Reserve Champion title at the Licensing in Neumünster in 2000. He sold at auction to Ilsemarie Peters, under whose tutelage the stallion became an S level dressage horse (started by Friederike Peters, then later also shown by Frederic Bünger and Rosemarie Kemper).
As a sire, Hofrat so far produced 272 registered sport horses in Germany, predominantly from the Trakehner breed, but also from others. His offspring have won close to 200,000 Euro in competition so far, almost all in dressage, with 19 competing successfully at S level. His son Hotline, the champion of the Hanoverian approvals in 2005, is an accomplished Grand Prix dressage horse and sire of advanced level dressage horses who really put this line at the forefont in the Hanoverian breed.
In the Trakehner breed, Hofrat sired the approved sons Häwelmaann (Champion NMS 2011), Hopkins, and Karl Lagerfeld. Among his most outstanding recent offspring is the 7yr old gelding Kipling, bred in Denmark and ridden by Anne Troensegaard, who won the Bronze medal at the 2017 FEI World Championships of Young Dressage Horses.
Hofrat's FN dressage index is 145, which places him in the top of German stallions today.
by Maren Engelhardt - Photo © Jutta Bauernschmitt
Related Links
Grafenstolz TSF, Trakehner Stallion of the Year 2016
Imperio and Axis, Trakehner Stallions of the Year 2015
King Arthur, Trakehner Stallion of the Year 2014
Connery, Trakehner Stallion of the Year 2012
Munchhausen, Trakehner Stallion of the Year 2011
Buddenbrock, Trakehner Stallion of the Year 2010
Kostolany, Trakehner Stallion of the Year 2009
Michelangelo, Trakehner Stallion of the Year 2006 
Herzruf, Trakehner Stallion of the Year 2004
Hohenstein, Trakehner Stallion of the Year 2002