Eurodressage F.O.C.U.S.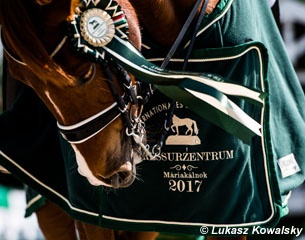 As driving forces behind the Mariakalnok Dressage Centre, Hungarian Grand Prix riders Robert Acs and Aniko Losonczy have given a significant boost to the development of dressage in Hungary. Their students Nikolett Szalai, Berill Szoke Toth and Hanna Hoffer have all three claimed the title at the 2017 Hungarian Dressage Championships and for the first time in decades, Hungary was able to send a full team to the European Dressage Championships this summer.
The 35-year old Losonczy and her 37-year old life partner Robert Acs both garnered expertise by working as assistant trainers for 15 years for German horse dealer Arnold Winter of Wintermühle sport horses, before relocating back to their home country Hungary in 2015. With the Braun' family's Mariakolnak Dressage Centre as their new base, the couple boosted the popularity and glory of the sport nationwide in just two years time.
"It was a difficult decision to go independent, but we had to be brave and our courage has paid off," Losonczy explained. "We rented a stable block in the beautiful facility of the Braun family not knowing what the future would bring us."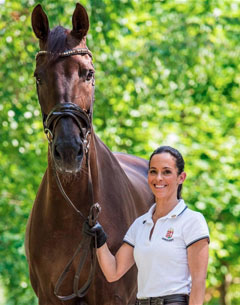 The couple began its business with 15 horses and 3 employees and have brought new life to the Mariakalnok dressage centre, which was for sale before. By hosting an opening party and an open house day, many curious lovers of horse sport and dressage came to explore the centre and met the crew behind it. 
"Many doubted that we would be able to bring success to an equestrian sport centre located far away from the capital Budapest," said Acs. "We were able to establish a good name for ourselves through our work at Wintermühle and continued along the same path in Hungary."
The pair focused on developing young horses up the levels and started to attract more students along the way. In February 2016 they sold their Grand Prix horse Deep Impact (by De Niro x Rubinstein) to Andreas Helgstrand and the black gelding competed on the Spanish team with star rider Severo Jurado Lopez at the 2017 European Dressage Championships in Gothenburg. Their students have made their debut at CDI's in Europe and are now on the path to international experience and success. 
International Competitions in Mariakalnok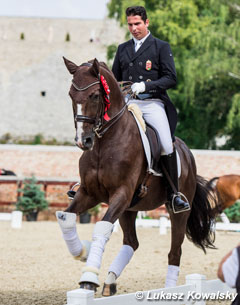 Mariakalnok had been the host of several international shows before, but stopped organizing them when the facility was for sale. However, the arrival of Acs and Losonczy brought new life to the venue and the pair became the proud hosts of the 2016 CDI Mariakalnok, which became a triumph for dressage competition sport in Eastern Europe.
"The CDI Dressage Festival Mariakalnok welcomed top pony riders as well as Olympic participants, such as Ulla Salzgeber, amongst others," said Aniko proudly. "The riders, judges and spectators were all thrilled with the fun atmosphere and good organisation. At the end of the year, we even got a special decoration, "For the Hungarian Equestrian Sport," from the Hungarian equestrian federation for it."
In 2017 the pair hosted yet another international show and this time received world cup status as well as a nations' cup for youth riders. The 2017 CDI-W Mariakalnok was the spring season opener and marked the beginning of a historic path for Hungarian Grand Prix dressage. In the next three months three riders qualified for the 2017 European Championships in Gothenburg and for the first time in more than two decades, Hungary was able to field a team. The team members were Acs, Losonczy and their student and assistant trainer Nikolett Szalai, all based at Mariakalnok. 
Mariakalnok Students Are Golden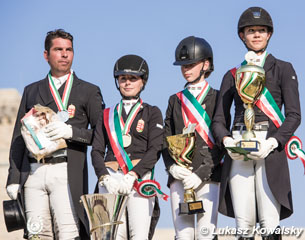 Nowadays the Mariakalnok Dressage Centre prides itself in its reputation as a superior training base for ambitious youth riders aiming for the highest level. With over 60 horses stabled at the venue, six trainers have now based their business there: Róbert Ács, Anikó Losonczy, Nikolett Szalai, Iryna Lis, Máté Garai and György Komjáthy.
"We have no less than 20 riders who actively compete nationally and 13 of these show internationally. Aniko, Nikolett and myself, as well as the talented riders Máté Garai, Berill Szőke-Tóth, Hanna Hoffer, Hanna Iván, Lea Jakubikowa, Réka Zengő, Péter Jenei, Dominik Borza, and several more," said Robert. "These riders all achieved victories and honourable placings at the CDI's in Fot, Brno, Wiener-Neustadt and Lipica, and at the European Championships."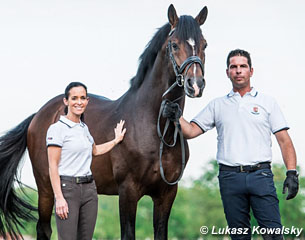 Hanna Ivan and Kitti Rapi competed at the 2017 European Pony Championships, Hanna Hoffer was sixth at the 2017 European Children's Championship, and Lea Jakubikova, Reka Zengo, and Berrill Szoke Toth represented their country at the 2017 European Junior/Young Riders Championships. The Hungarian Grand Prix team placed 14th in the Nations Ranking at the 2017 Gothenburg Europeans.
"We are very proud of the fact that nine riders and horses from our stables competed at the European Championships this year," Aniko gushed. "After 36 years Hungary had a team at the Europeans in Gothenburg. It is very unique that an entire team comes from one stable."
Also at the 2017 Hungarian National Dressage Championships the Mariakolnak team continued its winning streak.  Hanna Ivan became Pony Champion, Szoke Toth was Junior Champion and Dominik Borza won silver, and Reka Zengo won the Young Rider's title. In the senior division the Hungarian Nationals included four levels: L, M, S and Grand Prix. All four gold medals went to Mariakalnok riders: L champion was Hanna Hoffer on Macciato, M champion was Berill Szoke Toth with Donna Romma, S champion was Robert Acs on Bilan and in the Grand Prix championships gold and silver with to Szalai and Acs.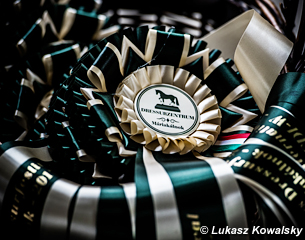 Losonzcy and Acs are convinced that they have found the right formula for competitive success in a familiar, friendly atmosphere at Mariakalnok. Their goal is to make the route to success a pleasureable experience, but it requires hard work and dedication.
"You have teams in which the riders get along very well, but the team has no success because more is needed than team spirit," said Aniko. "To achieve mutual goals it is necessary to work together on the right tasks, in the right way and at the right time. It requires team effort to achieve our goals."
For more information, visit www.dressurzentrum.hu
Photos © Lukasz Kowalski
Related Links
Nikolett Szalai Extends Title by Winning 2017 Hungarian Grand Prix Championships
Jamiroquai, Kitti, Fly With Me Win 2016 Hungarian Young Horse Championships
Hungary Qualifies Team of Three for 2017 European Dressage Championships
Robert Acs Goes Independent, Relocates Back to Hungary
Andreas Helgstrand Acquires Deep Impact as Birthday Present for Wife