FEI News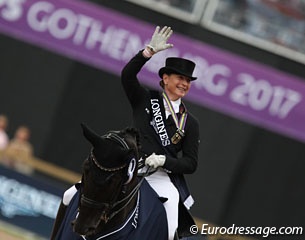 The Fédération Equestre Internationale (FEI) has opened the public voting for all the shortlisted nominees of the FEI awards 2017. Dressage riders Isabell Werth and Hannah Erbe and dressage grooms Alan Davies and Steffi Wiegard are amongst the nominees.
For the first time since the creation of the awards in 2009, the public can cast a vote for their heroes and impact who they think deserves to win. A billing packed with champions and those who go above and beyond, the twenty nominees have been shortlisted across five categories for their outstanding contributions and dedication to the sport, showcasing some of the most successful achievements and talent within the Equestrian community.
Hundreds of nominations from around the globe over the twelve week nomination period were received. The calibre of entries for this year's awards was exceptional. Now it's over to the public to choose their favourites from the final shortlist of candidates for Best Athlete,Rising Star, Best Groom, Against All Odds and FEI Solidarity by registering through this link from now until 1 October 2017. The public vote determines 50% of the total vote whilst the other 50% will be decided by a star studded expert judging panel. 
The nominees are
Best Athlete
Peder Fredricson (SWE)
Ingrid Klimke (GER)
Isabell Werth (GER)
Pepo Puch (AUT)
Best Groom
Alan Davies (GBR)
Lee Mckeever (USA)
Imogen Mercer (GBR)
Steffi Wiegard (GER)
Rising Star
Harry Allen (IRL)
Juan Martin Clavijo (COL)
Hannah Erbe (GER)
Pilar Saravia (URU)
Against All Odds
Manuel Franke Bertolotto (CHI)
Emma Booth (AUS)
Felicia Grimmenhag (SWE)
Eddo Hoekstra (NED)
FEI Solidarity
Meadow Creek Vaulting Club (CAN)
Liam Moggan (IRL)
Retraining of Racehorses (IND)
Hannah's Wilberry Wonder Pony Charity (GBR)
The winner of each of the five categories will be announced at the FEI Awards 2017 gala presented by Longines in Montevideo (URU) on 21 November 2017, in front of more than 350 distinguished guests, including top sporting legends, equestrian fans, FEI partners and stakeholders representing the 134 National Equestrian Federations. The awards will be broadcast live on FEI platforms, providing a valuable opportunity to celebrate the best of the best of Equestrian worldwide.
Related Links
Dressage Riders Rothenberger and Riskalla Win 2016 FEI Awards
Werth, Rothenberger, Davies Shortlisted for 2016 FEI Awards
FEI Launches New Global Awards