Eurodressage Market - Products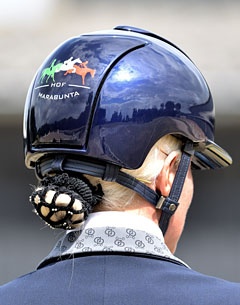 Italian Grand Prix rider and KEP Italia's style and fashion consultant Silvia Rizzo is actively supporting International Helmet Awareness Day on 16 - 17 September 2017. International Helmet Awareness Day is an event backed for the eighth year in a row by the American movement Rider4Helmets and aimed at sensitising public opinion regards to helmets and safety.
For the past decade Silvia Rizzo has been a trendsetting dressage rider with her forward equestrian fashion. Not only did she wear never-seen before breaches, but also her tailor-made tails and custom designed helmets attracted the spotlight. She even generated the interest of fashion king Valentino and got a nod of appreciation from the style icon himself at the 2015 CDI Doha.
Aboard her powerful Oldenburg stallion Donnerbube II and her athletic Lusitano stallion Sal, Rizzo has displayed a sense of style in the saddle that has become well appreciated by the dressage public and fans. Rizzo has been able to amass the interest of almost 350,000 followers on her Facebook page, who tune into Silvia's daily life for close contact with an international dressage rider and fashion advice. With her individualistic approach she has brought the public closer to the sport, a goal which the FEI has been working on for years.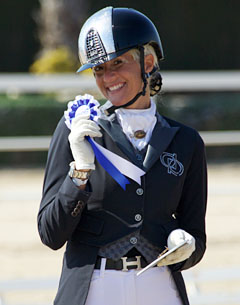 Rizzo has been wearing the Italian helmet brand KEP Italia since 2011, deliberately choosing for the brand for its safety and quality. 
"KEP Italia's founder Lelia Polini carried out years of research for her helmets to provide maximum protection," said Rizzo. "Kep Italia is to me the only brand which combines safety with a sense of fashion. It is the only helmet with five security certifications and it makes dressage riders look even more beautiful in their outfit in the show ring."
KEP Italia has guaranteed its support for International Helmet Awareness Day since 2013. "KEP Italia and Riders4Helmets have a great deal in common since we work to achieve the same identical objective, that of protecting riders and ensuring everyone understands that wearing a good helmet when riding makes all the difference in the event of a fall," said Polini.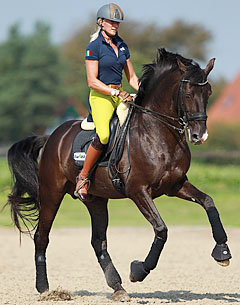 Rizzo is now actively collaborating with KEP Italia for the design of new models. As a style consultant for the brand, Silvia helps riders personalize their helmets to their individual sense of fashion through colour-co-ordination, material choice and branding for the riders' yards, sponsors, teams or countries.
Rizzo is proud that she and KEP Italia can offer a special service for 2017 International Helmet Awareness Day on 16 and 17 September 2017. Contact Silvia Rizzo for model customization of KEP Italia helmets and receive a discount from the company!
Related Links
Silvia Rizzo, Ambassador for Helmet Wearing on 2015 International Helmet Awareness Day
Silvia Rizzo Ready for 2016 CDI Samorin With Three New Sponsors Backing Her Up
Silvia Rizzo Adds BMW Horse Power to her Stable Thanks to BMW Helming & Sohn
Silvia Rizzo Gets Nod of Appreciation from Fashion King Valentino at 2015 CDI Doha
Florida Snowbird Silvia Rizzo Sets New Goals and Partnerships for 2015
Silvia Rizzo and New Partner Sal Take On Wellington