2017 Dutch Young Pony Championships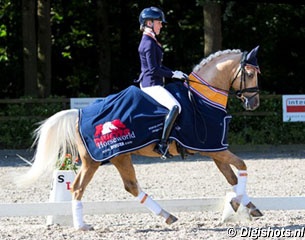 The 4-year old Houdringe's Raspoutin, the 5-year old Don Davino, and the 6-year old Castenrayseweg's Dreamboy became the grand winners of the 2017 Dutch Young Pony Championships held at Gert van den Hoorn's equestrian centre in Kootwijk, The Netherlands, on Saturday 19 August 2017.
Dutch young ponies had to qualify for the national championships via a few qualifiers spread out over Holland this spring and summer. The Finals in Kootwijk included two rounds. In the first the ponies were assessed by judges Jacques Verkerk and Trudi Houwen. The five best scoring combinations  were invited for a finals round in which all ponies were test ridden by guest judge riders Febe van Zwambagt, Bo Oudhof and Esmee Donkers. 
In the 4-year old division Romy Schaftenaar and the Dutch Welsh pony bred Houdringe's Raspoutin (by Leuns Veld's Lord) earned the champion's sash. The judges saw a big difference amongst the ponies and the more experienced pony riders did better on the green 4-year olds. Judge Jacques Verkerk commended Raspoutin on his "expression and very good canter." Test rider Oudhof said that the black stallion became quite stalliony but he still listened to his rider. "I dismounted this rascal with a good feeling," she added.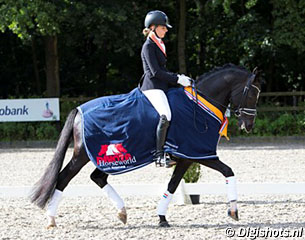 In the 5-year old division, former Dutch FEI pony rider Kim Noordijk steered the Dutch Riding Pony bred Don Davino (by Don Carino du Bois) to an impressive victory far ahead of the competition. The stallion stood out with "his balance and three fantastic basic gaits," acording to Verkerk. Test rider Oudhof scored the pony a 9.5 and praised the pony's ability to collect and extend.
In the 6-year old division Sam van der Kuijl and the Dutch Welsh pony bred Castenrayseweg's Dreamboy (by Molenhorn's Lucky Boy) topped the board and took the title. Verkerk praised the pony for his "impressive front but the pony still needs to gain more strength from behind, but overall he paints a pretty picture." Test rider Oudhof rung in and said that Dreamboy gave her a "wow-feeling". Oudhof had set as rideability criteria 'activity, balance and forwardness into the hand'.
Photos © Digishots
Results - 2017 Dutch Young Pony Championships - Kootwijk
4-year olds
1. Houdringe's Raspoutin (NWPCS, by Leuns Veld's Lord) -  Romy Schaftenaar, 88.75 pts
2. Amalia's Lucas (NWPCS, by  Vlagberg's Carway) -  Eline Agterberg -  84.75 pts
3. Coelenhage Parco (NWPCS, by Matcho) - Maxime van Dijk - 83.88 pts
4. Make My Forest (NNFP, by Elshof Marnix) -  Isa van der Arend -  83.88 pts
5. Coelenhage's The Count (NWPCS, by Leuns Veld's Lord) - Emma van Esveld - 76.5 pts
5-year olds
1. Don Davino (NRPS, by Don Carino du Bois) - Kim Noordijk, 91.75 pts
2. Oosterbroek Fenix (NNFPS, by Orlando) - Robin Heiden, 87.38 pts
3. Goldwin's Hoeve's Valerion (NWPCS, by Valerio) - Marten Luiten, 84.5 pts
4. Schierensees Mithril (NRPS , by Schierensees Marillion) - Marten Luiten, 84 pts
5. First Hummer (NRPS, by FS Mr. Right) - Rianne Ashley Ubels, 80.25 pts
6-year olds
1. Castenrayseweg's Dreamboy (NWPCS, by Molenhorn's Lucky Boy) - Sam van der Kuijl, 87 pts
2. Den Östriks Jaron (NWPCS, by Good Looking) - Lara van Gaal, 83.38 pts
3. M&N's Waldemar (NWPCS, by Winston) - Estelle Knook, 82.63 pts
4. Power Girl (NRPS, by Power and Paint) - Margje Janssen, 80.13 pts
5. Odini (NNFPS, by Sulaatik's Versace) - Loussan Gritter, 78.63 pts
Related Links
Oosterbroek Fenix, Odonker S, Pippin's Pride Win 2016 Dutch Young Pony Championships
Dreamboy, Pippin's Pride, Den Ostriks Marah Win 2015 Dutch Young Pony Championships
Pippin's Pride, Den Ostrik's Marah, Morningsky Win 2014 Dutch Young Pony Championships
Don Ducky C-Two, Morning Sky, Boldermans Brasil Win 2013 Dutch Young Pony Championships
Roetsenest Enzo, Kielshoop Honeybee's Valentino, El Diego Win 2012 Dutch Young Pony Championships
Nero van den Hout, Tiesto and Hertenshof Nairobi Win 2011 Dutch Young Pony Championships
Tiesto, Heidehofs Don Diego, Champ of Class, 2010 Dutch Young Pony Champions
Heidehofs Don Diego, Guardian B and JDJ Keimpe Win 2009 Dutch Young Pony Championship