What's Happening in the Dressage World?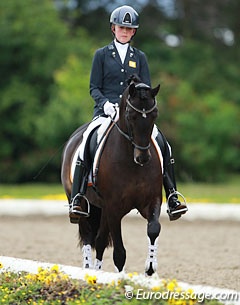 The 10-year old Dutch FEI dressage pony Brasil (by Sandokan's Leonardo x Orchard d'Avranches) has been sold to Great Britain as a schoolmaster for Hermione Tottman. Under Kim Noordijk, Brasil was the Dutch Young Pony Champion as a 6-year old and a member of the Dutch pony A-squad.
 Brasil was team reserve for the 2015 European Pony Championships. Noordijk and Brasil last competed internationally in December 2016.
After only one year at her new base in Stable Sprengendal, professional young horse rider Lisanne der Nederlanden has decided to relocate again. Der Nederlanden claimed her fame as a successful young horse trainer and rider as a stable jockey for Coby van Baalen but in 2016 she decided to go independent and moved to Sprengendal, where there is also a large group of show jumpers. The indoor arena was often littered with jumps, which made it hard for Lisanne to train the 3-year old mares for the IBOP testing. De Hoefslag reported that she has now relocated to Janneke Punte's dressage yard in Enschede, The Netherlands.
German Grand Prix rider Hendrik Lochthowe has decided to leave his employer of five years, Gestut Meggle near Munich, Germany, to go independent. Under Meggle's patronage, Lochthowe had the opportunity to train and compete high quality horses. His most successful one was the Grand Prix stallion Boston (by Johnson x Partout). Lochthowe previously rode for Dressage Performance Centre Lodbergen before taking over the position of stable jockey at Meggle's after Dieter Laugks left. 
Swedish Grand Prix rider Michelle Hagman has given birth to a baby girl on 27 July 2017. Hagman and her boyfriend Arne Hassinks became the proud parents of Aurelia Viola Hagman Hassink.. She weighed 4,540 kg at birth.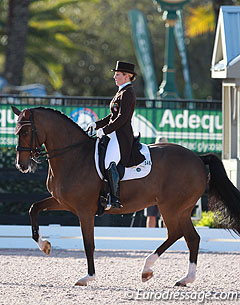 American Grand Prix rider Susan Dutta has announced the retirement of her Grand Prix horse Currency DC after the CDI Saumur in September. The 17-year old show jumping bred Oldenburg gelding (by Clintino x Classiker) was acquired by Susan's husband Tim as a 2.5-year old. Susan took "Curry" to the 2005 World Young Horse Championships in Verden, where they were 11th in the Finals, and then competed him at international Grand Prix level. Dutta always showed her horse on the Wellington circuit in winters and then took them to Europe, first with Christoph Koschel and now with Holga Finken, for summer training camp. Currency DC showed in no less than 112 international Grand Prix over eight years. "He has been my friend and partner for many years," said Susan Dutta. "I have gone to the biggest most prestigious and some of the most fun shows in the world because of him. I will enjoy every minute of our last show!! Then Curry will get hacked and ridden for fun by my groom Carly Muma because she loves him with all her heart. They both deserve a little fun together and I need to focus on my next set of horses, because filling Curry's shoes will not be easy."
Horses.nl reported that KWPN dressage horse breeder Antoon Versantvoort died in a motorcycle accident in The Netherlands on 2 August 2017. The 67-year old Sint-Oedenrode based breeder hit the front of a lorry and died instantly from his wounds. Versantvoort was known for having bred the very popular KWPN breeding stallion Vivaldi (by Krack C) out of Renate Utopia (by Jazz). He also bred the Dutch Mare Champion Wiona Utopia (by San Remo) out of that mare.
French Grand Prix rider Alexandre Ayache and his Estonian life partner and Grand Prix rider Grete Puvi got married on 12 August 2017. The couple already became parents to daughter Anna on 3 November 2015. The couple is based in Nice, France.