2017 French Grand Prix Championships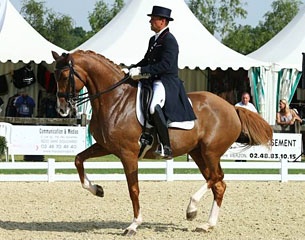 French Olympian Pierra Volla and his number one Grand Prix rider Badinda Altena became the winners of the 2017 French Grand Prix Championships held in Vierzon, France, on 7 - 9 July 2017. Hosted at the Cambourieu family's Centre équestre de la Picardière, the French Nationals took place in Vierzon for the third year in a row and consisted of two rounds, the Grand Prix and Special.
Of the 32 combinations that were entered to compete in round one, the Grand Prix, in Vierzon, 29 of the started. However, the rides of only eight French Grand Prix riders were shown in the overall ranking for the National title this year. The field was clearly missing numerous big stars and French team members, such as Karen Tebar, Ludovic Henry, Stephanie Brieussel, and Arnaud Serre. Further missing are Bertrand Liegard, Virginie Gauthier, Anne Sophie Serre, Justin Verboomen, and Barbara Clement Klinger, to name a few. 
Vola and his 11-year old Dutch mare Badinda Altena (by Tolando x Goodtimes) had free reign to grab the title for the second, consecutive year. With top scores in the Grand Prix (74.540%) and Special (74.686%) he was a league of his own on his way to gold.
"I'm truly very happy with this victory. I came to defend my title and it worked," said Volla. "The challenge was important and of course came with a bit of stress. It's been a real treat. 
The silver medal went to Pauline Vanlandeghem on the 17-year old Hanoverian Liaison (by Londonderry x Gralswachter) who was second in the Grand Prix (72.640%) and Special (71.804%). Nicole Favereau and the 11-year old Belgian warmblood Ginsengue (by Welt Hit II x Livingstone) earned bronze. They were fourth in the Grand Prix (68.480%) and third in the Special (69.627%). 
Photo © Astrid Ringot/Race Photo
Results - 2017 French Grand Prix Championships - Vierzon
1. Pierra Volla - Badinda Altena - 74.540 - 74.686  --- 149.226
2. Pauline Vanlandeghem - Liaison - 72.740 -  71.804  --- 144.544
3. Nicole Favereau - Ginsengue - 68.480 - 69.627  --- 138.107
4. Marie Emilie Bretenoux - Quartz of Jazz - 68.980 - 68.647 --- 137.627 
5. Bertrand Conrad - Toomuch de Lauture -  67.460 - 68.196  --- 135.656
6. Philippe Limousin - Rock 'n Roll Star -  68.040 - 66.627  --- 134.667
7. Perrine Carlier - Gracieux van het Lindenhof - 67.460 -  66.118 --- 133.578
8. Marine Subileau - Osado 04 - 66.380 - 66.549 --- 132.929
Related Links
Karen Tebar Wins 2015 French Grand Prix Championships
Catherine Henriquet Wins 2013 French Dressage Championship
Jessica Michel Wins 2012 French Grand Prix Championships
Arnaud Serre Renews Title at 2011 French Dressage Championships
Arnaud Serre Captures 2010 French Grand Prix Title on Corellou's Helio II
Siat and Collier Win at 2009 French Dressage Championships
Marc Boblet, 2008 French Dressage Champion
Karen Tebar Wins the 2006 French Dressage Championships
Hubert Perring, 2005 French Dressage Champion
Odile van Doorn Reconquers French National Dressage Title 
Scores 2003 French Dressage Championships 
Van Doorn and Parodie van de Wateringhoeve, 2002 French Dressage Champions
Marietta Almasy, 2001 French Dressage Champion