2017 Bundeschampionate Qualifier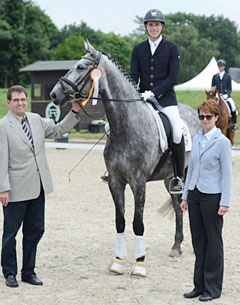 The 5-year old Loredana and the 6-year old Hot Hit were the winners of the Bundeschampionate qualification classes held at the annual regional show in Langenfeld, Germany, on 7 - 9 July 2017.
Christina Voss and Gestut Babiacki's Rhinelander mare Loredana (by Lord Carnaby x Gamblers Star) topped the board in the 5-year old division with a strong 8.5 total score. The bay mare earned straight 8.5s for walk, trot, canter, submission and general impression. Matthias Bouten and Josef Wilbers' Rhinelander stallion Lord Nunes (by Lord Loxley x Jazz)  finished second with 8.4. The bay stallion got 7.5 for walk, 9 for trot, and 8.5 for canter, submission and general impression. 
Frederic Wandres and Hof Kasselmann's Oldenburg stallion Hot Hit (by Hotline x Diamond Hit) became the winners of the 6-year old division with an 8.1. total score. The grey stallion got 8 for walk, 8.5 for trot and canter, 7 for submission and 8.5 for general impression. Spanish Marco Fernandez-Sanchez and the Rhinelander gelding Poleggio Boy VHD (by Poleggio  Sandro Hit) were the runners-up with 7.8. The chestnut gelding earned 7.5 for walk, 8 for trot and canter, 7.5 for submission and 8 for general impression. 
Results - 2017 Bundeschampionate Qualifier - Langenfeld
5-year olds
1. 1 Christina Voß - Loredana  (by Lord Carnaby) - 8.5
2 Matthias Bouten -  Lord Nunes  (by  Lord Loxley x Jazz)  8.4
3 Eva Julia Haubert  -Romy  (by  Real Diamond x Dancing Dynamite) - 8 
4 Iris Jansen - Lord Nirius  (by Lord Carnaby x Wolkenstein II) - 8 
5 Nathalie Braun -  Quibelle  (by Quaterback x Fürst Heinrich) - 7.7
6 Marco Fernandez Sanchez-  Quintylian  (by Quaterhall x Sandro Classic) - 7.4 
7 Ina Tempel -  Friedrich T  (by  Fidertanz x Sandro Hit) - 7.3 
8 Bernd Nöthen - Fauntleroy  (by Foundation x Samarant) - 7.2 
9 Laura Wendels - Legendary Loon  (by Lissaro x Falsterbo) - 7.1 
9 Christine Nolden - Farmer's Hit  (by Foundation x Sandro Hit) - 7.1 
11 Stefan Wieser - Be Lubee  (by Bonard de Charry x Quaterback) - 7 
12 Michael Venes - Vegas  (by  Vitalis x Fidermark) - 6.8 
13 Christina Hoffmann - Be my Girl R  (by  Belstaff x Quattro B) - 6.3
 Stefanie Wolf - Arango (by Apache x Fidermark) - RET
6-year olds
1. Frederic Wandres - Hot Hit (by Hotline) - 8.1 
2. Marco FernandezSanchez - Poleggio­Boy VDH  (by Poleggio / Sandro Hit) - 7.8
3. Claudius Becher - Deneuve  (by Demirel / Brentano II) - 7.7
4. Michelle Frenzen -  Lady Carnaby  (by Lord Carnaby / Ehrentusch) - 7.5 
5. Beatrice Buchwald -  Veneno HC  (by Vitalis / Diamond Hit) - 7.4 
6. Dietmar Hax - Lessino H (by Lord Loxley I / Lancer II) - 6.7
Related Link
Eurodressage Coverage of the 2017 Bundeschampionate