2017 German Dressage Championships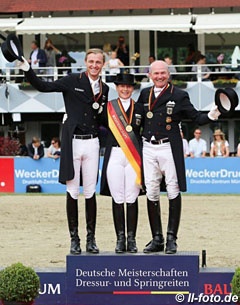 Isabell Werth has won the German Dressage Championships for the 13th time in her career. At the 2017 German Championships in Balve, she rode the 11-year old Westfalian gelding Emilio to victory in the Grand Prix and Special and earned the gold medal in the technical championship which was ridden over two rounds on Friday 9 and Saturday 10 June 2017.
The silver medal went to Sönke Rothenberger on Cosmo and bronze to Hubertus Schmidt on Imperio. The Kur on Sunday 11 June 2017 will determine a separate set of medals for the artistic skills of the riders. 
Werth and Madeleine Winter-Schulze's Emilio (by Ehrenpreis x Cacir AA) were a league of their own in Balve, winning the Grand Prix with 82.060% and the Special with a whopping 84.275%. Balve is traditionally known for its huge (inflated?!) scores and this year it was no different, notwithstanding the fact that the German elite showed excellent riding also this year.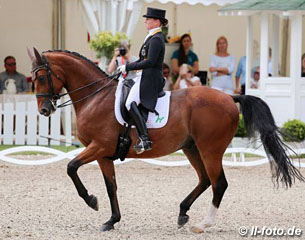 "Emilio has gained routine, power and experience. Today he stepped out of Weihegold's shadow," said Werth after winning gold. "The way he went on both days was simply sovereign. He was very secure, very routined and today even more compact and closed in the frame. I was able to ride him wonderfully. He was on the dot in the piaffe,passage and transitions, changes and pirouettes. Emilio really worked with me. That was the right amount of power, throughness and dominance."
The 47-year old Werth renewed her title as German champion, extending the one from 2016 on Weihegold and earning the 13th one in her career. She edged out 22-year old Sönke Rothenberger on the 10-year old Dutch gelding Cosmo (by Van Gogh x Landjonker) who twice finished second with 79.700% after some issues in the Grand Prix and 80.804% in the Special. It is Rothenberg's first national medal as a senior Grand Prix rider. 
"He was more awake today than yesterday and was again looking in the same corner," said Sönke. "I don't know what he saw there, but it bothered him so I could give it my all. There were still a few issues here and there. When Cosmo does a super, he has all that it takes."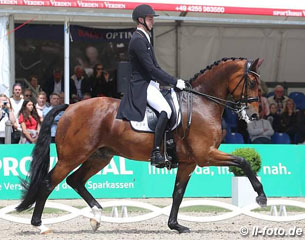 The 57-year old Hubertus Schmidt won bronze after two third places aboard the Trakehner stallion Imperio (by Connery x Balfour xx). In the Grand Prix they got 76.340% and in the Special they posted a score of 77.196%. 
"In the winter we had a little dip where he wasn't going so well. We had worked a lot on his weaknesses, to get him more on the hindleg. Fortunately it paid off. In the trainings at home I was always very happy with him and today it was really a nice test again," said Schmidt. 
Team trainer Monica Theodorescu was extremely pleased with the performances of her top riders in Balve. "Today several combinations and horses added an extra notch and improved. Some showed a personal best performance, both yesterday and today. Emilio has become more secure and mature in the movements and confirmed in the Grand Prix."
Photos © LL-foto
Related Links
Scores 2017 German Dressage Championships
Isabell Werth Throws First Punch at 2017 German Dressage Championship