2017 German Dressage Championships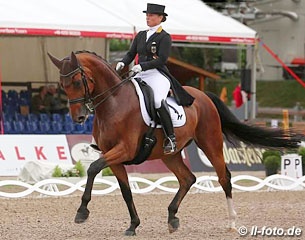 Isabell Werth and her second Grand Prix horse Emilio threw the first punch and won the opening round of the 2017 German Dressage Championships which started today 9 June 2017 in Balve, Germany. Werth won the Grand Prix with a personal best score of 82.06% and edged out Sonke Rothenberger on Cosmo and Hubertus Schmidt on Imperio.
Only days before the start of the German Championships, Werth had to announce the withdrawal of her top ride Weihegold because of an inflammation due to a bacterial infection. The road seemed clear for Sonke Rothenberger to win the gold this year, but never ruled out Werth. On Madeleine Winter-Schulze's 11-year old Westfalian gelding Emilio (by Ehrenpreis x Cacir AA) she scored 82.060% to win the class and take the lead in the championship. There was one small blemish in the ride when an unscripted change behind at the end of the extended canter appeared. In Germany two medals are awarded at the Nationals: one for the technical part (Grand Prix and Special) and one for the Kur.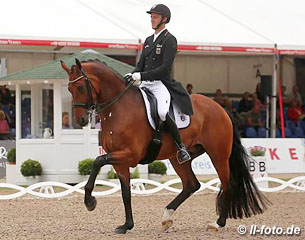 Sonke Rothenberger and the 10-year old Dutch warmblood gelding Cosmo (by Van Gogh x Landjonker) placed second with . The highlights of the test were the trot extensions. A big mistake happened in the first piaffe, though, were the horse lost the rhythm and made a 180° turn. The second piaffe was quite forward and one of the pirouettes could have been prettier, but overall the test was high quality. 
The Grand Prix was judged by Ulrike Nivelle, Katrina Wüst, Dietrich Plewa, Henning Lehrmann, and Kerstin Holthaus. Although all placed Werth first there scores were not in unison with 79.500% as low score and 83.900% as high score. With Rothenberger the discrepancies were even worse. His low score was 76.600% and high score was 82.500% and this had nothing to do with the position where they were sitting as both high and low score were from the long side.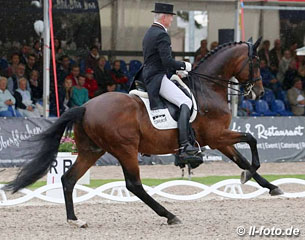 Hubertus Schmidt and the 14-year old Trakehner stallion Imperio (by Connery x Balfour xx) slotted in third with 76.340%. In the absence of a further Olympic pairs (Sprehe/Desperados and Schneider/Showtime), the road was clear for Olympic reserve rider Schmidt to climb the ladder in Balve. The bay stallion has a flashy frontleg and shows this off in the trot half passes, but the piaffe remains to be quite timid and the two tempi changes not straight. Still the horse showed an excellent canter extension and good walk. 
Photos © LL-foto
Related Links
Scores 2017 German Dressage Championships
Weihegold Withdrawn from 2017 German Dressage Championships
Desperados and Showtime Withdrawn from German Team Selection for 2017 European Championships