Belgian Dressage News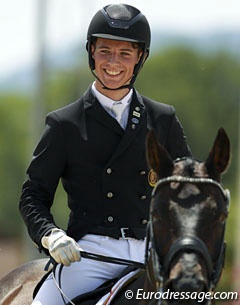 Numa Verberne, multiple Belgian junior riders' team member and double Belgian Junior Riders Champion, has decided on a career as professional dressage rider and will start his apprenticeship at Henri Ruoste and Senta Kirchhoff's yard Gut Bertingloh in Menden, Germany, as of 1 July 2017.
The 19-year old Verberne has represented Belgium at no less than five European Championships as a pony and junior rider. Aboard Dollarboy S-G he was first selected on the Belgian team for the 2013 European Pony Championships in Arezzo, Italy. With the now retired 19-year old Hanoverian stallion Riverdance (by Wolkentanz I x Hill Hawk xx) he was a fixture on the Belgian team at the European Junior Riders Championships in 2012, 2014, 2015 and 2016.  Trained by Sophie Baetens-Van Lent, Verberne also became the 2014 and 2015 Belgian Junior Riders Champion. 
Numa successfully graduated high school and was a freshman at the Catholic University Louvain in Brussel, studying international Business Management and Science. However, after one year in college, he realized that his true passion are horses and dressage.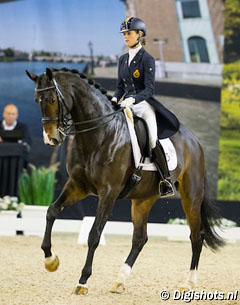 "After one year I realized that at the moment my sportive career is more important to me than my studies," said Verberne. "They are interesting and fun, but I rather want to focus on horse sport. Horses are more my thing than books, and if I want to study in the future I can always return to that."
Verberne will move to Henri Ruoste's Gut Bertingloh as of 1 July 2017, where he will begin a long-term apprenticeship to become a professional dressage rider, learning how to train and compete young horses from novice level up to Grand Prix. The talented rider will have to work his way from the bottom up to create a solid foundation for the rest of his professional life in dressage sport.
To kick off Numa's career, Ruoste's business partner Jochen Arl has given the young man the ride on the 11-year old Dutch warmblood mare Equestricons Bolita (by Uptown x Flemmingh), who won kur bronze at the 2014 European Junior Riders Championships and who is now for sale. Verberne and Bolita will be coached by Baetens-Van Lent this spring show season, before Numa moves to Germany in the summer. 
"I want to develop myself as much as possible and Jochen and Henri are now giving me this opportunity," said an enthusiastic Numa.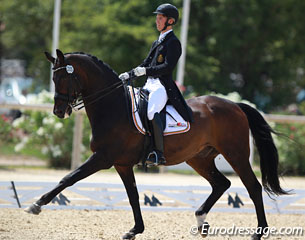 At the beginning of his professional career Numa will focus on riding and competing youngsters, which will also be prepared to be sold at Bertingloh,  a state-of-the art and high standard sales and training facility.
"I will get to ride many young horses and compete them and hopefully in the future get some more advanced horses to ride. In the meantime I'll be able to learn much from Henri about the art of riding and training. I've met the team at Gut Bertingloh and straight away felt at home."
Photos © Astrid Appels
Related Links
Eurodressage Photo Database: Numa Verberne
Belgian Teams Selected for 2016 European Junior/Young Riders Championships
De Schepper, Verberne, Kielenstijn, Devroe Win 2015 Belgian Dressage Championships
Verberne, Verwimp and Vanommeslaghe Win 2014 Belgian Dressage Championships