French Breeding News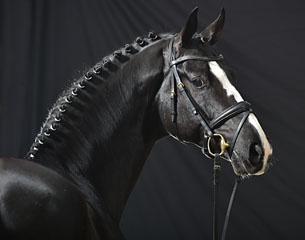 Haras de Malleret in Le Pian-Médoc, France, combines a passion for horses with family history. Its goal uss to create a high-quality breeding facility dedicated exclusively to dressage while upholding the highest international standards. This prestigious breeding centre achieves these results through our ongoing commitment to quality and excellence.
Gérald Martinez wanted to create a unique stud because of his passion for horses that he has since he was a child. He started to realize this dream at the end of 2012. His breeding philosophy is based on 'respect' towards this magnificent animal, 'excellence', and the will to bring us a little closer to perfection. Then comes 'Heritage'– Martinez is extremely proud that Malleret has been in the family since 1850 and has always had an equine tradition. All comes back to 'passion', without it none of this would be possible.
Today, Haras de Malleret has two beautiful promising stallions. Martinez looked to the best of the German breeding world and collaborated with Paul Schockemöhle to select stallions that are a 'rarity' for his stud.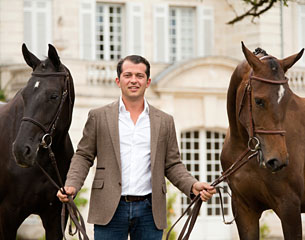 It was in 2014 in Verden where Martinez fell head over heels with Danciano, 4-years old at the time. He contacted Paul Schockemöhle that was one of the owners and managed to convince Paul to sell it to him. Martinez is very happy with that choice, the first foals from Danciano are very promising. They inherit an extraordinary charisma, incomparable elegance and nobility, with a lot of strength from their father that has shown regularity and quality in its production. 
The stud also acquired stallion Flinstone at the PSI auction in 2013 at the age of three and has not regretted it since. The stallion is kind, stunning with superb movements and a beautiful color. He participated in the Warendorf final and managed to come in 11th without any prior experience. At the moment, Martinez is focused on competition with Flinstone but it is a gorgeous stallion in the making. At Malleret stud, the selected mares are chosen for their movement mechanism, morphology and good temperament which they pass on to their foals.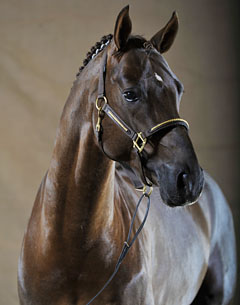 The education of the foals is primordial, they are followed with care from birth till their third year and are manipulated with caution to get an excellent level of complicity with humans. The most important thing is their physical and mental integrity.
Today the Haras de Malleret is one of the main studs for dressage horses in the South of France and the products coming from it will certainly get themselves talked about.
For more information, visit www.haras-malleret.com
Related Links
Danciano Wins 2013 Schlieckau 30-Day Stallion Performance Test
Danciano Sold to France
Flinstone and Herbstkonig Win 2014 Hanover Bundeschampionate Qualifier
Schockemohle Cleaning Up Stallion Roster for 2017