Eurodressage Market - Products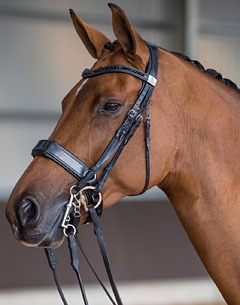 The highly anticipated Fairfax Performance Bridle is, at long last, available in Europe. Competitors in the Netherlands have been patiently waiting for the first bridle to be based on scientific research and designed to improve the elite horse's way of going. Now they too can benefit from this revolutionary bridle
 which is proven to:
Reduce pressure by up to 84%
Reduce force by up to 77%
Allow greater forelimb extension
Increase knee & hock flexion
Fairfax began by using pressure mapping to research the many different existing bridle designs.
"In the early days we didn't know what to expect," says Vanessa Fairfax, the bridle designer. "But as more results filtered through a clear pattern emerged that we couldn't argue with, however surprised we were."
This extensive testing identified that:
There are six key areas of peak pressure, common to most bridles  
Bridle pressure is not constant, it changes as the horse moves 
Stability is essential for comfort and articulation is the key to stability 
Symmetry is significant – the bridle needs to be the same both sides – including buckles
Most bridles exert very little poll pressure
Read more about the testing results and design process here.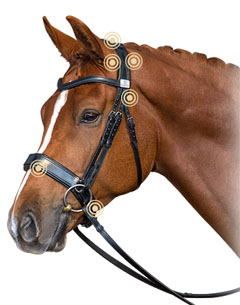 The resulting Fairfax bridle design takes all these factors into account and further scientific study involving pressure mapping and gait analysis proves that the reduction in bridle pressure afforded by the Fairfax Performance Bridle significantly improves range of movement, extension and flexion in competition horses.
The Performance Bridle does not fit in the same way as an ordinary bridle and its effectiveness depends on the correct fitting. Therefore, the bridle should always be supplied and fitted by one of Fairfax's approved retailers.
See the range here.
European supply is still very limited due to high demand, but these are the first retailers in Europe (The Netherlands, Belgium and Spain) to have taken delivery of their bridle. Contact them for a fitting appointment:
Riel Klumper
+ 31 546 821 415
info@rielkllumper.nl
Liefstingh Zadels
+ 31 8 415 339
martineliefstingh@gmail.com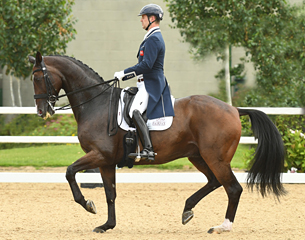 Happy Horse Advies
+ 31 638 890 030
info@happyhorseadvies.nl
Paard Praktisch
+ 31 624 882 594
info@paardpraktisch.nl
Equiritme
+ 31 615 186 823
nienke@equiritme.nl
Zin-Tuig
+ 31 632 139 686
Jolanda@zin-tuig.nl
Flevo Horse Support
+ 31 610 224 706
info@flevohorsesupport.nl
Sellerie Ulysse (BELGIUM)
0032 612 33978
info@sellerieulysse.be
Equidom (SPAIN)
0034 682 158542
nathalie@equidom.com
For more information about Fairfax Saddles and Bridles, visit www.fairfaxsaddles.com