FEI Dressage News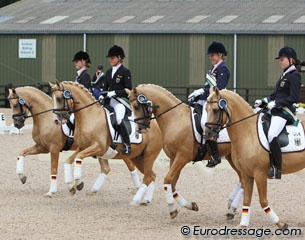 Bishop Burton, Roosendaal, Ermelo, and Verden were allocated several of the upcoming major continental and intercontinental Dressage Championships from 2018 till 2020.
After years of hosting the World Championships for young dressage horses, the German city of Verden lost the bid to Ermelo, The Netherlands, for the 2016 - 2018 time period. The FEI Bureau today confirmed that Ermelo will also be hosting the 2019 edition, but in 2020 Verden will return as host city of this popular young dressage horse event. 
Roosendaal won the 2017 bid for the European Children, Junior & Young Riders Championships and they also secured the 2018 European Under 25 Championships. Today they added the 2019 Euro Children, Junior, Young and Under 25 Rider Championships to that tally.  The 2018 European Children, Junior and Young Riders Championships were already allocated to Fontainebleau a year ago.
After hosting the 2010 European Pony Championships, the British city of Bishop Burton will stage the 2018 Euro Ponies again.
The list of dressage events allocated at today's FEI Bureau meeting at FEI headquarters in Lausanne (SUI) is:
2018 European Championships for Ponies in Jumping, Dressage, Eventing - Bishop Burton (GBR), 7-12 August
2019 World Breeding Dressage Championship for Young Horses - Ermelo (NED), 1-4 August
2019 European Dressage Championship for Children, Junior, Young Riders & Under 25 - Roosendaal (NED), 7-11 August
2020 World Breeding Dressage Championship for Young Horses - Verden (GER), 5-9 August
Photo © Astrid Appels
Related Links
Las Vegas, Gothenburg, Rotterdam Allocated Major Championship Events 2019-2021
Dates Modified for 2017 European Pony, Children, Junior, Young Riders Championships