2017 CDI Hastings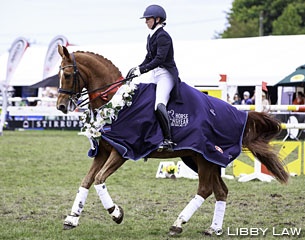 A superb Grand Prix Freestyle showdown saw Abbie Deken and KH Ambrose take the Grand Prix Kur to Music at the 2017 CDI Hastings with a score of 72.9, landing her the Dressage Horse of the Year title for 2017 at the annual Horse of the Year Show in Hawke's Bay, New Zealand, on Sunday 12 March 2017.
In a true-to-form HOY plot twist, the Taranaki vet nurse and the 15-year old Hanoverian bred KH Ambrose (by Anamour x Winterkonig), which she bought as an unbroken 3-year old and trained herself, danced their socks off to finish just ahead of hot favourite John Thompson and his 15-year old Hanoverian gelding Antonello (by Anamour x Winnebago), who, after a slight bumpy start, made a smooth recovery to take second place with 71.825.
"This win is huge. It has always been a dream of mine but the competition gets tougher every year," said Deken.
Abbie's goal for the show was to improve on her nationals performance and ride better. She and coach Vanessa Way had worked hard on the passage piaffe work, and that paid off. "I had a nice feeling throughout the test and a smile on my face," said Deken. "I went into it thinking, 'let's try to enjoy it', and I did. To get the win on top of that is the icing on the cake."
Third placegetter Penny Castle and the 13-year old Holsteiner bred Magnus Spero (by Lubeck x Rocadero) also hit the seventies, finishing their test on 70.95 in perfect time to their soundtrack. She was very happy with her performance, saying "I just love riding and performing under pressure and when it comes off like that – it's a buzz."
Bar a few hiccups in the tempi changes Vanessa Way and 14-year old Hanoverian Arawn (by Anamour x Carousel) pulled off a high degree of difficulty test with NRM Arawn (69.05) and was quick to acknowledge the effort that goes into HOY, thanking "all the sponsors and volunteers – I really mean it," she said. "And to all of you here [watching us], you're part of it too."
Less than half a percent behind was Jody Hartstone and her 12-year old Lusitano stallion Ali Baba (by Hostil x Invulgar) for fifth with 68.9%, William Millar and the 14-year old Hanoverian Raukura Satori MH (by De Niro x Genius)  (66.125) sixth, finishing with Kate Tobin and her 10-year old Hanoverian bred I Like It (by Iberio x Wolkenstein II) (62.425).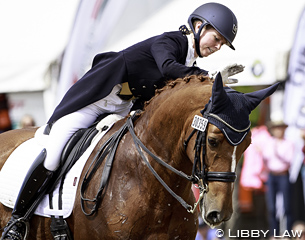 This was the first year that all the Grand Prix starters qualified to go through to the Freestyle and though two of the country's top GP combinations were missing, it did not make a dent in the quality of the competition or the scores. Add this to the excitement of NZ being represented in the World Cup Final at the end of this month (for the first time ever in the 32 years it's been running), and the plans to put a team together for Tryon WEG next year, and dressage in our corner of the world can only go from strength to strength.
As sole competitor in the Young Riders freestyle class, Caitlin Benzie and Rosari Royal Gem (by Royal Gem) scored 68.275 and were crowned Horse of the Year Young Rider champions.
This year's edition of the HOY was quite a soggy version with much rain throughout the weekend. HOY director Dave Mee said the weather was against organisers but overall felt the event went well. "When the weather is against you it's really challenging to be on your toes and find solutions," said Mee. "I think that was a good outcome. In more than 20 years in events this would be the wettest I have ever seen."
by Jess Roberts and Diana Dobson - Photos © Libby Law
Related Links

Scores: 2017 CDI Hastings
Thompson on Top in Grand Prix Special at 2017 CDI Hastings
Thompson On His Way to New Zealand HOYS Title after Winning 2017 CDI Hastings Grand Prix
Previous HOYS Winners
John Thompson Wins Horse of the Year Show at 2016 CDI Hastings 
Julie Brougham and Vom Feinsten Win 2015 Horse of the Year Crown at CDI Hastings
Historic Grand Prix Score for Penny Castle at 2015 CDI Hastings
A Royal Win for Bill Noble at the 2014 New Zealand Horse of the Year Show
Louisa Hill Wins Grand Prix Title at 2012 New Zealand Horse of the Year Show
Vanessa Way Claims 2011 New Zealand Horse of the Year Title
2009 Horse of the Year Title for Jody Hartstone, At Last!
Hattrick for Noble at 2007 New Zealand Horse of the Year Show