Danish Warmblood Breeding News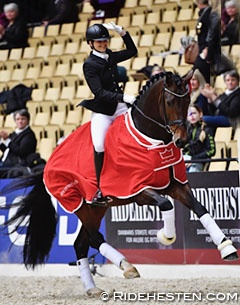 Betina Jaeger and Zancor became the winners of the 2017 Danish Warmblood Young Horse Championships held annually for 5-year old Danish warmblood bred and registered youngsters at the Danish warmblood stallion licensing in Herning.
The five years are ridden in two rounds to determine the final cut which is test ridden by a guest judge rider in a third round. The guest judge rider this year was German Dorothee Schneider, who had travelled to Herning to present Sezuan in the stallion show and compete Sammy Davis Jr in the CDI Grand Prix.
This year is was Betina Jaeger aboard Zancor (by Zack x Solos Landwind) who reigned supreme. The dark is oned by Andreas Helgstrand in partnership with Nobel Food Holding. 
With 884 points Zancor became the high scorer in the Championship. He received 8.5 for rideabiity and 9 for potential. Schneider praised Zancor for his excellent canter and softness in the bridle; but she liked to have had him sharper on the aids, but said it could be because he was felt tired. 
Atterupgaards Botticelli (by Benetton Dream x Caprimond) became the runner-up with 881 points. He was the high scorer for the points that Schneider awarded him. The horse got 9 for rideability and 9.5 for potential from the German Olympian. 
Laerke Stensvang (by Zack x Don Schufro) finished in third place with 878 points. bred by Lene Schmidt Fraehr and owned by horse dealer Klaus Munkedahl, the black Laerke was presented in the first two rounds by Sanne Henningsen. Schneider gave the horse a 9 for rideability and potential. 
Results - 2017 Danish Warmblood 5-year old Championship (top 15 only)
1. Bettina Jæger - Zancor (by Zack x Solos Landwind) - 884.0
2. Selina Hundstuen Solberg - Atterupgaards Botticelli (by Benetton Dream x Caprimond) - 881.0
3. Sanne Henningsen - Laerke Stensvang (by Zack x Don Schufro) - 878.0
4. Kenneth Damgaard - Stenagers Wyatt Earp (by Wilkens x Sandro Hit) - 855.0
5. Kenneth Damgaard - Hojgaardens Santos (by San Amour x Friendship) - 848.0
6. Bettina Laisbo - Gorklintgaards Samsara (by Sarkozy x Sunny Boy) - 837.0
7. Maria Bjerg Latrache  - Hevringsholms Delaya (by Dancing it x Hertug) - 827.0
8. Tanja Rusovic - Carlo (by Romanov x Cavan) - 824.0
9. Michael Sinding - Atterupgaards Mandalay (by Stedinger x Lord Sinclair) - 800.0
10. Silje Bakken - Duque Majlund (by Sunny Boy x Hertug) - 799.0
11. Lotte Straarup - Gorklintgaards Torrero (by Temptation x Sunny Boy) - 796.0
12. Line Høst Johansen - Hove's Tatiana (by Temptation x Crelido) - 792.0
13. Silje Bakken - Dena's Blachman (by Bogegardens Boney M x Crelido) - 788.0
14. Lotte Straarup - Vichy Pax (by Vivaldi x White Magic) - 785.0
15. Nanna Skodborg Merrald - Okslunds Zackadon (by Zack x Don Romantic) - 778.0
Photo © Ridehesten
Related Links
Dorothee Schneider, Guest Judge Rider at 2017 Danish Warmblood Young Horse Championship
Jukebox Wins 2016 Danish Warmblood Young Horse Championships
Hot Shot W Wins the 2014 Danish Warmblood Young Horse Championship in Herning
Zick Flower Wins 2013 Danish Warmblood Young Horse Championship
Charmeur Leads the 2008 Danish Young Horse Championships in Herning
Polka Hit Nexen Wins Herning 5-year old Championship
Helgstrand and Donna Fetti in the Lead in the 2006 Danish Warmblood Young Horse Championship